The husband of a Coquitlam dog walker who was found this morning (Wednesday) after she went missing on Monday afternoon thanked the searchers for their efforts.
And Marcel Poitras gave two pieces of advice after his wife Annette was found safe and sound in the bush with the three dogs in her care: "I just want to say, support your local search and rescue and, you know what, hug your spouse tonight."
Poitras told The Tri-City News and other media gathered at the Westwood Plateau Golf and Country Club earlier this morning he was certain she would be found today.
When asked what gave him that confidence, a teary eyed Poitras responded, "Faith. I don't know. Not everything needs to be explained."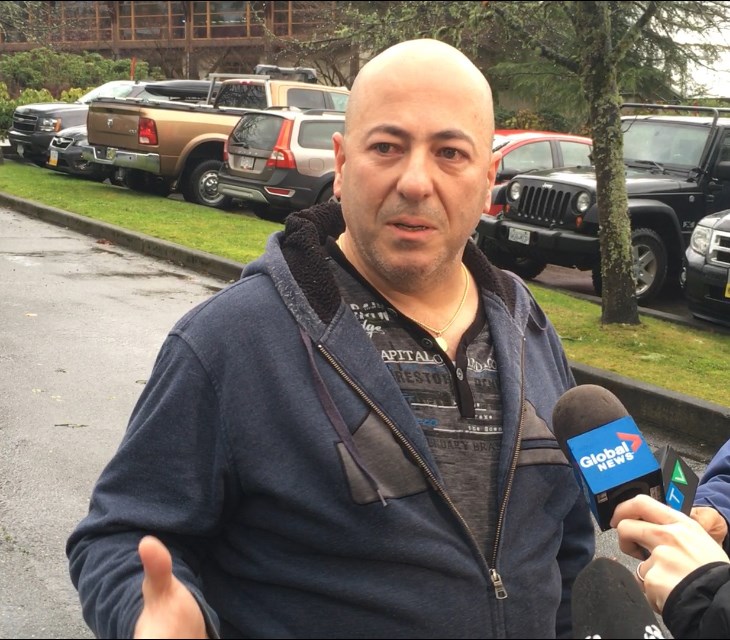 The 56-year-old woman was walking three dogs — Roxie, Chloe and Bubba — on Eagle Mountain at the top of Westwood Plateau when she disappeared Monday afternoon. Her vehicle was later found at the top of Plateau Boulevard; she was not equipped to spend the night outside, Coquitlam RCMP Cpl. Mike McLaughlin said.
Coquitlam Search and Rescue and other SAR teams from around the Lower Mainland were deployed to the area but Tuesday night's heavy rain forced them to scale back the search.
Marcel Poitras said when he heard the news his wife was found, "Your mind kind of explodes. When you're in the situation, you know, a mind is a dangerous thing. It goes into all sorts of dark holes and suddenly that just disappears and there is light."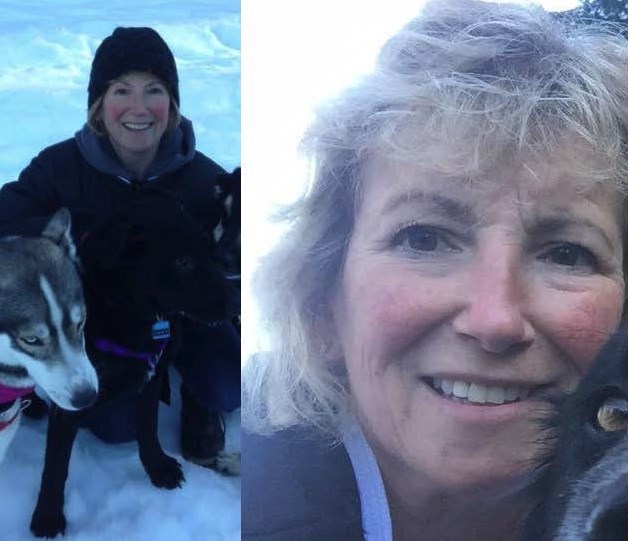 Poitras landed to a round of cheers and applause — at the golf club via helicopter at around 1:30 p.m. — after a long-line rescue. Police would not get into details about the extent of her injuries, but said she had been transported to hospital, where she is expected to make a full recovery. 
The situation appeared bleak Tuesday night when the search was temporarily called off due to bad weather.
However, Coquitlam Search and Rescue's Al Hurley said more than 100 crew members were back in the area at 7:30 a.m. Wednesday morning. By 11:15 a.m., they had made voice contact with Poitras and "the dogs were going crazy," Hurley said.
"We are ecstatic about this," he added. "It is day three. There was no way we were going to give up."
Poitras was found in the watershed area between Cypress and Burke mountains in an area "where you are normally not allowed to recreate" that was "well outside the normal trail system," McLaughlin said. 
He added that the incident shows the importance of being prepared when heading out for a hike in the woods, particularly during shoulder season.
McLaughlin also praised the search teams involved in the rescue.
"When we say leave it to the experts, these are the people you want looking for you... We can't say enough about the searchers."
Janet Kilberg, the owner of Roxie, also thanked the searchers for making sure that Poitras and the three dogs got home safely. 
"I so appreciate everything that has been done," she said. "Annette is a good friend of mine. I wish her well and I hope she can get out walking soon because all of the dogs love her."