Be patient. Expect delays.
That's the advice from the city of Coquitlam's transportation manager as FortisBC prepares to dig up the middle of Como Lake Avenue starting next week.
The eight-month project to replace an aging 20-inch gas line is due to start Monday in Burquitlam, likely causing traffic woes for the 27,000 motorists who now use Como Lake Avenue daily as well as its adjacent residents and businesses.
But Dan Mooney says the city is ready for the congestion and is telling commuters to use alternate east-west routes instead: Lougheed Highway, Austin Avenue or St. Johns Street.
For months, FortisBC has had notifications out and held open houses to alert people who will be inconvenienced by the work along the 5.5-km stretch; it has also placed reader boards around the Tri-Cities to give warning and to direct drivers to detours.
Here's what's happening: From March to April, crews will be at three locations along Como Lake Avenue to lay a new 30-inch steel pipe along the centre of the road, from North Road to Porter Street.
During that time, the curb lanes will be open.
Mooney said the work zones will be staggered every 200 metres to give commuters some relief.
After that first phase is complete, the work will move further east in stages again until it reaches the FortisBC station at Como Lake Avenue and Mariner Way (the city has asked FortisBC to not work between Baker Drive and Mariner, near Dr. Charles Best secondary, until the summer, when school is out).
Commuters can expect additional delays on garbage collection days for homeowners living on Como Lake Avenue, and for public transit pick-ups and drop-offs.
Mooney urges drivers to steer clear of Thermal Drive and use Mariner Way instead to get to their destination: Mariner has four lanes versus Thermal's two and cameras so the city's traffic managers can control the traffic lights during the morning and afternoon rush hours and ease the flow.
As well, Mooney said the city has put its capital works program for central Coquitlam east-west routes on hold until the FortisBC work is done, and it is liaising with developers like Marcon and Beedie to ensure their residential/commercial projects don't further jam up Como Lake and Austin.
In Port Moody, the city is also making adjustments to its construction project schedule "to ensure traffic disruptions for Port Moody residents and motorists are minimized," said Kim Law, the city's manager of project delivery.
Still, Mooney said he expects retailers at Como Lake Village, the Chevron gas station at Poirier Street and the strip mall next door to be hit the hardest with the dig.
"This kind of thing can be devastating to local businesses," he said, "but this is temporary."
As well, side streets — especially those to the south of Como Lake Avenue — will likely take the brunt of rat-running commuters.
Mooney said the city will watch the action closely. "Safety is paramount for us," he said, "so we advise people to have patience and allow for extra time."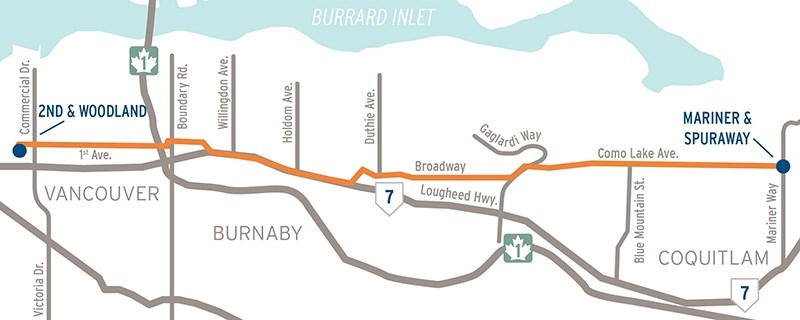 The Como Lake work is one part in FortisBC's 20-km project that began in Vancouver and has been making its way through Burnaby over the past year.
"We want to thank the community for its patience and understanding as we complete gas line construction safely and as quickly as possible," FortisBC spokesperson Alex Munro told The Tri-City News Wednesday. "This important upgrade will ensure more than 210,000 homes and businesses across the Lower Mainland continue to receive the natural gas they count on every day, including more than 30,000 in Coquitlam."

BE IN THE KNOW
• FortisBC website: talkingenergy.ca
• FortisBC hotline: 604-592-7494
• FortisBC Twitter feeds: @FortisBC
CONSTRUCTION TIMES
• Monday to Friday: 7 a.m. to 8 p.m.
• Saturdays: 8 a.m. to 6 p.m. (with a permit)
• Sundays: 9 a.m. to 7 p.m. (with a permit)
•••••••
OTHER TRI-CITY TIE-UPS
The imminent dig along Coquitlam's Como Lake Avenue won't be the only major roadwork project causing headaches for drivers in the Tri-Cities:
• In Port Coquitlam, detours are in place along Kingsway Avenue until mid-March as crews install new sanitary lines around the West Coast Express station and the PoCo recreation complex rebuild (info: portcoquitlam.ca);
• and in Port Moody, Gatensbury Road, from Grant Street to Bartlett Avenue, is shut to commuters (except resident traffic) until May for reconstruction and utility upgrades (info: portmoody.ca).