The leader of a new left-of-centre B.C. political party has been forced to resign after a Coquitlam transgender activist, YouTube personality and candidate for the B.C. Green party called him out for making allegedly transphobic comments surrounding popular author J.K. Rowling.
Stuart Parker, Prince George-Valemount candidate for the B.C. Ecosocialists, announced his resignation as leader of the party Tuesday evening after the whirlwind of social media comments, as wells as pressure from politicians and activists derailed his campaign.
The controversy, which Parker described as a "slew of false allegations about transphobia," kicked off following comments he made on Coquitlam trans activist Nicola Spurling's Facebook page. 
On Tuesday evening, Sept. 21, Spurling resurfaced comments she said were made by Parker on her Facebook page last week. 
"I didn't know who he was until I saw Christina [Gower] was running for them," said Spurling, referring to the B.C. Ecosocialist's candidate in Port Coquitlam.
Parker's Sept. 12 comments were in response to a Facebook post by Spurling rebuffing longtime homeless advocate Judy Graves for her support of a "I [heart] JK Rowling" billboard, which transgender activists claimed was supportive of the children author's transphobic views.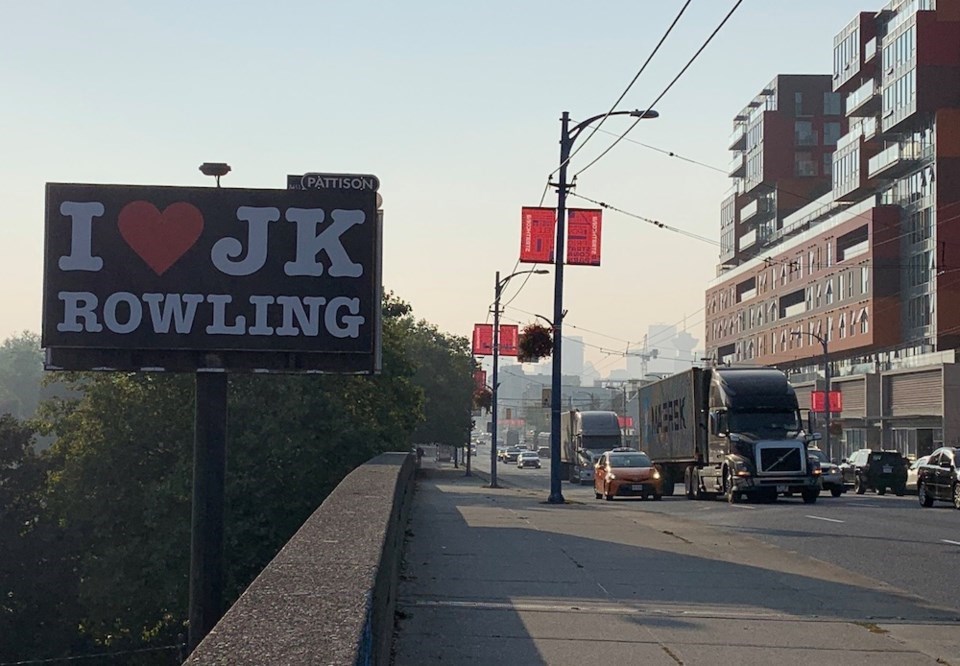 In his Sept. 12 comment, Parker defends Rowling's frequent comments, saying society has "a hair-trigger response to only using transition as the sole treatment of dysphasia when talk therapy has produced better results," that transitioning people too often "sterilizes children" when other options are available, and that woman should have the right to create "single gender" and "single-sex spaces."  
Stuart ended his post with a call to "engage instead of canceling."  
Parker's comments came following a wave of backlash aimed at Rowling last December, after the Harry Potter creator voiced her support for a U.K. researcher who was fired for stating her belief that "it is impossible to change sex." 
After re-posting the message to her Facebook page, Spurling said she contacted federal Green candidate Meryam Haddad of Montreal — who recently endorsed the BC Ecosocialists after she was recently expelled her from the federal Green race — imploring her to contact the BC Ecosocialist leadership apparatus.
"I have been made aware of transphobic comments from [Stuart Parker]," Tweeted Haddad Tuesday morning, using Parker's Twitter handle. "I demanded Stuart apologize and resign. He refused. If BC Ecosocialists does not expel him, I will disavow them as well."
As pressure mounted throughout the day, some of Parker's old blog posts were surfaced and widely shared on social media to allege a pattern of transphobic behaviour.
Just before 10:30 p.m. Tuesday, the BC Ecosocialist party tweeted a statement saying it affirms "Trans Rights are Human Rights" and that Parker had stepped down.
While it's not yet clear who will take over the leadership position from Parker, by Wednesday afternoon, Nicola Spurling announced she would be seeking the BC Green nomination in the Tri-City riding of Coquitlam-Maillardville, a seat currently held by NDP MLA and Minister of Municipal Affairs and Housing Selina Robinson.
I have some big news to share. I'm seeking the @BCGreens nomination in the riding of Coquitlam-Maillardville.

I believe in what @BCGreens stand for, I'm proud of what we've accomplished and I'm hopeful that we can continue to help guide BC through this difficult time.#bcpoli pic.twitter.com/h07m9hyMnc

— Nicola Spurling ️‍ ️‍⚧️ (@NicESpurling) September 23, 2020
CANCEL CULTURE IN THE TRI-CITIES
As so-called "cancel culture" evolved from a joke on Black Twitter to a global phenomenon over the last year, the Tri-Cities has not been insulated. By publicly outing others on social media, local residents have attacked people for everything from alleged acts of racism and sexual assault to publicly shaming individuals for their health and safety transgressions during the COVID-19 pandemic.
"It's better to call people in before you call them out," said Spurling in response to questions over the effectiveness of 'cancelling' a public figure. "But I don't believe anyone with his views should lead a political party in this province." 
And while the timing of the social media spat is curious considering Spurling's ties to the B.C. Greens and the upcoming snap election, the Coquitlam activist described the timing of the exchange as a coincidence and that she regularly "calls out" transphobia on social media. 
This is not the first time Spurling has waded into the controversy surrounding Rowling's views on transgender rights. In May, the Coquitlam LGBTQ2+ advocate activist and author clashed on Twitter.
The author did not take kindly to Spurling's accusations that Rowling is transphobic, with Rowling claiming that Spurling's tweets constituted defamation, and hinting that a lawsuit may be coming.
"Unless you want to hear from lawyers, you might want to rethink that tweet. I'm not wasting my time arguing with wilful misrepresentations of my views on transgenderism – your timelines show you're not big on truth – but making serious insinuations like this comes with consequences," Rowling tweeted.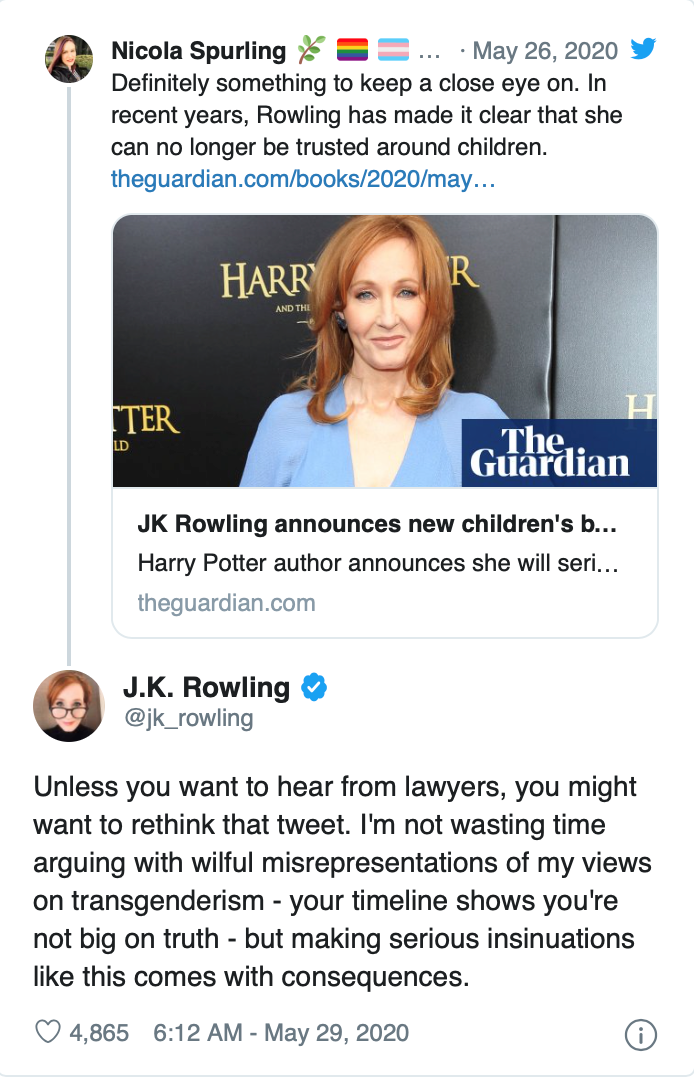 But according to Spurling, the legal threats never materialized. 
"I spoke with my lawyers and they said she has no case," she said, adding that because of that incident her reach on social media ballooned in step with a wave of hateful comments.
"Because of the J.K. Rowling situation, I've got caught in an echo chamber of hate. They would have you believe hateful rhetoric is gaining ground in the world," she added, pointing to how the pandemic has pushed people to engage even more with the internet. 
"But I've also been seeing a lot of support." 
— with files from Megan Lalonde