The birth certificate for Arthur Tadhg John states he was born at Royal Columbian Hospital.
In fact, the Coquitlam baby arrived several blocks from the New Westminster institution — in a moving vehicle.
His parents weren't expecting their second child to come out so quickly. After all, their first, Viola Scarlette, took 14 hours before she made her appearance.
But Arthur's story is unique.
On the morning of Aug. 29, Jasmine John went into labour at her and and husband Anish John's Coquitlam home. The couple called their midwife to let her know the contractions were 30 seconds apart but she advised them to stay put for as long as possible.
The pain was intense, Jasmine recalled, and she asked Anish to call a friend to drive over and look after their daughter.
As the contractions intensified, Jasmine told Anish she was ready to go to the hospital but, not wanting the birth in their vehicle, Anish called 911 for help. In the meantime, Anish received birthing instructions from a dispatcher.
Paramedics Curtis Rasmussen, Jason Davies, Sami Lingren and Michella McCaskill had just wrapped up a call early in their shift when they got the alert.
Seeing Jasmine on the bedroom floor, they cranked the heat and prepared for a delivery but Jasmine and her midwife wanted to try to get to RCH in case any complications arose.
Loading her on a Manta Rescue Aid mat (a flexible transfer sheet, with handles), the paramedics navigated the prone, pregnant woman down the stairs; Jasmine had another contraction on the way down.
In the ambulance, the paramedics got towels ready and gave Jasmine laughing gas to numb the pain.
"I was high and happy," she recalled.
By the time they reached the Brunette Avenue overpass, near the Braid Street SkyTrain station, Rasmussen was telling Davies he could see the head crowning.
Within about 30 seconds, the 10-year paramedic was passing the newborn onto Jasmine's chest for skin-on-skin contact; he and Davies — a 25-year paramedic and the father of twin girls — covered the pair to ensure they stayed warm and checked their vital signs.
By the time they got to the hospital, maternity doctors and nurses were already on standby in the emergency ward, positioned on a Code Pink (imminent delivery) to cut the umbilical cord and receive the placenta.
About five hours later — after the Johns got the all-clear and baby Arthur had a bath — the family was released with their 8-lb. bundle of joy, born at 40 weeks and one day.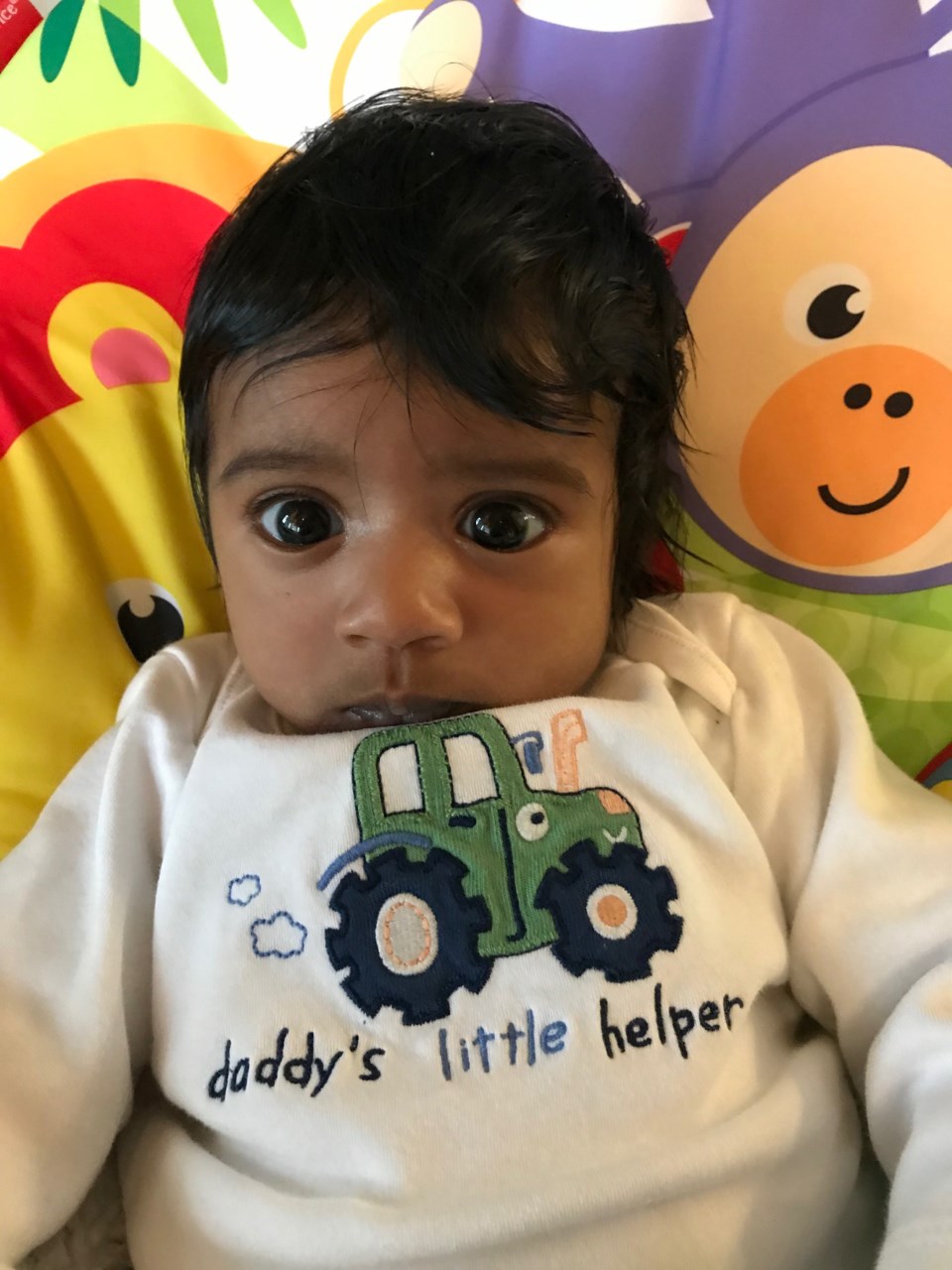 Baby Arthur (photo by Janis Cleugh/The Tri-City News)
That night, "We got home, looked at each other and said, 'What happened today?'" Jasmine said.
A week later, the couple posted a public message of thanks to the BC Ambulance Service through its "Thank a Paramedic" online system.
On Sept. 6, Anish wrote: "Thank you J.D., Curtis and Michelle (+ a fourth paramedic whose name I can't remember — I apologize). These 4 people were vital in delivering our baby inside an ambulance on Aug 29th. Curtis mentioned it was his first time delivering a child, and a brilliant job he and J.D. did together while Michelle drove through peak hour traffic. Baby is healthy & doing excellent. We owe you. Thank you again!"
Yesterday (Friday), the family reunited with the paramedics to meet baby Arthur and served them lunch.
Proudly wearing his blue stork pin (awarded to paramedics after delivering their first child), Rasmussen said it's rare for paramedics to be acknowledged.
Davies, who has delivered about 20 babies around B.C., said ambulance and side-of-the-road deliveries are common. In the Tri-Cities, he said, many happen along the Mary Hill Bypass in Port Coquitlam as expectant moms are rushed to RCH.