About two months ago, Nicholas Khoo and Serene Lee decided it was time for a new challenge, and a race with which to test themselves.
But for the two longtime runners and former members of the Singapore Armed Forces — Khoo was a member of the commando special forces unit while Lee was an officer in the cadet school — not just any race would do.
With less than three months to train, the Coquitlam couple signed up for the Squamish 50 on Aug. 20.
The "50" refers to miles, meaning they'll be running 80.5 km in the mountainous Squamish terrain, where there are more than 11,000 feet of climbing and descending.
The race's website describes it as "an exceptionally difficult course made tougher still by the technical nature of a majority of the terrain. Throw in the fact that the back half runs much more difficult than the front half and you have yourself a nice little day of suffering."
If any of that makes you squeeze your eyes shut in abject horror, know that Lee, 42, and Khoo, 47, are genuinely thrilled about the prospect even though they freely admit that, yes, it is a little bit crazy.
"We're excited about it, actually," Lee said.
"It's going to be brutal," said Khoo, grinning from ear to ear. "We've never had a chance to run the entire course, so some parts will be a mystery. We're going in blind."
Blind, perhaps, but not ill-prepared.
For instance, if you were out hiking last Sunday, you might have seen Khoo and Lee run past you on the Dilly Dally Loop trail. Yes, they ran the 25-km course with its 3,800 ft. of elevation gain. It took them 10 hours and left them with the scratches and bruises to prove it.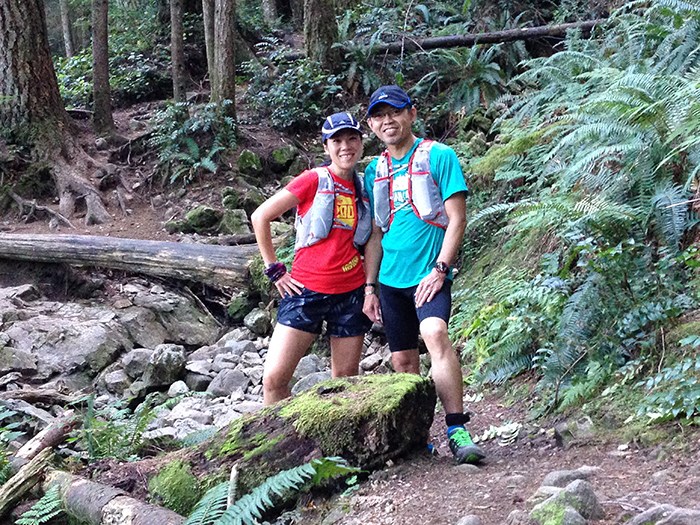 They train six days a week. Sunday and Monday, when their dog grooming business is closed (more on that later), they do a 35- to 40-km run, and 20 km the following day. Another day is stairs — they use a friend's 25-storey highrise and do it five times (eventually working up to 10) — and the fourth is hills. Speed work and strength training make up the rest, with only one day left for stretching.
"It teaches your body to recognize fatigue and deal with the discomfort, both mentally and physically," Khoo said.
It's a far cry from when they first moved to Canada six years ago, when they found the air too "dry" for running.
They gave it up for about four years until Lee decided to give 5 km a shot — she could barely do three and realized "something had to change."
So they laced up the runners again and started hitting the pavement. They joined a running club in Richmond and, in the past two years, have done three marathons and three half-marathons.
The Squamish 50, however, will be their first trail race and their first ultra-marathon.
"Most people say the course is not suitable for a first-timer," Khoo said, but they're confident that their coach, who is preparing for the Canadian Death Race in Alberta, and Lee's extensive research on how to prepare and what to eat, will put them in a good position for the Squamish 50, which they hope to complete in 15 hours.
If they do, all the sacrifices of the preceding three months, when the weeks were made up of work and training and little else (except for their move to Coquitlam three weeks ago), will have been worth it.
But they're not just doing the Squamish 50 for the "fun" of it. The couple, who own Suds 'n' Scissors dog grooming in Coquitlam, hope to raise $3,000 for a cause close to their hearts: Senior Animals In Need Today Society (SAINTS) Rescue.
"Every animal deserves a good home and proper care regardless if they are sick or old," Khoo and Lee said. "SAINTS Rescue has provided a loving sanctuary for all these abandoned animals."
What's next after an ultra trail race? Khoo is on a quest to qualify for the Boston Marathon (he'll have to run a marathon in three hours, 25 minutes to do that), and they're thinking about tackling the Squamish 50/50 next year — that would mean running the 50-mile course on a Saturday, followed by a 50-km course the next day.
"We do almost everything together," Lee said. "But we're lucky, we share the same interests. He's my soul- and sole-mate."
• For more information, visit facebook.com/TheSoleMates; to donate, visit www.gofundme.com.
spayne@tricitynews.com
@spayneTC