Spring season is here, which means bears and other wildlife are set to track down any food supply they can find.
Some Coquitlam residents are still not getting the message to secure loose garbage, but that trend appears to be on the decline.
According to the city, a total of 105 tickets — up to $500 each — were issued to property owners last year for breaking the bylaw on unsecured garbage.
This includes those who unknowingly left food out for wildlife with officials stating bears, in particular, could be a safety risk to residents if they become habituated to unnatural sources.
Environment manager Caresse Selk says this continues to be a problem despite a 44 per cent decrease from the 188 tickets issued in 2020 and a 77 per cent drop from five years ago (450 in 2017).
"[...] and the City's Urban Wildlife staff have seen a recent increase in carts being left out at the curb the night before collection," she explains in a news release today (April 6).
"Guided by massive appetites and a keen sense of smell, bears aren't picky about what they eat and will choose the easiest meal.
"They're enticed by unsecured garbage carts — particularly those left overnight at the curb — as well as open dumpsters, unrinsed recyclables, pet food, fallen fruit, bird feeders, compost and dirty barbecues."
There were 923 warnings given to Coquitlam homeowners in 2021 for improperly securing garbage carts and/or loose unnatural attractants.
Enforcement campaigns are set to continue in raising awareness on the issue and how to follow all local bear regulations, with staff potentially handing out violation tickets, stickers, notices and non-compliance letters.
The city lists the following measures to reduce wildlife encounters:
Put food scraps in green carts
Store garbage carts, green carts and recycling in an area inaccessible to wildlife

If not possible, a wildlife-resistant enclosure can be used to secure solid waste and prevent wildlife from accessing
City says enclosures are strong enough to fend off the strength of an animal weighing 600 pounds

Place carts and recycling at the curb after 5:30 a.m. on collection day
Store freezers and refrigerators inside
Keep pet food inside
Pick ripe and fallen fruit
Suspend bird feeders and clean up fallen seed
Limit outdoor composting to yard waste and plant trimmings
Freeze smelly waste until collection day
Keep all collection carts clean
Keep barbeques clean
Keep vehicles free of food, with windows closed and doors locked
MARCH BEAR ENCOUNTER UPDATE
WildSafeBC recorded 28 known bear sightings or encounters across the Tri-Cities during the month of March.
This is according to its Wildlife Alert Reporting Program and included 15 in Coquitlam's jurisdiction, 11 of which involved garbage attractants.
The organization also encourages residents to consider the following tips around bears:
Keep your garbage in or secured until the day of collection. Garbage is the number one attractant cited in reports to the provincial hotline
Manage your fruit trees

Don't let windfalls accumulate, and pick fruit as it ripens
If you don't want the fruit, consider...

Accessing a fruit gleaning group in your community
Washing the blossoms off in the spring so the fruit doesn't set
Replacing the tree with a non-fruit bearing variety

Don't put out bird feeders when bears are active

A kilo of bird seed has approximately 8,000 calories and is a great reward for a hungry bear

Keep your compost working properly with lots of brown materials and a regular schedule of turning
If you have livestock or backyard chickens use a properly installed and maintained electric fence to keep bears and livestock apart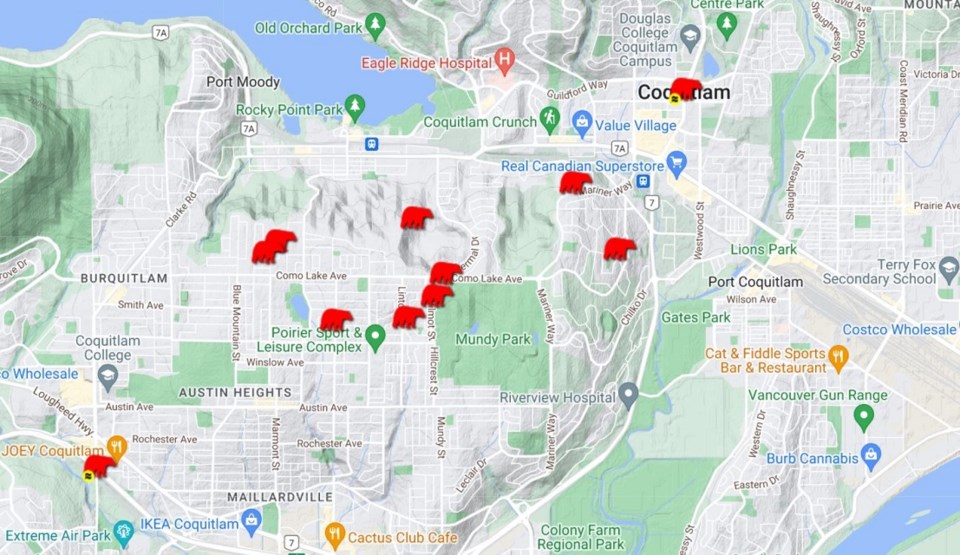 The public is also being reminded to check all of your surroundings when out in the backcountry as bears are known to hang out in trees.
"Even if you've never seen a bear in your neighbourhood before doesn't mean you couldn't in the future," Selk adds.
Residents are encouraged to contact the city by phone (604-927-3500) or email (urbanwildlife@coquitlam.ca) to report unsecured wildlife attractants in local neighbourhoods.
For more information, you can visit the bear smart page of Coquitlam's website.
The city is offering a free in-person information session on how to be "bear smart" in the community, slated for April 28, 6 to 7 p.m. at the Coquitlam Public Library's City Centre branch.