A jogger in dark clothes put his life in danger running down a Coquitlam street against oncoming traffic Friday — and got his photo taken as a warning against risky behaviour on city roads.
Coquitlam Mayor Richard Stewart posted a picture of the jogger taken with dash cam footage on Facebook Saturday.
It's a grainy shot of a man wearing clothing so dark he's barely visible.
"Thankful no oncoming traffic," noted Stewart in the post. "Looking at dash cam video (which makes the scene look much lighter than it actually was), runner was invisible until his face came into view about 10m ahead of me. Please, avoid black/blue/grey when you're on the road; please, on dark/rainy nights, don't try to blend in," he posted.
The footage was taken as the mayor was driving home from work in the 2400-block of Leclair Avenue. It was only 5:30 p.m. but already dark.
This isn't the first time Stewart has called out pedestrians for risky behaviour on the roads during winter. He's snapped photos of other pedestrians in dark clothes, some jaywalking, putting themselves in harm's way.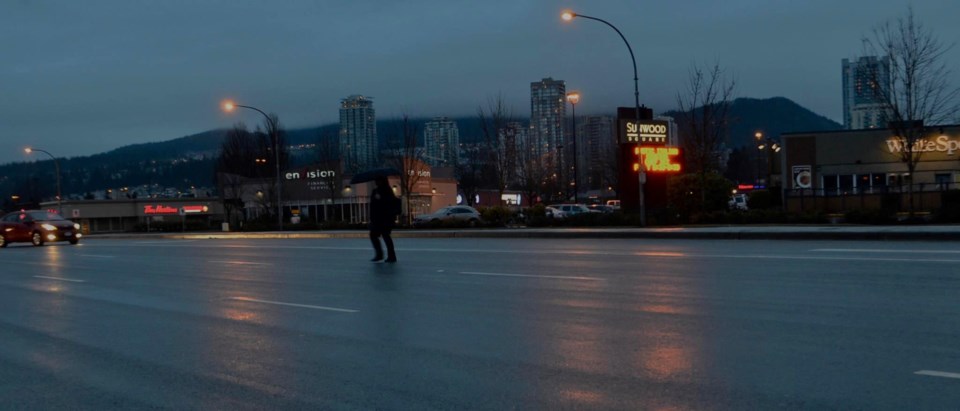 While the warnings may seem dire, there is good reason, said Stewart, pointing to a 2015 pedestrian accident in which someone tried to cross eight lanes of traffic on Barnet Highway.
Stewart's warning comes at the time of year when police and ICBC typically mount their Be Smart, Be Seen campaign.
The city has had some terrible tragedies in recent years, including an accident on Oct. 6, when a two-year-old boy was killed and his mother injured intersection of Pinetree Way and Tantalus Court.
And in Burnaby, police are urging drivers and pedestrians to be more careful after four pedestrians and one cyclist were hit in separate incidents all within just over 12 hours last week.
According to ICBC, 43% of all pedestrian accidents happen between October and January.