A new report on Canada's rental market suggests that Coquitlam posted one of the highest yearly and monthly increases in B.C. and the country.
In April, condos and apartments in the city averaged $2,788 per month.
According to Rentals.ca's and Urbanation latest National Rent Report, that was the second highest price among medium-sized B.C. communities behind Burnaby ($2,894), and the third highest in all of Canada.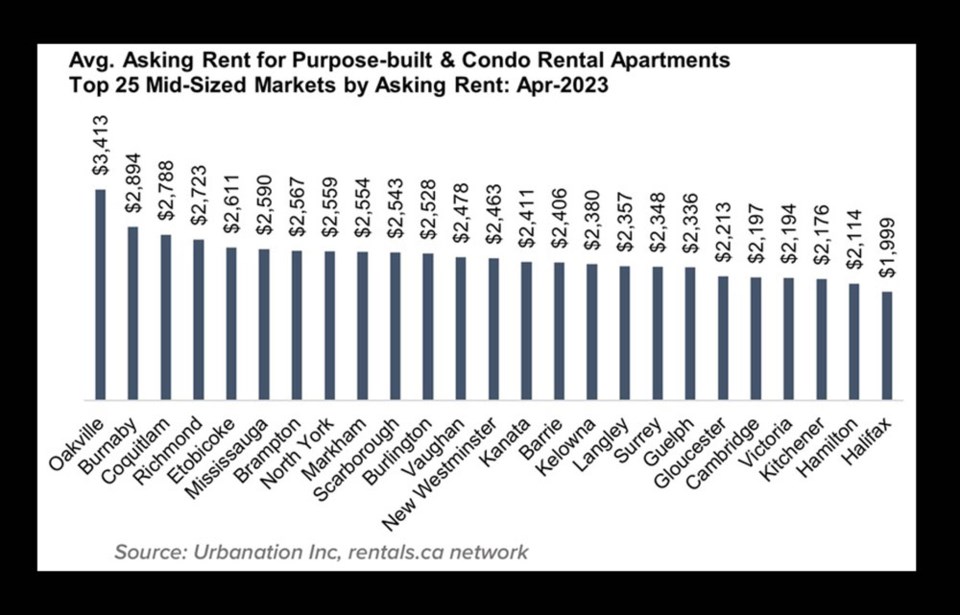 As well, the data shows Coquitlam's April apartment rental average marked a yearly increase of 24.4 per cent from the same month in 2022.
That was the highest annual uptick among B.C. mid-sized communities; sixth highest in Canada.
Coquitlam's year-over-year spike is also above the national average of 9.6 per cent, with a median of just over $2,000 a month, as well as the monthly average of 20 per cent.
"Canadians have become accustomed to increasing rents after the [COVID-19] pandemic," Matt Danison, CEO of Rentals.ca Network, said in a news release.
"Record immigration with most newcomers renting, high interest rates keeping first-time home buyers on the sidelines, and inflation are all drivers of rising rents, increasing demand and low vacancy rates."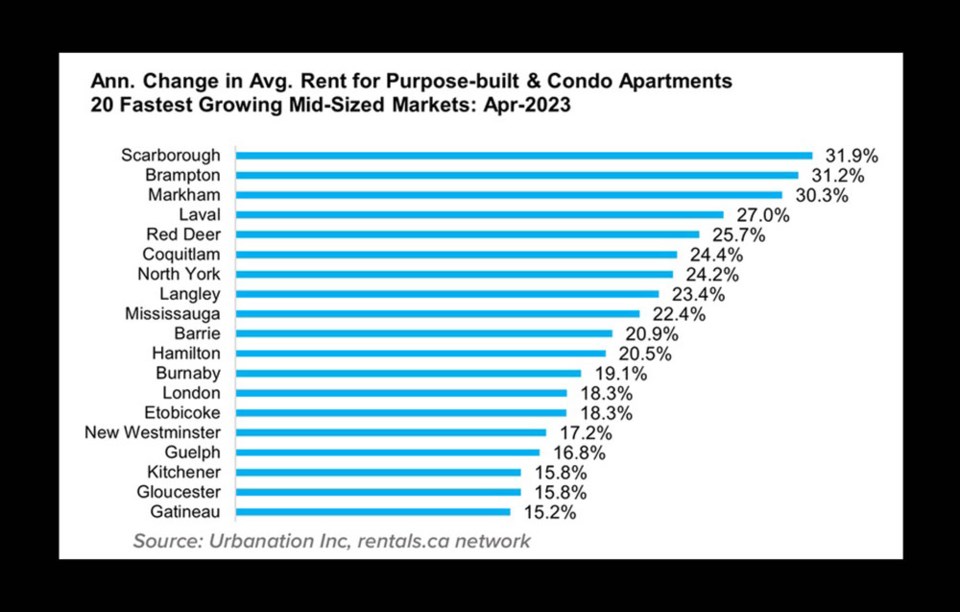 Rentals.ca said Canadians paid roughly $340 more per month in comparison to April 2021, when rental prices reached a pandemic low of around $1,662 a month.
In B.C., residents paid the lowest average rent increase in April at 5.6 per cent for condo rentals and apartments, but still maintained the highest average rent at $2,468.
Vancouver still boasts the most expensive rents in the country for one-bedroom ($2,787) and two-bedroom suites ($3,741).
Neighbouring Burnaby is in third in each category for larger markets — $2,330 for a one-bed and $3,230 for a two-bed.
Coquitlam's overall housing market saw 209 residences sold in April, according to the Real Estate Board of Greater Vancouver (REBGV), including 99 apartments.
Attached homes in the city were also a hot ticket for Tri-Cities real estate with 43 sold last month, which was an increase of 39 per cent from March.