Dr. Charles Best Secondary has a classroom that is so colourful, the sun makes rainbows when it shines through the windows.
And that's the idea as members of the school's Gay-Straight Alliance (GSA) meet weekly in the space decorated with Pride flags to discuss LGBTQ2S+ issues at the Coquitlam school.
Now, however, the students want to take their message of love and support for the queer community to city hall in hopes the municipality will fly the Pride flag and host an event to mark Pride month in June.
Students have written letters to councillors and plan to make a presentation at council on Feb. 27 to gain support for these initiatives.
Teacher Megan Leslie, who sponsors the club, said students have done a lot of research and talked to other groups and wonder why some cities will fly the flag, and others don't.
For example, Port Coquitlam and New Westminster follow suit and host Pride events, but Coquitlam doesn't.
"The students need somewhere local to celebrate Pride," said Leslie.
Grade 10 Best student Arjun Khera agreed, noting others shouldn't have to travel outside of their community to attend a Pride event.
"They shouldn't have to go there alone," he said.
The students also believe that flying the Pride flag and hosting a Pride event would show the community that Coquitlam council supports LGBTQ2S+ people, especially young people.
"There's so much hateful rhetoric out there and attacks by protesters. A statement by city council would tell the community that these comments are not acceptable," said Samara Szylowski, a Grade 11 student.
Students told the Tri-City News they see a festival as a place to go to be with others who share share a common bond and solidarity with LGBTQ2S+ people.
"A pride event creates a sense of community and a feeling of support, especially for youth who are struggling with their identify," said Megan Murphy, a Grade 12 student.
"It gives this big show that [the city] will support them, no matter who they are."
While the students don't have financial means to put on a big Pride event themselves, they have lots of experience organizing Pride events for their school.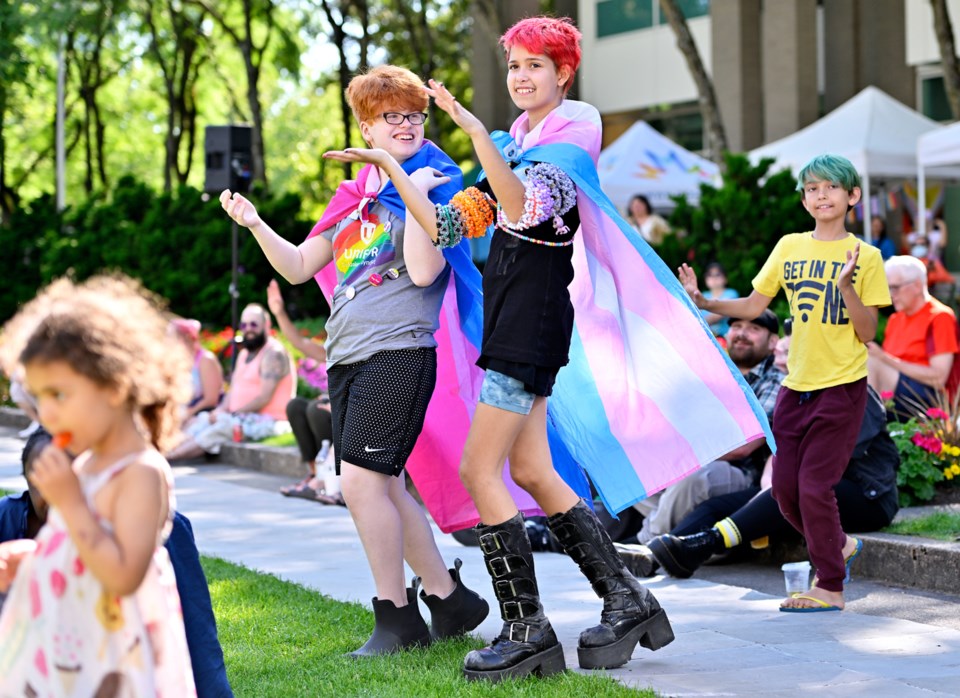 Students would volunteer at Pride event
They would like to be part of a planning group to organize a Pride event.
"I would be happy to volunteer," said Szylowski.
If such an event were held, other groups might be inspired to hold their own festival to raise awareness, suggested Nixyte Tsai, a Grade 10 student.
"It could pave the way for other marginalized groups," Tsai said.
Students offered experience with doing "back stage work" and other organizing talents to get a festival underway.
All they need is the willingness of Coquitlam council to support their cause.
While Coquitlam does have a policy that limits proclamations and flying flags, it is working on a plan to promote Equity, Diversity and Inclusion (EDI).
Here's the full statement from the City of Coquitlam:
"Coquitlam's policy, since at least 2000, has been to not issue proclamations for various legislative and administrative reasons. That policy is reviewed by Council from time to time and has been re-endorsed twice since then.
"The city has a similar practice for requests from third parties to raise flags on civic flagpoles, although the city does periodically raise and lower flags in accordance with City initiatives, programs, and events."
Additionally, "Equity, Diversity and Inclusion (EDI) is an overarching theme in Coquitlam's Business Plan, as well as an 'A' Business Plan Priority continuing into 2023. Aligned with that priority is the city's commitment to taking actions that publicly showcase Coquitlam's support for EDI efforts, including the LGBTQ2S+ community, in an accessible and highly visible manner.
"One of the key 2023 work plan items for the EDI Office is to review our public-facing communications for opportunities to enhance a sense of belonging in our community."
What the students say about Pride in Coquitlam
Here are some quotes from letters by Dr. Charles Best students:
"Having something nearby gives them the chance of a welcoming experience, and an educational experience that could be life changing in knowing that maybe there's still a handful of good people, who are full of kindness in this world."
— 15-year-old student
"Coquitlam even has a perfect spot for an event like this. Lafarge Lake is a large open park space with a stage. We should take inspiration from PoCo Pride and New West Pride events that happened during the summer."
— Grade 10 student
"Personally, it would be great to have a pride event closer to home as I am a teenager and cannot always attend the ones farther away. Having one locally would also make way to a more positive and accepting environment."
— Grade 11 student
"Visibility and representation are both especially important things for young queer people. A lot of them do not have supportive environments and believe that they are alone. Being able to show them that they are not alone and that their city supports them for who they are is an important thing."
— Grade 12 student