Do you have a personal story to tell about life during the COVID-19 pandemic? Email me here.
A Coquitlam digital fabrication house has retooled its production line to print out protective gear for nurses, doctors and other frontline healthcare workers. 
With laser cutters and a dozen 3D printers, Coquitlam's IoT Design Shop is normally in the business of building one-off prototypes for the "internet of things."
"Turns out the equipment is pretty handy for printing face shields as well," said founder Trent Shumay of Port Moody.
Shumay's is one of dozens companies and individuals across the Lower Mainland repurposing their production lines in a not-for-profit program called the BC COVID-19 Printing Group. By tapping open-source design-specifications from other 3D printers around the world, anyone with a printer — from a hobbyist in their basement to commercial enterprises throwing dozens of machines at the task — can take part. 
On the other end, health care workers are encouraged to connect directly with manufacturers so they can place orders and match supply with demand. 
Everything, including time and materials, is donated, and one of the group's maxims is "no money is to change hands."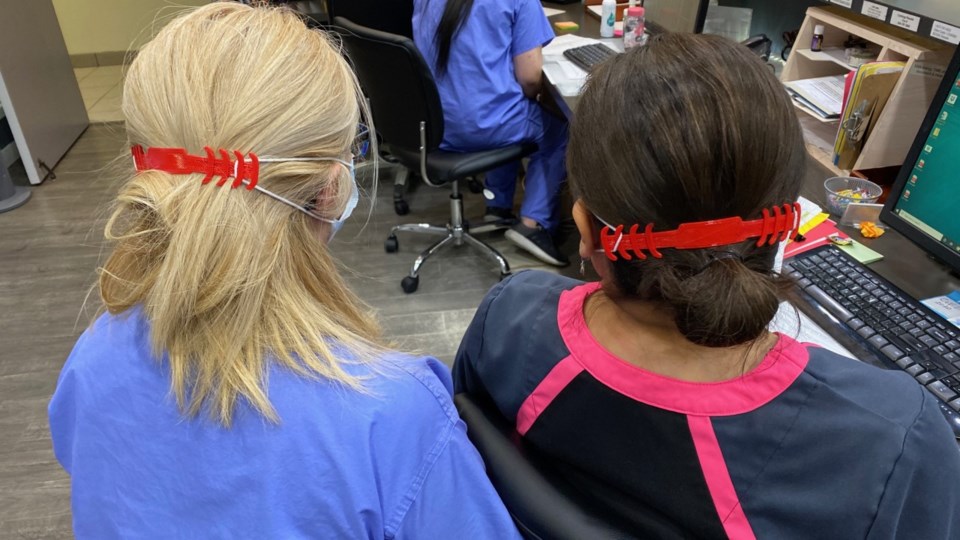 Most of the orders have been for Royal Columbian Hospital and a nearby COVID-19 screening clinic run by dozens of doctors, nurses and other staff from Coquitlam, Port Coquitlam, Port Moody and New Westminster.
So far, the group has had orders placed for more than 3,000 plastic protective visors made from two pieces: a 3D-printed frame and donated plastic sheeting, laser cut to size and shape.
The group has also started producing another, little-known comfort known as "ear savers," which have become increasingly popular among healthcare workers working long hours behind masks.
"These folks are wearing face masks all day long. They say, 'This whole ear strap thing is becoming a problem,'" said Shumay. "It takes the two earlobe straps and holds them off the ears." 
"The world has changed," he added, referring to the DIY tech approach to a supply problem. "I'm just happy to do something that helps."
Read more about COVID-19 here.