Reports of human-bear conflicts have spiked this year, and with at least 10 black bears having been euthanized so far across the Tri-Cities, many residents have voiced their frustration with a lack of alternatives.
For Alexandra Marinets, it all came to a head last week when she was on one of her usual walks through Mundy Park, not far from where a sow and two cubs had been euthanized by conservation officers a day earlier.
Winding down one of the trails, Marinets came across a handmade sign: "Run Bears Run," it read. "A small voice for a baby bear," referencing the July 30 incident.
Marinets has always been an animal lover — she breeds cats and judges cat shows — so when, six months earlier, a friend involved in wildlife in Washington state told her about a unique breed of dog saving the lives' of bears and wildcats, she started reading everything she could find on the animals.
On July 31, Marinets launched a petition to bring Karelian Bear Dogs to the BC Conservation Officer Service (BCCOS). She quickly blew past her initial goal of 100 people and now has more than 1,700 signers.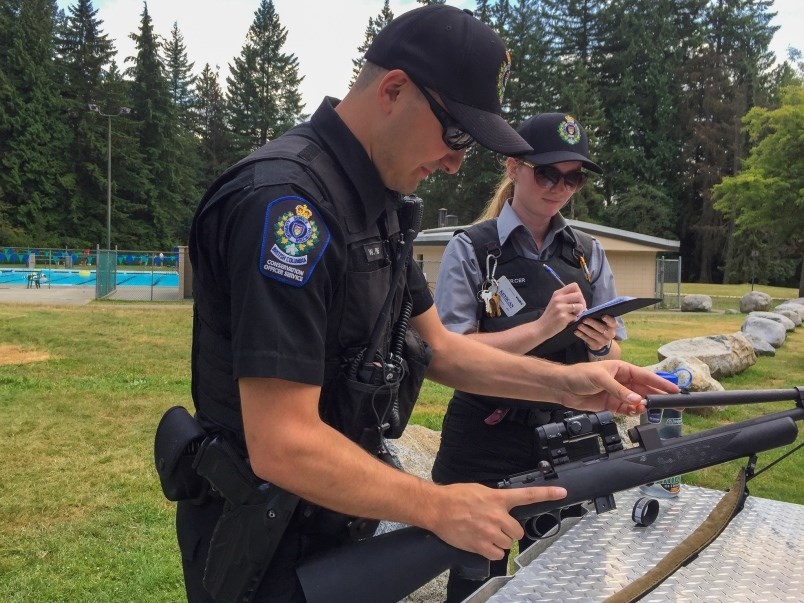 Washington state's first Karelian Bear Dog arrived in 2003 from the Wind River Bear Institute in Montana, a facility that trains the Finnish dogs to ward off ursine neighbours and wildcats from populated areas. 
The dog arrived at a time when the Washington public's frustration with destroying bears was bubbling over. 
"The agency took a lot of hits with the public when we had to eliminate bears or cougars that came into these areas," said Capt. Alan Myers, who now leads the Karelian bear program for Washington's version of the BC Conservation Officer Service.
"We needed a non-lethal tool in which to handle these because, in the past, we had very few options."
Mishka quickly adapted to his new role as a non-lethal removal tool. In one of their most successful tactics known as 'hard release,' officers first tranquilize the bear in question and put it in a trap — basically, a sealed-off section of culvert on wheels.
While contained, the dog barks at the bear in a form of aversive conditioning. Officers then release the bruin on the edge of the same area that it was captured. That way, the bear associates the area with distress and avoids the territory.
"We try to give them an avenue of escape," said Myers, who commands the detachments and officers working in the highly urbanized areas surrounding greater Seattle. "[Anything] that keeps that old adage of 'a trash bear is a dead bear' from being an absolute reality."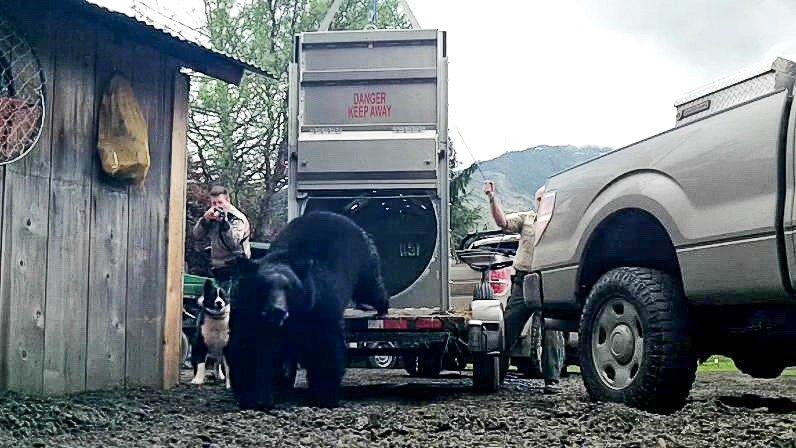 According to Myers, early studies found the tactic prevented bears from re-habituating to the same area 70 to 80% of the time. 
Yet officers are still forced to kill bears that have attacked somebody or are an obvious threat to the public. Nils Pedersen, a wildlife biologist and director of the Wind River Bear Institute, said the dogs address a symptom of human-wildlife conflict and do not solve the root problem of attractants like garbage or berry farms.
"In a province like B.C., where we're getting 20,000 bear calls a year, and a lot of those in the Lower Mainland, using a tool like a Karelian Bear Dog is really difficult until we get a handle on our attractant and we bring that level of conflict down," said Mike Badry, a wildlife conflict manager with BCCOS. 
Still, Pedersen said lethal management of bears won't stop people from leaving garbage unsecured, and in some cases, killing a bear will leave a territorial hole for another one to move in.
"[Karelian Bear Dogs] indicate to the public that management is looking for alternatives to lethal," said Petersen. "That just makes it all the more shameful if you are not helping, leaving attractants out. Basically forcing agency members to kill them."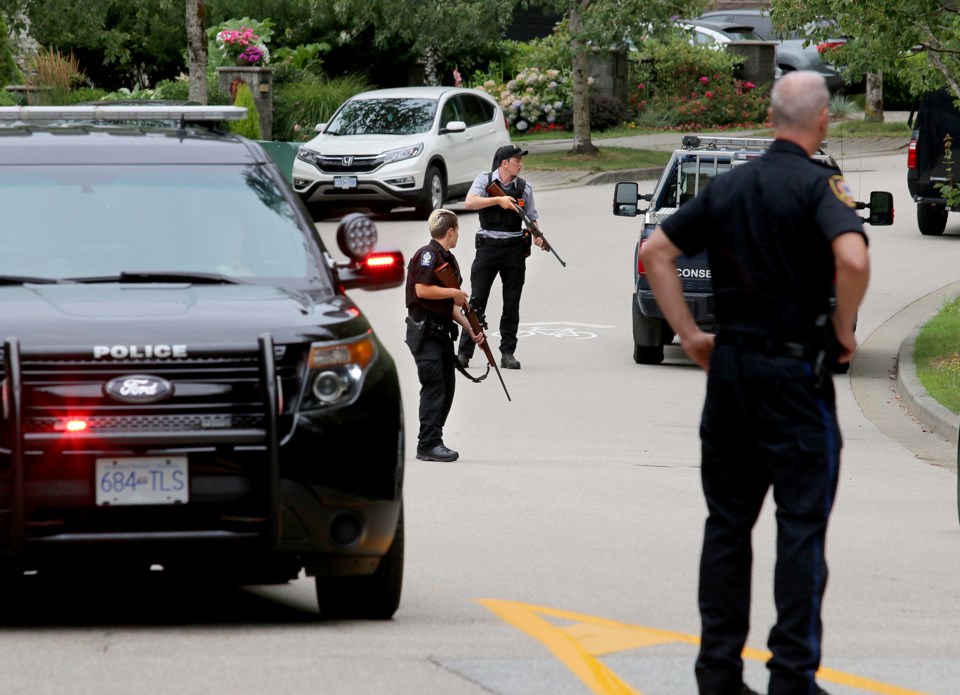 For the wildlife officers down in Washington, dogs and handlers have come and gone, but the program continues. Today, there are four dogs, including two in the urban corridor around Seattle.
The bottleneck in expanding the program is finding officers with the right set of characteristics to take care of the animals.
Karelian Bear Dogs have also proved effective in tracking duties, and the dogs have expanded their resumes to include evidence collection and hunting down poachers.
Since its inception in 2007, the bear dog program has run independent of state or federal funding. Instead, it relies entirely on citizen donations through an annual funding drive. Myers said they have never come up short.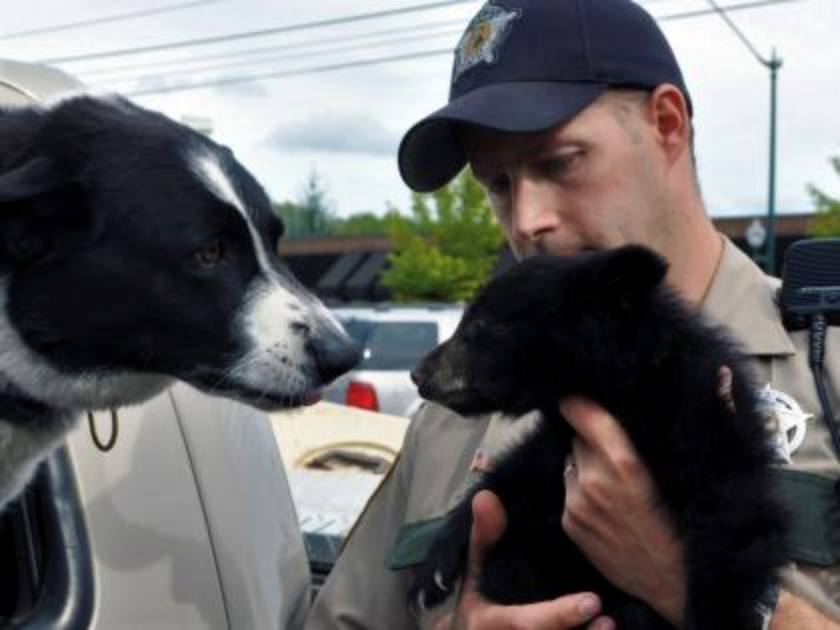 "It's fantastically popular," he added. "These dogs and these handlers are rock stars." 
That's no small advantage, especially when it comes to establishing a bridge between suburban populations and bears that might not otherwise be there.
While the officers in Washington's Department of Fish and Wildlife have pioneered the use of Karelian Bear Dogs in a law enforcement capacity, others have had success rolling out programs in places like Alaska, Nevada and Utah. The Wind River Bear Institute had their longest-running Karelian Bear Dog grizzly management program running south of Banff until, after 14 years, it was internalized.
"When you're doing a good job in this field it seems like there is no problem. That's the problem," said Pedersen. 
In B.C., individuals in Bella Coola, Nelson and with the Haisla Nation around Kitimat have expressed interest in working with Karelian Bear Dogs, but that's never led to any sustained institutional adoption in the way Washington has taken them on.
"B.C. is a province that we've never really had a consistent connection with, which is surprising because you kill a lot of bears there in B.C.," said Pedersen. "[It's] something I could see in a place like Whistler, Vancouver or the Tri-Cities. There's a lot of work to be done."
slabbe@tricitynews.com