When you've had more than 100 birthdays, how do you make your 105th special?
For friends and family of Mary Anne Cooper, the best party to have was a community celebration in the historic Port Moody Station Museum with cake, candles, sandwiches, pie and lemonade, plus stories and songs.
The museum location might have seemed like a bit like a movie set, for that is what it was.
Award-winning documentary filmmaker Eva Wunderman was among the guests and, with the help of a camera operator, she filmed the proceedings for an upcoming documentary about Cooper and the city of Port Moody.
"It's been really exciting and an enjoyable experience," Wunderman said of the 14 days she has spent so far shooting the film, which will intertwine city history with Cooper's life and community activism.
Plans are to make a short demo of film that has already been shot and then edit the hours of film into a longer documentary. For this project, the film's supporters have raised about 25% of the $80,000 needed.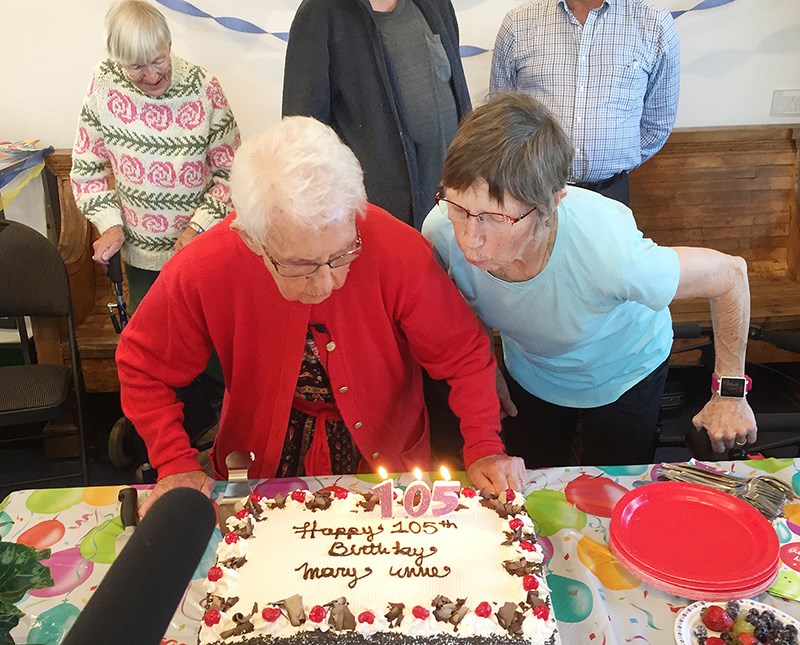 Ruth Foster, who is volunteering as the executive producer for the doc, called Mary Anne Cooper's Way, said the film project has grown in scope and will include elements of Port Moody's pre-colonial past as well as an indigenous perspective.
Film shot during a fire that burned down historic buildings in Moody Centre this past summer will also be included, according to Wunderman, who said the images show elements of destruction and renewal.
Spending time with Cooper has been the best part of the project, said Wunderman, noting, "It's been an amazing journey."
At the party Wednesday, family and friends shared their memories of Cooper, who listened with pleasure, telling the crowd of well-wishers, "It's so nice having a birthday because you are all here."
Then tapping her head with her finger she said: "I will put you there in a little place and I will never forget you."
Donations are being accepted now for the documentary film, either in person at Port Moody City Hall, with cheques made out to the City of Port Moody (tax receipt available), or online at www.gofundme.com/macpomo104.
For more information, visit maryannecooper.ca