Beds are being made and workers are putting finishing touches on paint, furniture and flooring at 3030 Gordon Ave. in Coquitlam as RainCity Housing Society staff prepare to start taking in the Tri-Cities' homeless people on Monday.   
Offering private rooms for both short-term and longer stays, storage for belongings, three meals a day and counselling, the facility — known as 3030 Gordon — sets a new bar for supporting vulnerable people in this region and will be a big change for those now sleeping on mats at Coquitlam Alliance church or in tents in the woods near the Coquitlam River.
"It's a calming, therapeutic environment. Having your own space is huge," Adam Prytuluk, 3030 Gordon manager
"Just seeing the walls going up and taking shape, and seeing the capacity it will have not only in housing capacity but services for people who are homeless to help them with their issues, in my mind it will be very powerful," said Sandy Burpee, co-chair of the Tri-Cities Homelessness and Housing Task Group, who has advocated for a permanent shelter for more than a decade.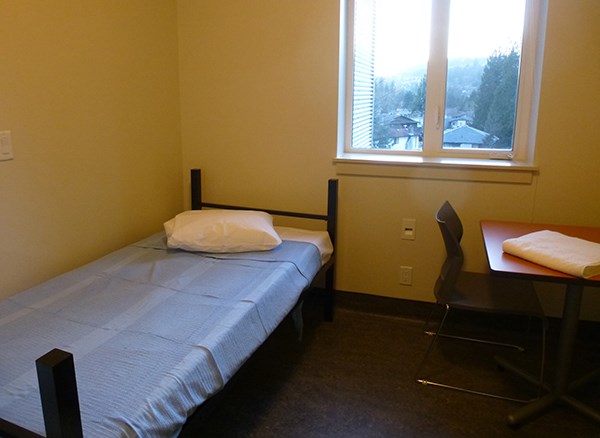 The Tri-Cities have long cared for its most vulnerable, with the city of Coquitlam identifying a site for the permanent shelter as early as 2008, and Coquitlam, Port Coquitlam and Port Moody churches providing temporary shelter with funds from the federal government and Hope for Freedom Outreach running the program.

YEAR ROUND SUPPORT
But what's different about 3030 Gordon, Burpee says, is that it will provide shelter 24 hours a day, seven days a week, with supports, including counselling and life planning, so people don't have to leave to spend their days in the cold.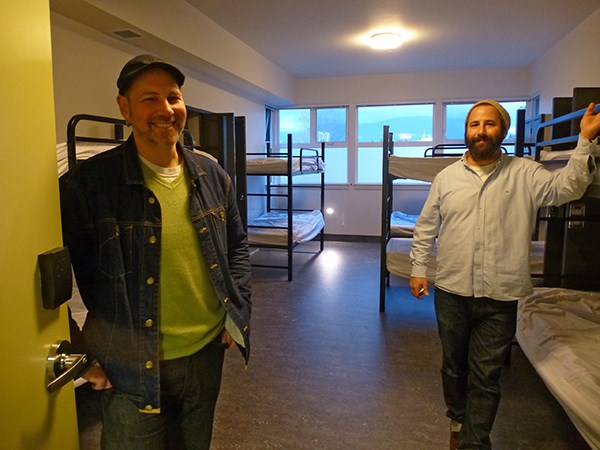 It will also operate all year, not just during the cold and wet fall and winter months, providing more opportunities for reaching out to those who don't have a place to live and who need a helping hand to deal with alcoholism, drug addiction or mental health issues, or a combination thereof.
"I see it being a hub to address the needs of people who are homeless and being effective in getting them off the streets," Burpee said, noting that Fraser Health will be providing doctors and nurses to use the medical examination room. Fraser Health will also provide a therapist to work with people with mental health and addiction issues.
It will be a few weeks before the shelter fills up, with BC Housing interviewing candidates for the studio apartments for longer stays, and caseworkers speaking to those already using the temporary mat program to see if they want to move into the the shelter rooms.
But already, 3030 Gordon is a hive of activity.
Adam Prytuluk, program manager, and Bill Briscall, communications manager, took The Tri-City News on a tour of 3030 Gordon Ave., the new transition housing and shelter built with $12.9 million in senior government funding and $405,000 in land provided by the city of Coquitlam. The facility is set to open next week, providing 30 transitional studio units and 30 permanent shelter beds in separate rooms, plus 30 dorm-style emergency shelter beds.

PRACTICAL DESIGN
 Prytuluk said staff are being hired to provide support services during the day and night, and expects everything to be running starting next week.
The entire project has been designed, built and staffed to deal with the special needs of people who are in various stages of homelessness, Prytuluk said, and with his 14 years of experience working with RainCity, he is uniquely poised to understand those special requirements.
For example, the washrooms are gender-neutral on the ground floor so people who may be transgender or questioning feel welcome; the lounge furniture, although comfortable, is made of rubber; there is one lounge for television and a quiet lounge, with a gas fireplace; and there's a large, enclosed garden where people can relax outdoors. There is even space for a gas barbecue, and RainCity Housing believes the amenities will keep people at the shelter, reducing neighbourhood concerns about loitering.
"It's a calming, therapeutic environment," Prytuluk says, "Having your own space is huge."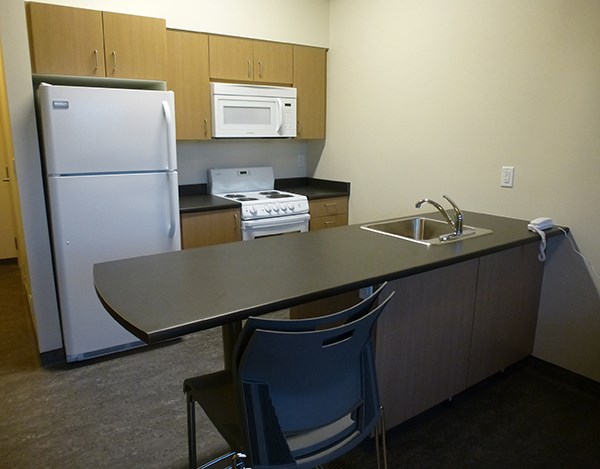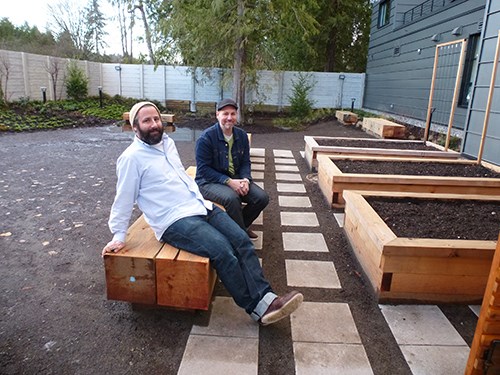 HOUSING-FIRST
The staff have also been chosen for their compassion and experience; there will be cultural workers to work with people who identify as aboriginal, peer support workers who have been through homelessness, or drug or alcohol addiction and community integration workers who will help people get back into society.
"We have a housing-first model," Prytuluk says. "That means we want to get them into housing, then we hope they will gravitate toward stability."
That means clients don't necessarily have to be off drugs or alcohol to get a room. In fact, they can ask for 24-hour bed rest to get healthy, "then we'll start talking about their housing plans and housing history," Prytuluk explained.
The rooms themselves are comfortable, with washrooms and kitchens in the transition studio units for people staying longer (up to two years) and who might also be working. The temporary shelter beds are inviting — a big change from sleeping on a mat on the floor of a church hall — and the room gives clients privacy as well as a view, with a large picture window looking over the Coquitlam hillside. Six of the transition studio units are wheelchair accessible and one entire floor has been set aside for women.

OUTREACH
Since 3030 will serve a variety of people, security is tight and well thought out, with key cards for people living in the transitional units and locked areas with intercom entry on the shelter units. Surveillance cameras keep an eye on the common areas, with banks of TV screens in the administration office to monitor client safety.
Anyone who looks at the facility from the outside — such as commuters riding the West Coast Express that passes on weekday mornings and afternoons — will see something that looks like an attractive condo building.
For the community, the idea of a permanent shelter has been controversial but RainCity's communications manager Bill Briscall says neighbours, including local business owners, are coming around to the idea. He says some are even planning to volunteer or are on the project's community advisory committee, which meets monthly and includes RCMP staff, and health care providers.
Briscall, who co-chairs the Tri-Cities Homelessness and Housing Task Group with Burpee, plans to continue to provide outreach, handing out cards with RainCity contact numbers to people and businesses in the area next week.

VOLUNTEERS KEY
There will also be efforts to maintain the high level of volunteerism that has been so successful with Hope for Freedom Society's (HFFS) church mat program. In fact, plans are in the works for HFFS to hire a volunteer coordinator, if funds are available, to look after this important area of community development. HFFS will also have workers on site to help homeless move into recovery.
For Burpee, encouraging people to volunteer and contribute is crucial for getting community buy-in and so homeless people see they are valued and that people care about them.
But he's also confident that RainCity with its lengthy history of working in this area, including community outreach, will ensure 3030 Gordon lives up to its promise as an asset to the region.
"RainCity Housing has an excellent track recored for managing impacts on the neighbourhood; they work really well with neighbourhoods," Burpee said. "The community advisory committee has been formed. If there are issues coming up, they will deal with them and any household in the neighbourhood, if they have a concern, they'll know who to contact."
Prytuluk is obviously excited about the new facility opening Monday and proud that RainCity has this opportunity, pointing out that like its other supported housing projects in the Lower Mainland, starting Monday, 3030 Gordon will offer a safe, secure place for vulnerable people who are homeless.
It will be a welcoming home, Prytuluk says, one that never closes.