Some 3,000 School District 43 students will graduate in June, 2016, here are the thoughts of 12 who recently completed their high school years at Inquiry Hub.
Inquiry Hub is a self-paced, project-based learning program housed at the former Millside secondary school in Coquitlam.
Hannah Brown
The main inquiry that I worked on while at Inquiry Hub was our community garden which is an experience that has taught me valuable organizational and leadership skills. I've been able to do work that I'm passionate about, and experiment with different ways to demonstrate my learning. One of the most important things I have learned in the past 4 years is the ability to self-advocate, which is an ability I will always have. These things have given me confidence in the work I produce and the ideas I put forward.
I am attending the University of Victoria in the fall, where I will be getting a business degree, with the hopes of either opening up a business or becoming a producer.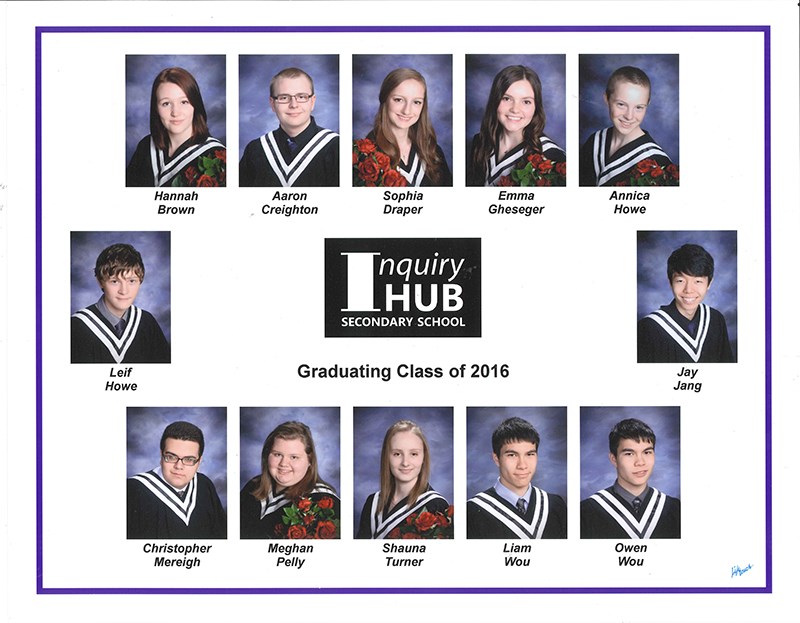 Aaron Creighton
The Inquiry Hub has its own pace. It's shown through the innovative ways our teachers have taught us, the projects we are given, the opportunity to create, and the regular adaptation around projects. Not all adaptations have been ones the students have liked, though the teachers have taken that feedback to adapt the projects moving forward unlike a regular high school class.
I would say my most rewarding inquiries were the ones I did with a purpose and curiosity. Through these projects I have improved my abilities to teach myself new things, find resources, manage my time, and persevere through failure. If you cannot fail, you cannot learn.
For the 2016/2017 school year, I will be attending the University Of British Columbia for engineering.
Sophia Draper
Inquiry Hub gave me the opportunity to work with two other students (Hannah Brown and Shauna Turner) to plan and develop a community garden, which is an experience I never would have had otherwise. Coming to iHub has also allowed me to improve my public speaking skills, and has taught me a lot about working in a group—learning to use everyone's strengths, and helping each other out. Over the past 4 years, I've been able to focus and put more time into the subjects that I'm not as strong in, and really improve in these areas because of iHub's flexibility.
Next year, I will be studying Psychology at Simon Fraser University and Douglas College in their partnership program. Eventually, I plan to go into either speech language pathology or occupational therapy at UBC.
Emma Gheseger
I didn't start out at iHub,  I become a student in COL during my grade 10 year. The year before I attended a regular high school, so I've had the experience of what both are like. I decided to go to iHub for the flexibility in schedule, courses, etc. I also found this type of schooling to be more rewarding because there are many chances to study subjects that you're interested in. For example this year for my IDS course I researched animal chiropractic, which is what I'd like to do after high school.
The flexibility here also helped me excel in my passions outside of school, such as riding horses, and being a dog show handler, competing in local shows, as well as traveling overseas for them. These opportunities wouldn't have been made possible if I wasn't at iHub.
To continue my passions of working with animals I will be attending Kwantlen Polytechnic University, Faculty of Science and Horticulture. After I complete my undergraduate program there I hope to continue my schooling at Parker University in Texas to become a Doctor of Chiropractic for humans as well as dogs and horses.
Annica Howe
Honestly, coming to IHub has been an experience I will never forget. It's given me a strong drive to keep learning and the resources to pursue it with. After homeschooling for 7 years, it was amazing to come and be a part of such a small, diverse community of passionate individuals with great ideas, and see so many of those ideas come to reality. I'm looking forward to continuing on with my own project, a commercial-glass recycling system for the Lower Mainland.
Thank you to my teachers for your contagious enthusiasm and for always being ready to try something new.
In the coming year, I'm planning on doing a lot of traveling as I want to learn more about this world we live in.
Leif Howe
I really had a blast at Ihub. I think that, if I had gone to a normal high school, then I wouldn't have met such amazing people or have gotten along in the way that I did. With the unique air that Ihub has, I felt so at home there. There is no bullying, there are no drugs, the teachers are all really helpful, and can focus more on the students who need the attention.
With the free work time, you have the opportunity to work on whatever you want, so if you are behind in one course, then you can use that time to catch up in the course, or if you are caught up, then you can use that time to get ahead of your schedule.
I am currently planning on becoming a lifeguard after I graduate, while I'm figuring things out for what I want to be for a permanent job. I might even stay as a lifeguard. Other than that, I have no permanent plans. I guess my destiny will be revealed to me as I walk the path of life.
Jay Jang
The first time I heard about Inquiry Hub, I was captivated by the idea to learn how to learn; to implement freedom and creativity into our education. It was a big leap of faith; a belief that our generation was ready for the next level of education. Inquiry Hub allowed me to find my interest and freely explore it. After realizing my interest around Computer Science, I founded a computer club. My IDS's include creating 3D model of our school, face recognition program, leap motion software, and augmented reality chess. Inquiry Hub provides an education that harmonizes high school and university education.
After graduation, I am going to UBC Faculty of Science to study the field of Computer Science. After my undergraduate program, I will continue my studies into graduate program to become a doctor. I want to learn as much as I can.
Christopher Mereigh
My time at the Inquiry Hub was unique.  Unlike a conventional high school.  The teachers at Inquiry Hub used its flexible days to create a learning environment that would do its best to appeal to everyone while still providing the necessary outcomes to achieve success.
The idea of an inquiry while interesting was not the primary reason I wanted to spend my high school years at the Inquiry Hub.  I was drawn to the idea of self paced learning where I could decide what I wanted to do and when I wanted to do it.
The flexibility that the school gave allowed me to explore my passion for the culinary arts.  All in all it was a great experience and I look forward to what the future brings.
I plan to earn my Canadian Red Seal while working to further my culinary knowledge through working in kitchens.
Meghan Pelly
This school was just what I needed. It is small and had a relaxed atmosphere which helped my social anxiety; I would never have been able to attend a school with 1,500 students, My grandfather, Gerry Irvine, went to this school (Millside) 65 years ago. His father John worked at Fraser Mills and the family lived in Maillardville. I can honestly say spending the last four years at Inquiry Hub has helped me with my confidence with speaking publicly. I am also very excited to be a part of the first graduating class of Inquiry Hub.
I'm not too sure of what I want to do next year, but I would love to take time to travel and practice my photography. I know anything I do I will be confident doing because of the teachers and friends that helped me over the four years.
Shauna Turner
At Inquiry Hub, I was able to learn so much more beyond my academics courses. Like learning from my failures, finding my strengths, and not just focusing on my learning differences. I was able to work alongside my peers. I've improved my public speaking and leadership skills. I was able to follow my passion for food and gardening.
The experience with creating the School Garden is something I will never forget. The last four years have been unique and amazing thanks to my friends and teachers constantly helping me. I'm excited to be part of Inquiry Hub's first graduating class!
I will be attending the Northwest Culinary Academy of Vancouver, Which is the starting point of my journey to become a chef.
Liam Wou
Assembling and maintaining a 3D printer at iHub has been a huge personal intellectual challenge which has taught me invaluable knowledge about electronics, design, organization, and troubleshooting. As part of this project, I documented the changes that were made by recording and taking pictures of the modifications.
Upon completing the assembly, I had to troubleshoot problems that I had accidentally created. Then, I had to familiarize myself with the software and calibrate the machine. Although this involved a considerable dedication of time and effort, I feel that it has been the most effective learning experience of my intellectual career yet.
What are your plans for next year
I am going to Langara for engineering, with a plan to transfer to UBC.
Owen Wou
Building a 3D printer as an independent directed studies school project is definitely an experience which I would not have had in a normal school. That project taught me many things, but largely that failure is a big part of the learning process.
The most memorable problem was when we first turned the machine on. After recognizing what my group had achieved, knowing this printer, only a few months ago, had been merely half a dozen boxes containing only parts, we flipped the switch… and watched sparks fly. Soon after we had a working 3D printer. Next year I plan to go into the engineering program at UBC.