We now know what an extra six figures can add to a party.
Coquitlam has released its full line-up for Canada Day 2023 celebrations, nearly a month after council approved an extra $125,000 from its sponsorship reserve.
The Suits will headline the music performances before the massive fireworks display over Lafarge Lake in Town Centre Park (1299 Pinetree Way), where all the displays, activity booths and food trucks will be situated on July 1.
Events are slated to take place that day between noon and 9 p.m., with fireworks starting at 10 p.m.
---
You can view a full schedule of events below.
---
Beyond the maple leaf
Canada is acknowledging 156 years of Confederation next month.
However, Wondy Chan, Coquitlam's cultural and community event supervisor, said staff are hoping residents and visitors this year can take time to reflect on Canada's history.
This includes its colonial past with Indigenous communities "as the country strives collectively to learn from the past and improve for the future."
"Coquitlam recognizes that Canada Day can mean different things for different members of our community," she said in a news release today (June 7).
"As a result, the city aims to provide an experience that is sensitive to the diverse range of community perspectives."
According to Chan, Coquitlam's free Canada Day events are the largest in the Tri-Cities, focusing on community and multiculturalism.
In fact, it saw a 13 per cent increase in patrons with more than 85,000 people from across Metro Vancouver in 2022 compared to 75,000 from its last full in-person celebration in 2019.
A similar crowd could be back for 2023, and Chan believes this will give community groups and performers prime opportunity to showcase their various talents and backgrounds.
Coquitlam's equity, diversity and inclusion (EDI) committee has also been involved in the planning process to ensure everyone can enjoy the festivities.
This includes people of all abilities and Coquitlam has taken steps to ensure Town Centre Park is accessible for all.
The city is assigning designated accessible pick-up and drop-off stations, as well as parking areas and entrances. There'll also be specific stage- and fireworks-viewing areas.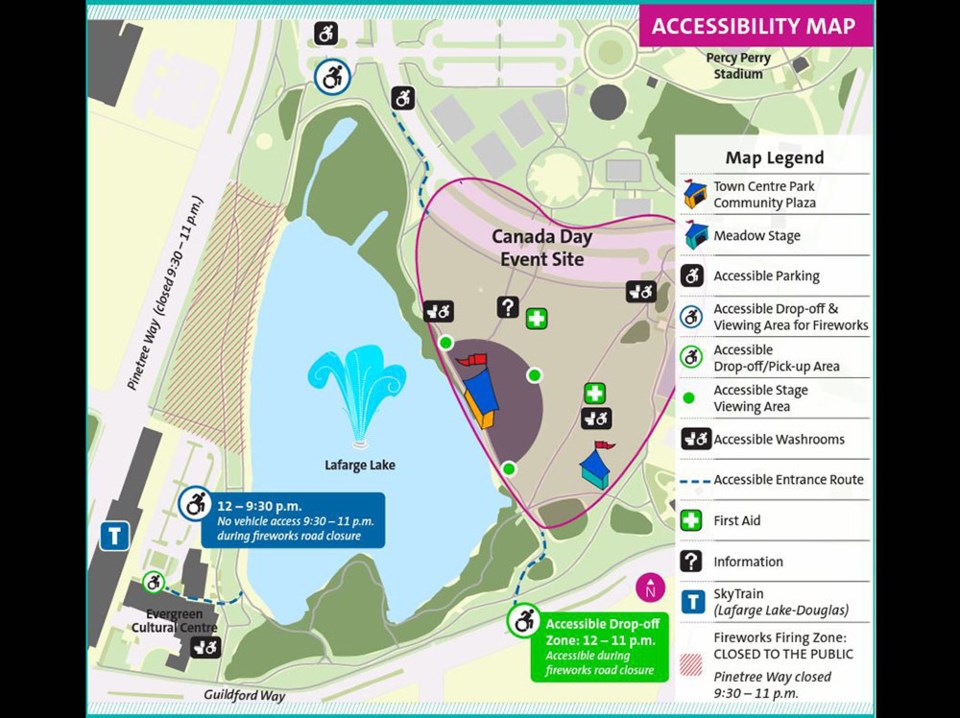 Schedule of events
After the opening ceremony at 12:30 p.m., visitors are free to roam the activities and stations throughout Town Centre Park.
Chan said the 86,000 sq. ft. festival lawn will be home to a series of adventure games, mini-golf, a rock-climbing wall, face painting, a photo booth and displays from various community groups.
As well, "Eat Street" is set to feature 16 food trucks:
Crème Brulee To Go
Gary's Kettle
Japadog
Kampong - Taste Of Malaysia
Mahshiko
Nami Vietnamese
Old Country Pierogi
Roasted Revolution
Rocky Point Ice Cream
Shameless Buns
Taco Tigre
Teapressu
The Little Snowflake Factory
Tornado Potato
Veg Out Plantbase
WakWak Burger
A "Brew Corner" will also be set up for festive drinks courtesy of Mariner Brewing.
The musical and entertainment acts that'll grace the Town Centre Park Community Plaza and Meadow stages include (in order of appearance):
Plaza stage
12 p.m. = Balkan Shmalkan (Eastern European pop and jazz)
1:15 p.m. = Karima Essa (Bollywood dance)
3 p.m. = The Myrtle Family Band (Vaudeville comedy, dance and jazz)
5 p.m. = Bakara Band (Persian pop)
8:30 p.m. = The Suits (pop, hip-hop, R&B, soul and funk)
Meadow Stage
1:45 p.m. = Jultagi (Korean tightrope walking)
4 p.m. = WILLs JAMs (Children's bilingual rock-pop)
6:45 p.m. = Forro Do Cano (North Eastern Brazil music and dance)
For more information on Coquitlam's Canada Day celebrations, including times for all events, parking restrictions and ways to get to Town Centre Park, you can visit the city's website.