Fraser Health has announced the Tri-Cities will be getting a new COVID-19 testing centre only 24 hours after doctors at a testing clinic meant to be a stop-gap solution said they had burnt out and were forced to close after multiple delays on the part of the health authority.
"We have accelerated our timeline to ensure our centre would open earlier," wrote a spokesperson for Fraser Health in a press release announcing the opening of the new testing centre.
The new site, which is set to open Oct. 5 and has the capacity to carry out up to 800 tests daily, will be located in Coquitlam at 2796 Aberdeen Avenue in TransLink's Coquitlam Central Park and Ride lot, according to Fraser Health.
Described as a hybrid, seven-days-a-week clinic, Tri-City residents looking to get tested for the virus that causes COVID-19 will have access to both drive-thru lanes and a walk-in style clinic.
Once the site is open, anyone looking for a test should use Fraser Health's online booking tool to make an appointment.
STUNNED RESPONSE
On Thursday, the only COVID-19 testing clinic operating in the Tri-Cities said it was shutting its doors next week, citing a lack of staff and resources. 
The Influenza Like Illness Assessment Clinic in Port Coquitlam is set to close Friday Oct. 2 at a time when active cases of the virus have reached levels not seen since the pandemic first started in British Columbia.
"With our limited staff and resources, we are no longer able to continue running our testing site because our doctors are burnt out and our staff are overworked," said lead medical director Jordon Sugie and Dr. Carllin Man in a written statement Thursday.
"We simply cannot continue to work for our own health."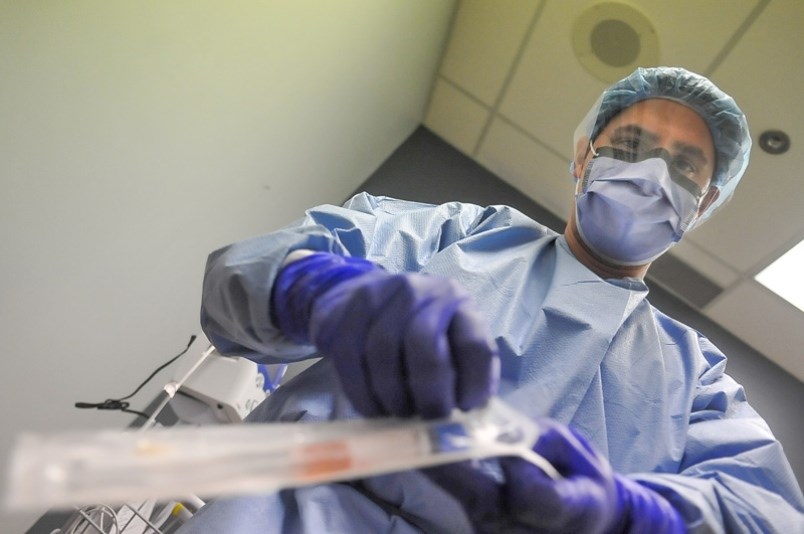 The two physicians said the clinic was opened as a temporary stop-gap to make up for a lack of testing options in the Tri-Cities as they waited for Fraser Health to open what they understood would be a high-capacity public COVID-19 testing site. 
But after four months of waiting, the doctors said they couldn't go on and called on residents in the Tri-Cities to contact Fraser Health and local MLAs to voice their frustration over the lack of a "sustainable, publicly-run testing site like every other city in the Lower Mainland."
"Please let your voices be heard," they wrote in the letter, directing residents to MLAs, health officials and mayors across the region. 
Port Coquitlam mayor Brad West took up that call first thing in the morning Friday, he said, writing a letter and unsuccessfully calling up Fraser Health CEO Dr. Victoria Lee to voice his frustration. 
"At a time when COVID-19 numbers are increasing, it's critical that our testing capacity increase as well," he wrote Dr. Lee. "The closure of this clinic is a concerning step in the wrong direction and leaves a region with a population in excess of 250,000 underserved at a very important time."
"COVID-19 isn't going to take a break in the Tri-Cities," he added.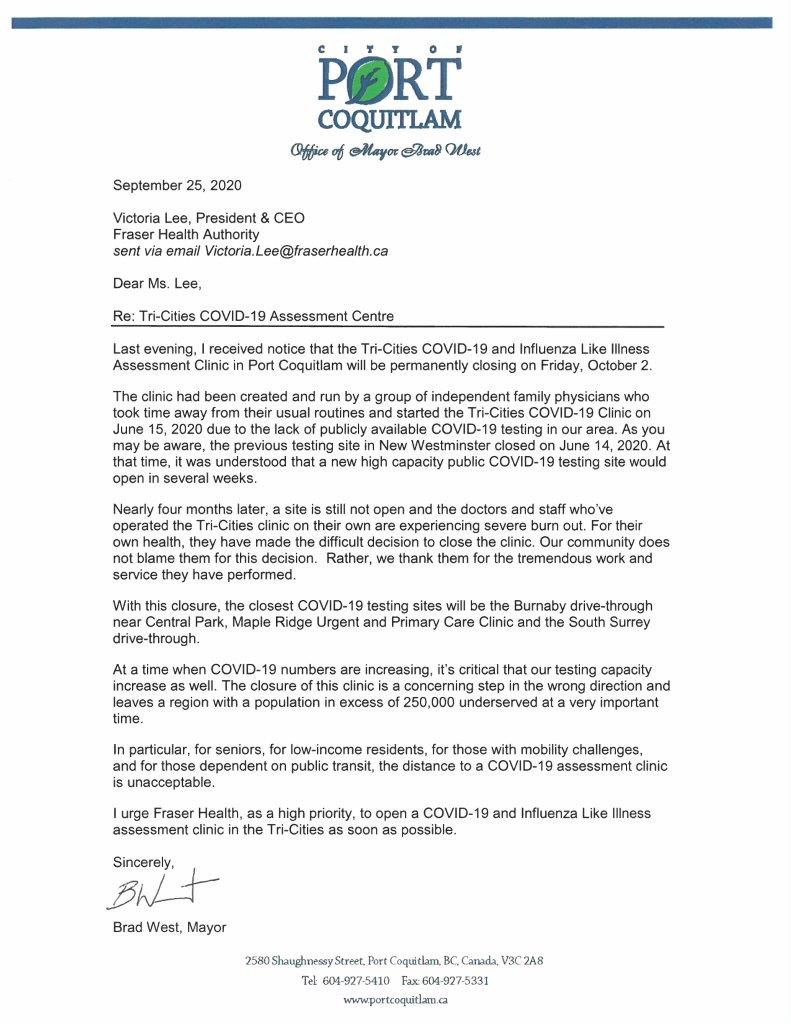 Mayor Rob Vagramov of Port Moody sent his own letter on behalf of the city, offering a small space to stage a testing centre for the region. 
Meanwhile, Coquitlam mayor Richard Stewart said he got through to Fraser Health officials Friday morning to discuss what the future of COVID-19 testing would look like after the Port Coquitlam clinic closed next week. 
"Right now, I perceive that the most constructive I can be is row in the same direction as everybody else," he said, just before Fraser Health announced the accelerated opening of the new facility. 
Less than five minutes later, Fraser Health released its plans and Steward added: "This location provides some real opportunities to provide a scaleable solution I think will serve us well going into the fall."