The Green Party of Canada is calling on federal and provincial health authorities to recommend the low-tech measure of wearing face masks in public to prevent the spread of COVID-19. 
Widespread use of face masks in public has been recommended by several governments across the world, including in the U.S., and is culturally ingrained in many East Asian cultures like Taiwan, China and South Korea. 
"Taiwan learned critical lessons from the SARS epidemic, so when COVID-19 threatened to engulf their country, they invoked the precautionary principle and prepared for the worst," said Nanaimo-Ladysmith MP Paul Manly in a written statement.
Manly, whose brother is currently in Taiwan working as a teacher, said he's been following events in the country closely. "Given that Taiwan has pretty much avoided any kind of lockdown, I think it merits us taking a closer look at what they are doing right," he said. 
"They already had a stockpile of masks in case of a pandemic, but in early February they ramped up domestic production of personal protective equipment (PPE), including masks and hand sanitizer for the general public."
In the written statement, Manly pointed to a specialist with Taiwan's Central Epidemic Command Center, who said the odds of transmitting the disease dropped by 99% if both infected and non-infected persons wear masks.
However, closer to home, calls for the mass-adoption of masks has taken a backseat to recommendations around social distancing. 
On Monday, May 5, B.C. provincial health officer Dr. Bonnie Henry laid out modelling for the spread of the virus in the province, and called on British Columbians to maintain physical distance as we move towards the summer. 
"Our challenge and our work together is to find that sweet spot – somewhere around increasing our contacts by at least half, or twice as many as we have now, but without allowing those opportunities for rapidly exponential growth of the virus in our communities," said Henry. 
In getting to that "sweet spot," Henry presented a hierarchy of controls as a framework to reduce transmission hazards, with the most effective control, physical distancing, doing much more to prevent the spread of the virus than masks.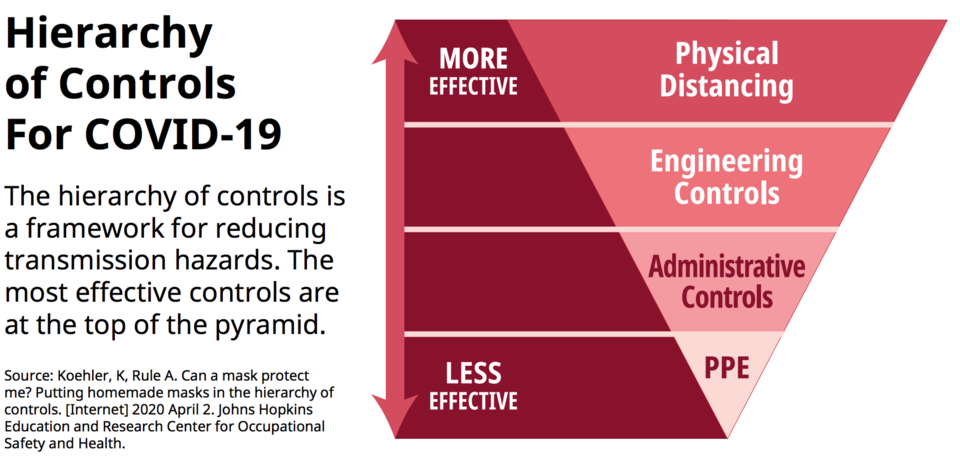 As Green Party Interim Leader Jo-Ann Roberts noted in the press release, "Our first priority with PPE must continue to be providing supplies to frontline and essential workers."
Still, while perhaps not the most effective measure, governments like the European Union and airlines like Air Canada, have asked people to wear simple cloth masks while in public spaces.   
"Since we're probably in this for the long haul, it seems like a simple, but effective strategy to encourage here in Canada as well," she said.