Coming off a spike in weekend COVID-19 caseloads in B.C., a new survey has found that a majority of Canadians are confident an impending second wave will trigger their own community to lock down again.
The poll, conducted over July 10 and 11, found half of Canadians expected another round of quarantines, with respondents in B.C. and Manitoba most likely to predict a second wave.
While age seemed to play a factor — men over 55 and women over 34 were most likely to expect the lockdown — the Angus Reid Institute poll found that a person's politics played no real role. 
Canadians were equally split over just how much damage a second wave of COVID-19 would do to the economy. Just over half (51%) said economic damage would be worse in the fall or winter, with respondents from Alberta and Atlantic Canada expressing the most anxiety over the prospect of future financial woes. 
People who said they are now in financial "great shape" were three times more likely to downplay the financial effects of a second wave compared to those who said they are in "bad or terrible shape."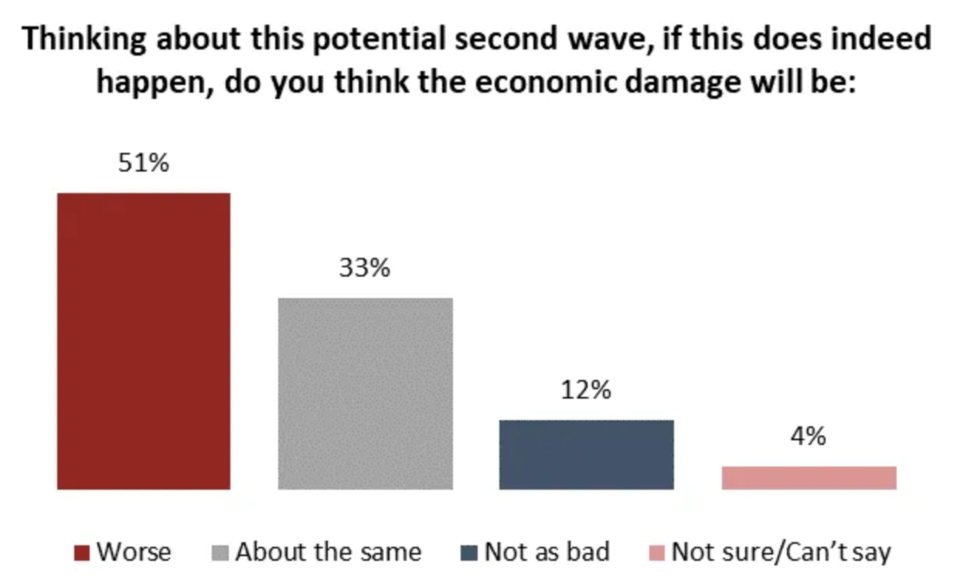 When it comes to health impacts of a second wave, Canadians are slightly more optimistic. 
One-third of Canadians polled said they fear a second wave will bring more sickness and death than what the country has seen so far. A further 39% said they expect a similar outcome, and 20% said they don't think another wave would be as damaging to the population's health.
To date, health officials have reported 111,000 COVID-19 illnesses and nearly 9,000 dead across the country. 
A significant amount of respondents (28%) said another lockdown would have a "very negative" affect on their mental health, with young women most likely to foresee damaging outcomes. 
And while B.C. was among the most likely to predict "slightly negative" impacts on their mental health, British Columbians were least likely to predict "very negative."