Port Moody is looking to increase its tree canopy coverage by one per cent by 2050.
To achieve that will require the establishment of canopy cover or tree density targets in the city's bylaws, the development of standards for structural soil and permeable surface materials as well as the implementation of 10-year planting programs for public urban and natural areas.
This Tuesday, Sept. 12, council will consider the adoption of an urban forest management strategy to boost the city's tree canopy cover to 59 per cent city-wide over the next 27 years from 58 per cent currently.
That compares to 30 per cent coverage in Vancouver and 27 per cent in New Westminster.
In a report, project manager Chad Siemens said "the urban forest plays a vital role in creating a healthy and sustainable urban environment for the Port Moody community."
He said trees enhance people's mental and physical health, civic pride as well as contribute to biodiversity and overall climate resilience. They even have value in reconciliation efforts with First Nations communities.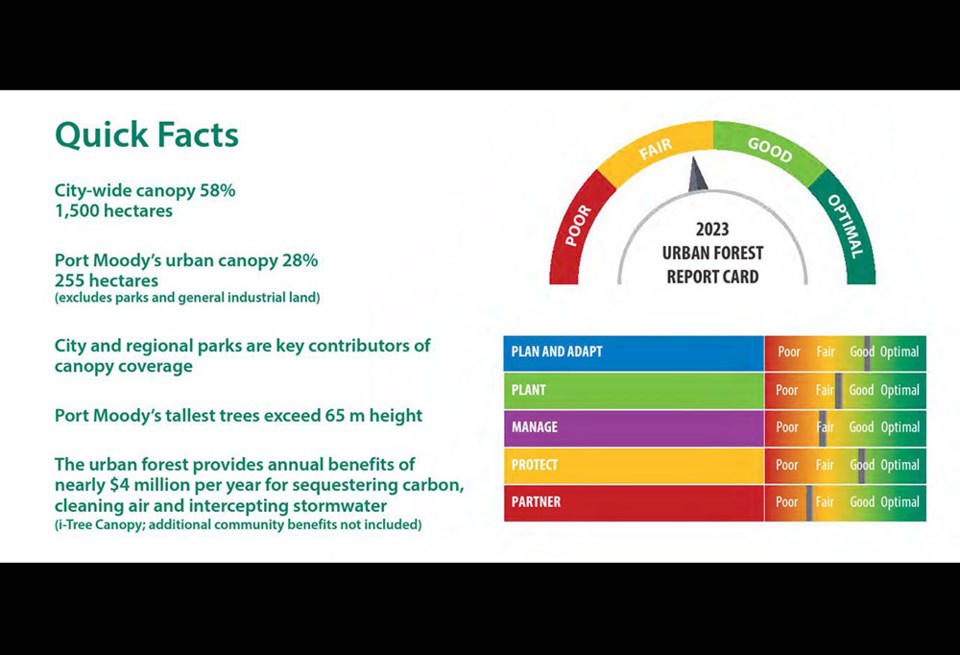 With the city's current growth trajectory, its forest canopy could decrease to 56 per cent by 2050 if every tree that's removed is replace by only one new one.
However, if approximately three trees are planted for every one removed, Port Moody's canopy could reach the 59 per cent target and grow to 31 per cent from the current 28 per cent in urban areas outside of parks and general industrial areas.
In his report, Siemens said northwest Port Moody and the Ioco area are the city's most treed, with 79 per cent canopy cover, while the Coronation Park neighbourhood has only 24 per cent.
A consulting company, Diamond Head, identified more than 60 actions Port Moody can take to boost those numbers, including:
amend the city's official community plan to include the city-wide canopy cover target
develop canopy cover targets by zones
use novel tools like a stormwater utility tax that could act as incentives to use trees to achieve stormwater and climate action benefits
incorporate the city's trees and forests in its natural asset management program
develop an annual urban forest report card to track the city's efforts
monitor tree mortality and failure rates
update the city's tree inventory as new ones are planted along streets and in parks
pursue funding sources for tree planting programs
According to Diamond Head, Port Moody annually spends a little more than $10 per resident on managing its urban forest, while Coquitlam spends more than $15 and Oak Bay exceeds $35.
"It is apparent that Port Moody spends less than other municipalities which have committed to higher service levels for their urban forest," said the consultant's report.
Siemens said it's imperative the city get on board.
"The management of urban forests in Port Moody will create a resilient urban forest on both public and private land," he said.
"Trees and forests are part of the city's exceptional natural heritage and are a critical resource for the community."