B.C. Premier John Horgan spent Tuesday morning in Coquitlam for a third time as the party's campaign looked to push its end game messaging to battleground ridings in the final days before the provincial election. 
In a conversation with a group of seniors at Coquitlam's Glen Pine Pavilion, Horgan touted the party's plan to spend $2.3 billion on the construction of hospitals and to add another 7,000 care aides to senior homes across B.C., a move set to bolster a sector reeling with the highest death rates due to COVID-19 in the province. 
The visit came less than 24 hours after Provincial Health Officer Dr. Bonnie Henry confirmed B.C. was firmly riding a second wave of coronavirus infections, a reality that prompted the BC Liberal party to send out a news release accusing the NDP of taking advantage of the pandemic to suppress votes in the dying days of the election. 
"I think the problem is John Horgan's selfish ambition in calling this election while we're going in the second wave of the pandemic. That's just irresponsible. It didn't need to happen and it should not have happened," said BC Liberal Leader Andrew Wilkinson Tuesday, defending the claim.
BC Green Leader Sonia Fursteneau, meanwhile, urged voters not to vote out of fear.
But in an interview with the Tri-City News, Horgan defended his party's decision to call a snap election. 
"We're four days away from election day. There are fewer active cases today, despite the large number over the weekend, than there was when the election was called," he said, pointing to the 1,987 active cases on Sept. 21 versus the 1,639 reported Monday, Oct. 20.
The Sept. 21 baseline, however, was thrown into question the day after the election was called, when Vancouver Coastal Health suddenly announced 500 people had recovered from the virus without providing a precise timeline of when or how such a large slice of active cases was suddenly dropped from its tally.
On Monday, almost four weeks later, Dr. Henry confirmed "we are in our second wave here of our COVID-19 storm in B.C. But we have control over what that wave looks like," and that "Encouragingly, we in B.C. are not seeing exponential growth."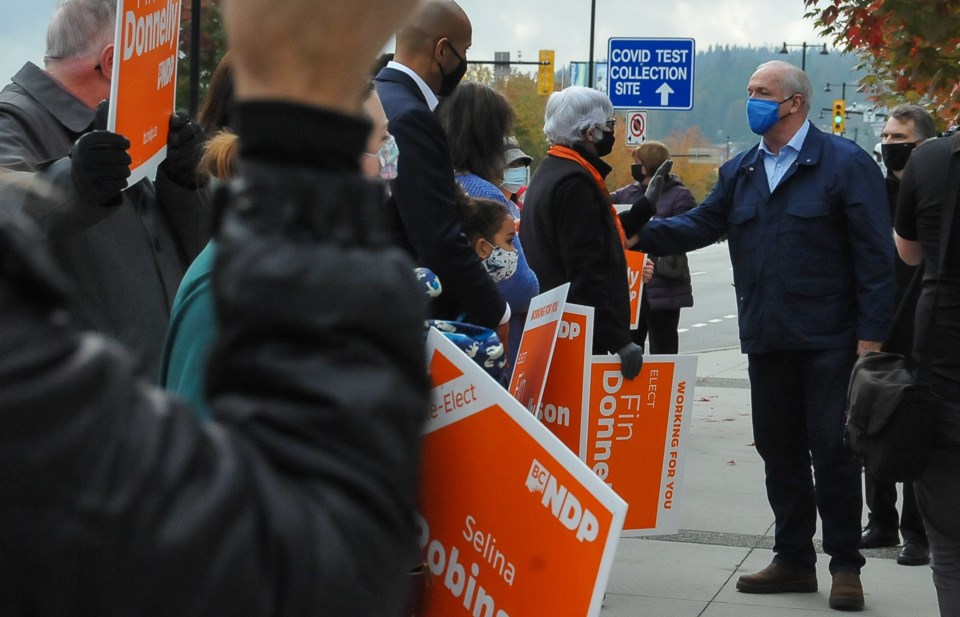 The riding of Coquitlam-Burke Mountain is seen to be among the top two or three battleground electoral districts in the province, according to one B.C. NDP campaign manager, pointing to the results of the 2017 provincial election, where incumbent BC Liberal candidate Joan Isaacs won by only 87 votes. 
The pandemic is not the only thing on voters' minds and as Horgan toured Hoy Creek Hatchery in Coquitlam, the Tri-City News pressed the NDP leader where he stood on other long-simmering issues in the riding.
In recent weeks, the prospect of creating an independent oversight body for the BC Conservation Officer Service was once again brought forward when a Coquitlam man filed a lawsuit against the BCCOS and RCMP for an alleged breach of charter rights, assault and battery, among other claims which have not yet been tested in court.
When asked what his position was on evaluating the need for an independent oversight body, Horgan committed to modernizing and updating the Police Act "to meet contemporary norms" without guaranteeing change to how the BCCOS operates.
"We'll wait to see what the results of the court actions are before I make any definitive statements," he said, adding: "Transparency and oversight is fundamental to a civil society and if it's demonstrated that we need to do more there, then we will."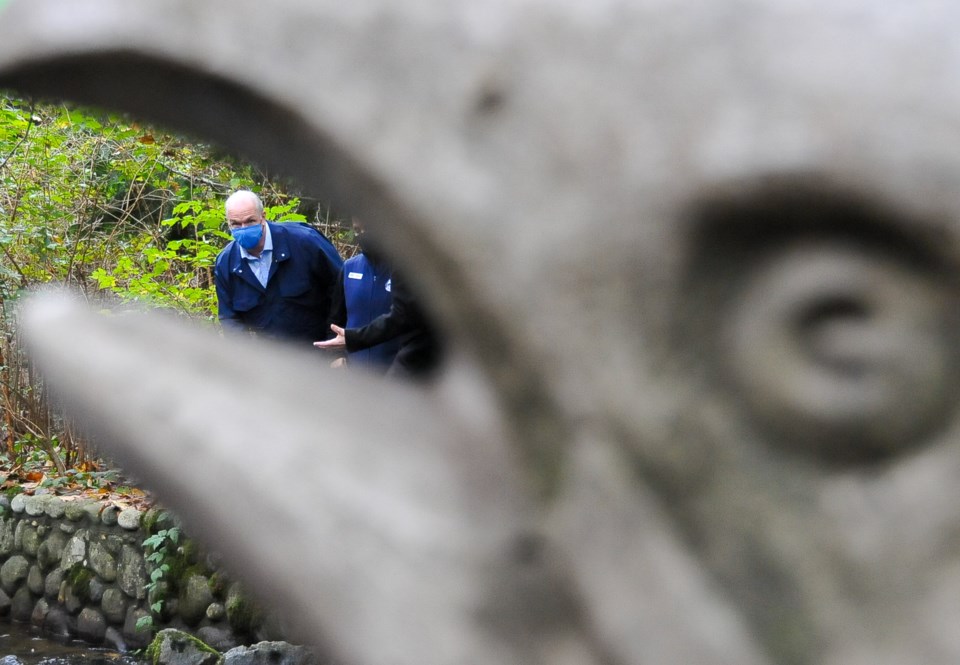 In the case of the development of Burke Mountain Regional Park — the funding and development of which has taken on special meaning as the pandemic forces people outside, and increasingly, off the beaten track — Horgan said while he hoped an elected Donnelly would raise the profile of such issues should he be elected, his government's priority was on people.
"The plan is to keep people safe. That's what we've been focused on for the past seven months," he said, turning the conversation back to COVID-19. "We're not out of the woods by a long shot with respect to the pandemic and we need to focus on people first and foremost." 
With the construction of new schools a perennial public policy priority for the riding, the Tri-City News asked why his government had added an additional step, known as a "concept plan," which would further delay the approval process of new builds like that of a middle and secondary school on Burke Mountain. 
"We are working as fast as we can to take public dollars and drive them back into the communities that need them," he said. "And if there's another layer, that's because we want to get it right. We want to make sure the schools are of the appropriate size for the growth in the community."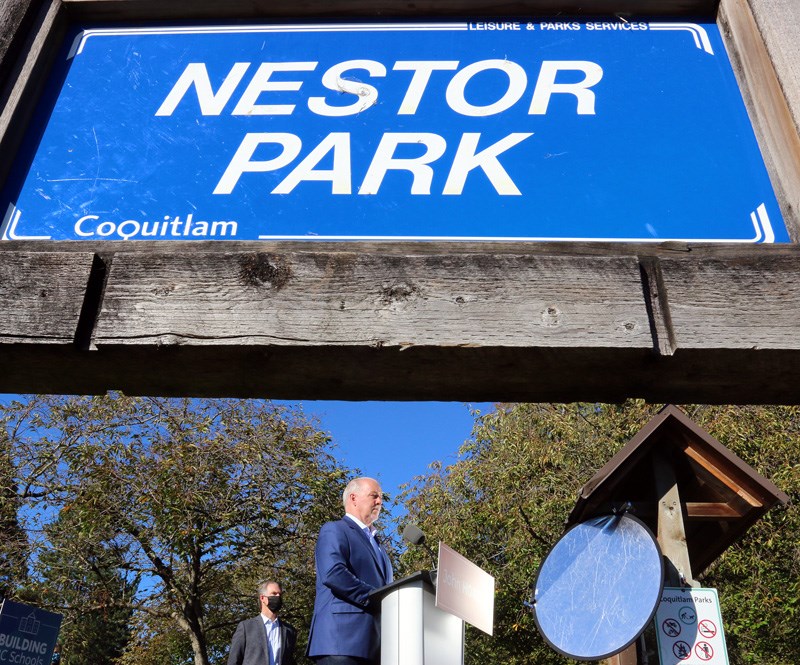 In a campaign that at times has been driven by a cycle of allegations of homophobia, transphobia and racism, Horgan found himself on the defensive in recent days after NDP candidate Nathan Cullen was caught on a hot mic during an all-candidates meeting disparaging a BC Liberal candidate, who is Haida. 
In a video posted online, Cullen can be heard poking fun at the Liberal candidate for North Coast, who is Haida. He said Roy Jones Jr. Cheexial isn't well liked in his community before laughing at his nickname.
The high-profile candidate for Stikine responded on Twitter, writing: "I apologize unreservedly for my comments and have done so personally to Roy. I need to, and will, do better."
On Monday, Horgan said he was "disappointed" with Cullen's comments, adding "I know no one's going to work harder than Nathan Cullen to make up for his stupid comments."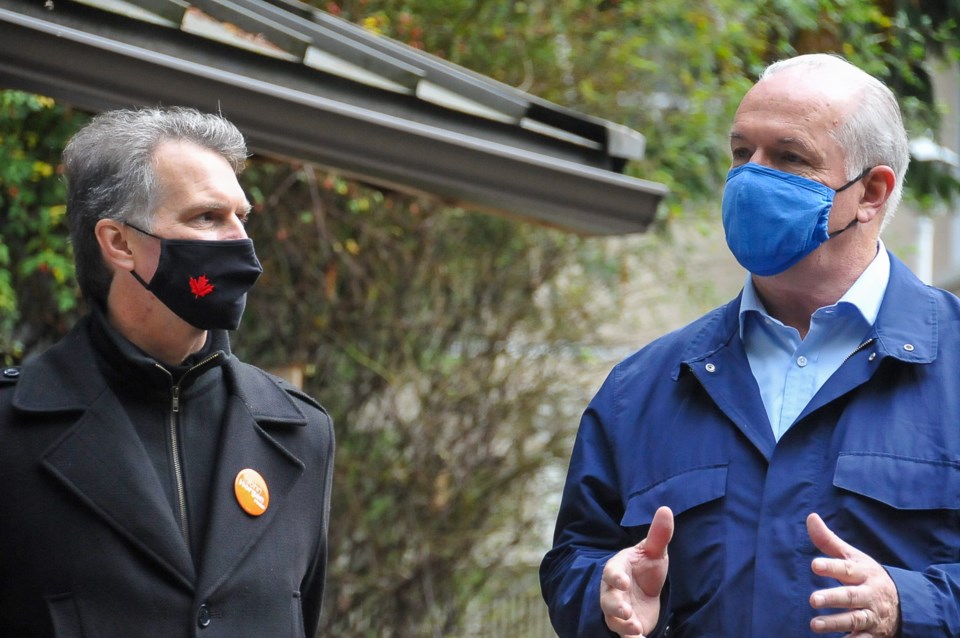 Fin Donnelly's nomination has not proved as controversial as that of Cullen's as Donnelly had no challengers in his bid to become the riding's NDP candidate and the seat is currently held by Liberal Joan Isaacs. 
Still, the nomination of the high-profile candidates, both white and male, appear to fly in the face of the BC NDP's equity policy, which stipulates underrepresented groups, like women and people of colour, must replace retiring male members of the legislature.
"Fin is running here as a candidate as he could and should," said Horgan.
"Fifty-three per cent of our candidates are women, the most people of colour of any political party in history in British Columbia." 
Of the 87 ridings in B.C., 46 women (53%) are indeed running as candidates for the NDP compared to 41 men. However, when it comes to candidates who identify as Black, Indigenous and other people of colour, the BC NDP has fielded 26 candidates compared to the BC Liberal's 28.
— With files from the Canadian Press
EDITOR'S NOTE: A previous version of this story did not point out the 500 cases of COVID-19 dropped from Vancouver Coastal Health's active case count the day after the BC NDP called a snap election. It's still not clear if this unravels Horgan's claim that active cases were lower Oct. 19 than they were the day the election was called.