Port Coquitlam's laugh-a-minute Giggle Dam troupe is turning to horror during the month of October with a spine-chilling maze for adults and a less-scary but equally fun Halloween-themed attraction for kids.
With high-profile public events being scaled back all over Metro Vancouver, Giggle Dam's Mark Friebe has managed to find a way to bring spine-chilling fear to the annual Halloween tradition while also sticking to Dr. Bonnie Henry's COVID-19 rules.
He promises a night of horror during Vancouver Horror Nights — only in this house everyone will be wearing a mask. Patrons looking for a fright will be asked to don non-medical masks and stay three metres apart in the indoor maze.
"COVID-19 was particularly hard on our theatre and though we developed extensive COVID-19 protocols, we were limited to 50 guests per performance, which is less than 25% of our capacity," said Friebe, owner of the Giggle Dam. 
"We wanted a way to continue providing safe entertainment during the pandemic while also giving us the ability to survive. A little Hollywood magic later, we've created a great experience we hope our community will love." 
Mayor Brad West is also looking forward to the spooky fun.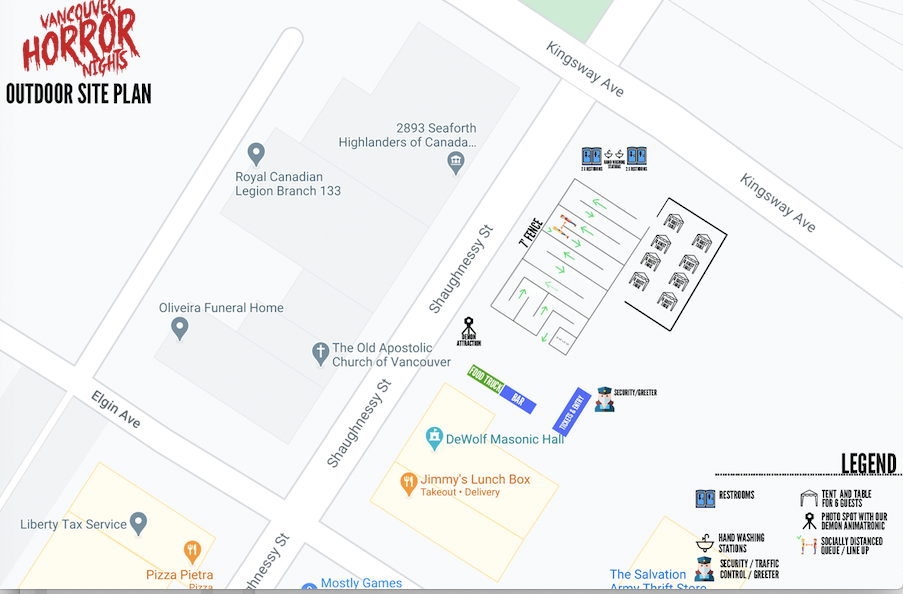 The city has provided a parking lot and a traffic lane on Shaughnessy Street for social-distanced staging areas for guests.
West told the Tri-City News: "The Giggle Dam is a fantastic PoCo business and Im glad they've come up with a fun and creative way to grow their business during a challenging time," adding later helping businesses survive the COVID-19 pandemic through practical means is a 'top city priority.'
HALLOWEEN THEMED MAZE
Vancouver Horror Nights begins as soon as next week.
Nightly beginning Oct. 1, the popular theatre on Shaughnessy Street will be a turned into the Xtreme Fear Maze for adults, who will make their way through 12 individually-themed areas. They'll be scared witless by dozens of actors and animatronics — including Doug, a 12-foot tall demon specially made for this event.
For kids, there is the Boogeyman Bash — a day-time event from 11 a.m. to 4 p.m., during which Vancouver Horror Nights turns down the scare-o-meter, removes all the jump scares and animatronics from the attraction, and allows kids to receive a pre-purchased candy bag as they trick-or-treat through the kid-friendly attraction. Kids can sing along with the Boo Crew and Jack-o-Lantern Jam inside the maze. There will also be prizes for the best-dressed family.
PRE-PURCHASE TICKETED EVENT
Tickets have to be pre-purchased and guests choose a time-slot for a 25-minute window to enter the Fear Maze. They first gather under cover in a physically-distanced fashion in a parking lot loaned by the city at 2680 Shaughnessy Street, before walking to the theatre for their appointed time.
To ensure guests are physically distanced inside the maze — at least three metres apart — people will line up immediately outside the theatre, with parking removed for the month to make way for the lineup, and told when to enter.
It's a safe way to ensure COVID-19 isn't transmitted while also allowing for maximum fright time, according to business manager, AJ Thompson.
"We worked on this all summer and have been planning since April," said Thompson, who said the event should be a significant economic boost for the city while at the same time Vancouver Horror Nights has made a substantial investment in actors and crews. 
LARGE FINANCIAL INVESTMENT
As much as $150,000 has been spent on animatronics alone and Thompson said he expects Vancouver Horror Nights to be an annual event.
For those who will be thirsty and hungry there is also the Zombie Cafe and Bar, where guests can purchase carnival-inspired food such as burgers and chicken strips and beverages, including wine, Patina Brewing beer and "adult hot chocolate."
Giggle Dam may just be the ideal venue for Vancouver Horror Nights because it has a reputation as a haunted place, and according to Friebe, has been the subject of many paranormal investigations.
"We've been told there are at least four resident ghosts inside our theatre," said Friebe. 
Whether it's real ghosts or frightening actors you're seeking, the month-long scare-o-ganza should fit the bill and tickets, required in advance, are available online at vancouverhorrornights.com.