COVID-19 may have delayed but it didn't stop Taylor Klassen from finishing his dream project.
Painting a huge mural on a prominent wall at Patina Brewing Co. in downtown Port Coquitlam was his dream project so the 20-year old just had to find a way to finish it.
"My honour is on the line," he joked in the cavernous barbecue restaurant and brewery that opened in March, just before the COVID-19 lock down.
Working from a digital drawing he produced, Klassen took several months to complete the painting, working in sections and using dramatic brown, black and blue colours inspired by Patina's official colours.
There are many references to Port Coquitlam in the painting, including a historical train, heritage building, the Coquitlam river, Terry Fox and local mountains.
"I love the fact that every time someone comes they see something different," Klassen said.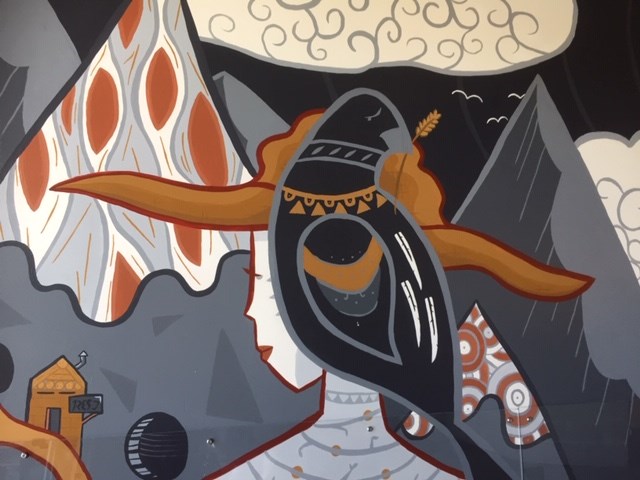 Now he's accepting offers from other companies to paint their walls, helping to expand PoCo as a popular place for colourful murals.
It wasn't easy to work on such a large scale. Klassen typically paints using apps on his iPad. But he has always loved to draw and making the jump from miniature to massive has been a joy.
"I learned that it's more calming to do, painting something on this scale. You have a lot on the line."
Patina co-owner Greg Moore, the city's former mayor, said hiring a local artist is part of the company's vision to support local. 
"For us what we want to do is make our community a better place and investing in local artists is another way to do it," he said.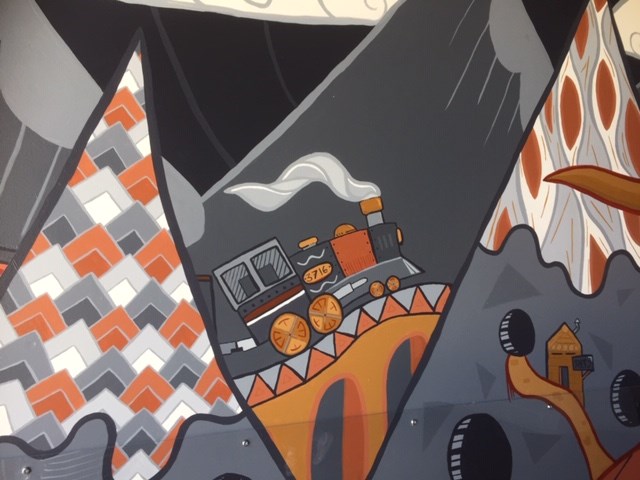 Like other PoCo breweries and restaurants, Patina has taken the city up on its offer to expand outdoors and has taken over an area next to the building, located off Shaughnessy Street.
On a good day, Patina can serve up to 120 people with its six signature beers, barbecue entrees and sides, utilizing the indoor space, where seats are separated, often by clear plastic dividers or by additional walking room, and the outdoor patio area.
A large white wall looms next to the patio area and that may be next for one of Klassen's signature murals.
To see the mural's progress in a video, visit here: