Dozens of telecommunication technicians have erected a picket line outside of Ledcor's main Port Coquitlam offices after 31 workers were fired last month, according to the union representing technicians.
The strike comes on the back of deteriorating working conditions — including an unfair work quota system — and "surface negotiations" in which Ledcor has failed to commit to the fair treatment of its workers, said Dustin Brecht, a union representative for the International Brotherhood of Electrical Workers (IBEW) Local 213, which represents utility workers, traffic controllers, arbourists and communications technicians, among others.
A spokesperson for Ledcor, however, said the union has it wrong, and that the company is simply responding to a downturn in demand for fibre-optic installations after years of network upgrades. 
"We're not immune to that," said Ledcor spokesperson David Hoff. "Every time we get reductions in orders, we don't need the workforce, so we are forced to make layoffs."
Hoff said Ledcor's clients have already looked to other companies since the union announced it had a plans to strike.
In addition to its massive projects in construction and infrastructure, Ledcor is one of several companies that bids on contracts put out by telecommunications giant Telus as it moves to upgrade its fibre-optics network across the province.
The dispute between it and the union began two years ago when workers moved to join IBEW, according to the union. Brecht said workers wanted to make sure their wages wouldn't get cut in the future and to guard against an industry that was increasingly making precarious work standard practice. 
At the time, Brecht said, there were more than 240 technicians working out of the Port Coquitlam offices. After the most recent job cuts, Brecht said that number has been chopped in half to about 120 workers.
"The people that were getting fired en masse were being replaced with subcontractors — untrained, unqualified subcontractors, not paid benefits, some of them close to minimum wage," said Brecht. "We're fighting for them, too, whether they know it or not."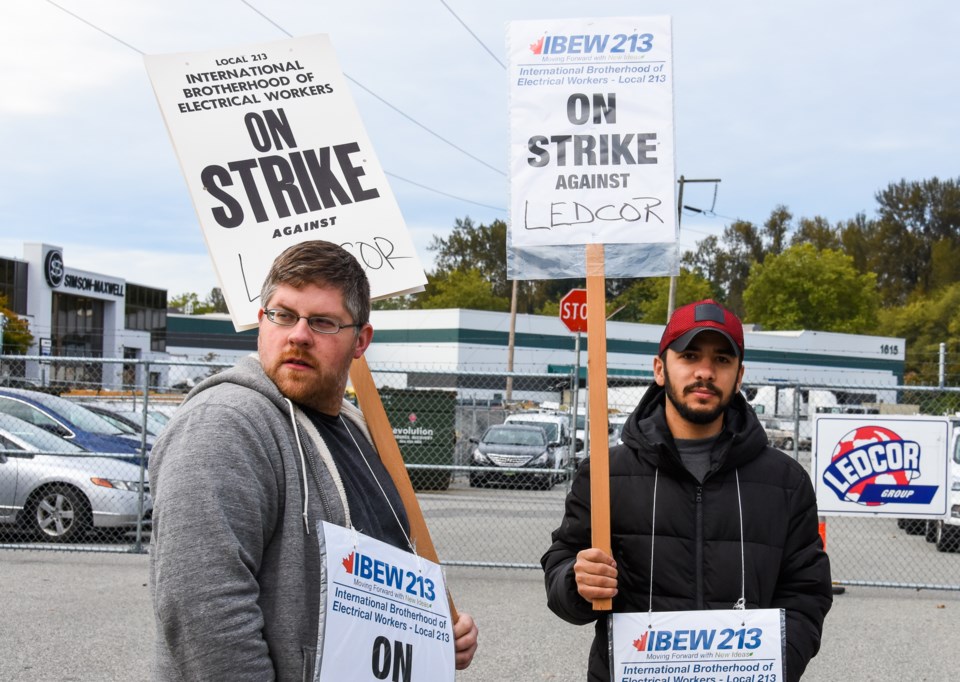 Ledcor's spokesperson denied the company is replacing replacement workers. Instead, he said there is dissent among workers in the union, and that those showing up to work are bargaining unit employees of IBEW 213.
Beyond job security concerns, union representatives said Ledcor places unrealistic quotas on workers that require them to rush fibre-optic installations in order to meet the next appointment. During installation booms, technicians can make a lot of money packing several contracts into a single, long shift. But that can also lead to shoddy and sometimes dangerous working conditions as technicians scale ladders and drill through walls.
"Things are happening. People are falling off ladders." he said. "More importantly, what's happening to customers' homes? There was a hydro main [line] drilled through."
As workers patrol the picket lines in Port Coquitlam, union representatives are calling on Patty Hajdu, the federal minister responsible for employment, workforce and labour, to step in and establish a set of industry standards that would protect workers from precarious working conditions.
But according to Hoff, Ledcor's spokesperson, this kind of work has always been done on a contract basis by subcontractors. The only thing that will bring the jobs back, Hoff says, will be an upswing in the industry, something he predicts won't happen until 5G network-upgrades make their way to Canada.
"When that happens worldwide, we hope to get some of that work," said Hoff.