Hundreds of mourners curled out the door of a building in Coquitlam City Centre Sunday afternoon, the line snaking down the High Street sidewalk and around the block on to Glen Drive as they waited to pay their respects for the Port Coquitlam family killed aboard Ukrainian International Airlines Flight 752.
Niloofar Rezzaghi, her husband Ardalan Ebnoddin-Hamidi and their 15-year-old son, Kamyar Ebnoddin-Hamidi — a teacher, an engineer and a Riverside secondary student respectively — were among 57 Canadians killed aboard the aircraft when it was shot down by Iranian anti-aircraft missiles a few minutes after takeoff from Tehran Imam Khomeini International Airport. 
Inside, the 200-person venue heaved under the crush of people, a stream of family, friends and strangers trying to come to terms with one of the most devastating losses of life in Canadian aviation history. 
Dozens of students from Riverside clutched one another in grief at the loss their friend Kamyar. 
Neighbour and former soccer teammate Leon De Greiff, 16, used to go to Hamidi's house almost every day after school.
"I could always rely on him," he said.
On Thursday, the news of the crash swept through Riverside secondary. Everyone was in shock, said De Greiff, still incredulous that his friend had died on the same day he was celebrating his birthday.
"I thought, 'It can't be his plane. Not him. Let it be someone else,'" another student said. 
At the front of the room, a classmate told the crowd he had dug up an old school project, an audio recording narrating family photos he wanted to play to "hear Kamyar's voice one last time."
When Kamyar's voice crackled over the speakers, everyone fell apart to a staccato of memories: how much he loved elephants, how long he stayed in Hong Kong and how his parents made him promise to use a certain pen until he was 25 years old.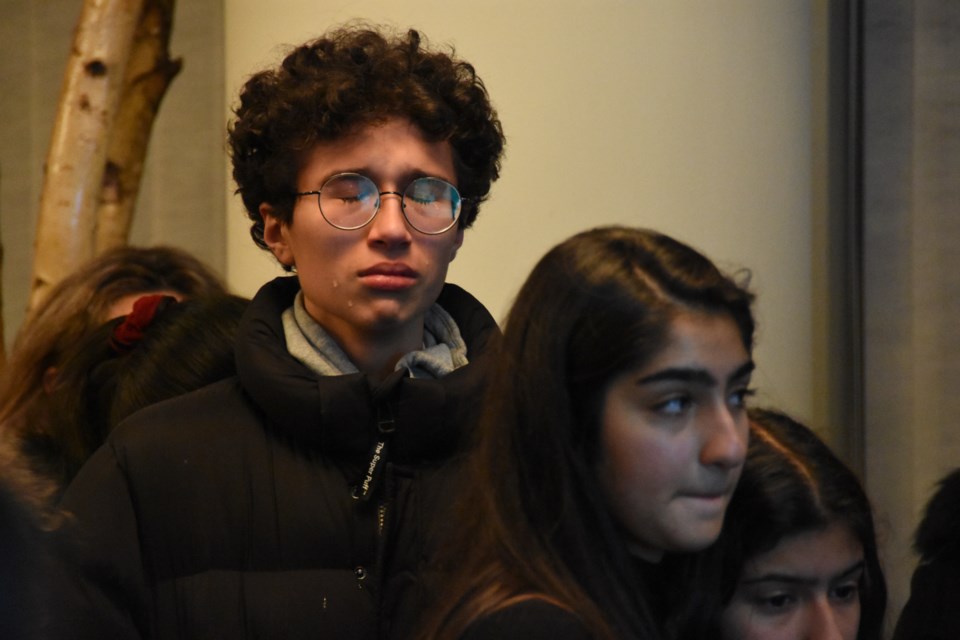 Many in the room had stories and all of them started with smiles, humility and a family that was always the first to offer help. 
Kamyar Ajdari remembers meeting father Ardalan Hamidi 22 years ago in Damascus, Syria. They were both there to interview for a visa at the Canadian embassy, both hoping they would get a chance to bring their families to Canada. 
The Hamidi family arrived first, landing in Vancouver in 1999. When, several weeks later, Ajdari, his wife and two young children walked through the arrival gate at Vancouver International, Ardalan Hamidi was waiting for them. He brought the whole Ajdari family to his house and put them up for two weeks while they looked for a place to live. 
"They gave us their bedroom. They slept in the living room for two, three weeks," said Ajdari.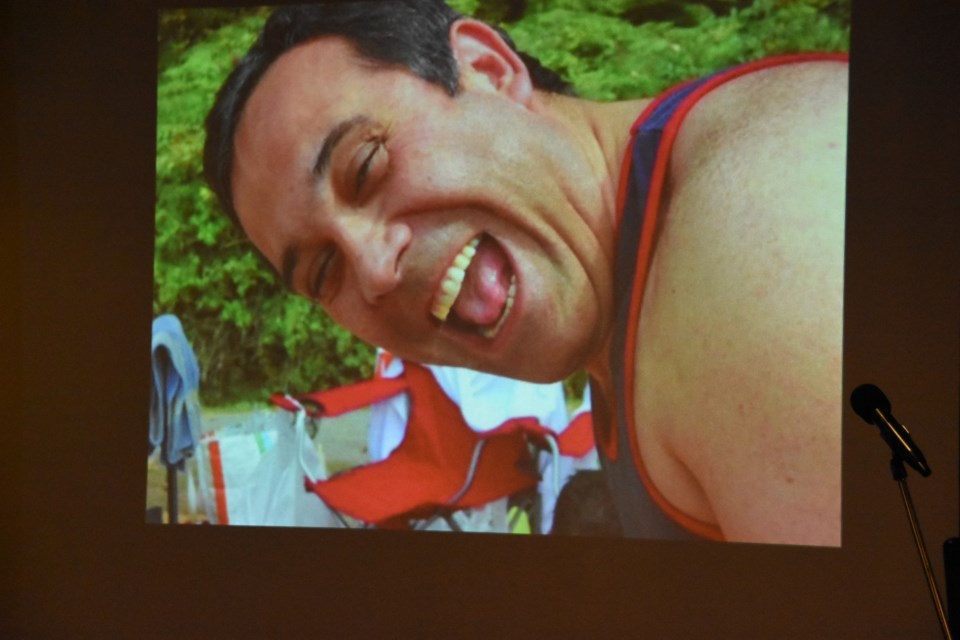 The experience cemented the two families' relationship to the point where, five years later, when Ardalan's wife, Niloofar, learned she was pregnant with a baby boy, she came to Ajdari and formally asked him if they could name their son, soon to be Kamyar, after him.
As her Kamyar grew older, Niloofar had been keen to restart her career. She had recently certified as a teacher at UBC and finally landed a full-time teaching position with the Surrey school district. 
"She had a lot of difficulties," said Alex Ghasemi, another close family friend. "We all know. As immigrants, we all have these kinds of difficulties. But by December, she got everything she needed. She was supposed to start tomorrow."
Only minutes before the Coquitlam memorial, Prime Minister Justin Trudeau spoke in front of a group of mourners at the University of Alberta, calling the crash "truly a Canadian tragedy" and saying to people gathered "all Canadians are mourning your loss."
"Family after family, mourning the loss of a loved one who was not just shaping their own lives but building this country," Trudeau said. "You may feel unbearably lonely. But you are not alone. Your entire country stands with you tonight, tomorrow and in all the years to come."  
The last few days have been immeasurably difficult for the tight-knit Iranian diaspora across Canada. But through it all, Kei Esmaeilpour, a Hamidi family friend and head of the Civic Association of Iranian Canadians, pointed to Trudeau's comments as emblematic of the outpouring of solidarity and compassion he has heard from hundreds of non-Persian Canadians this week.
For someone who has spent years trying to meaningfully integrate the Iranian community into Canadian society — last year winning a Meritorious Service Medal from the Governor General for his work — this moment is like nothing he has ever seen.
"After 17 years here, I've never felt so much support. Nobody over here is alone. We're all together. This is our home," said Esmaeilpour.
But for others, Trudeau's comments throw into relief the Iranian regime's silence.
"It makes us feel shameful our own [Iranian] government hasn't said a word," said one Coquitlam woman at the memorial who didn't want to use her name for fear of Iranian government reprisals.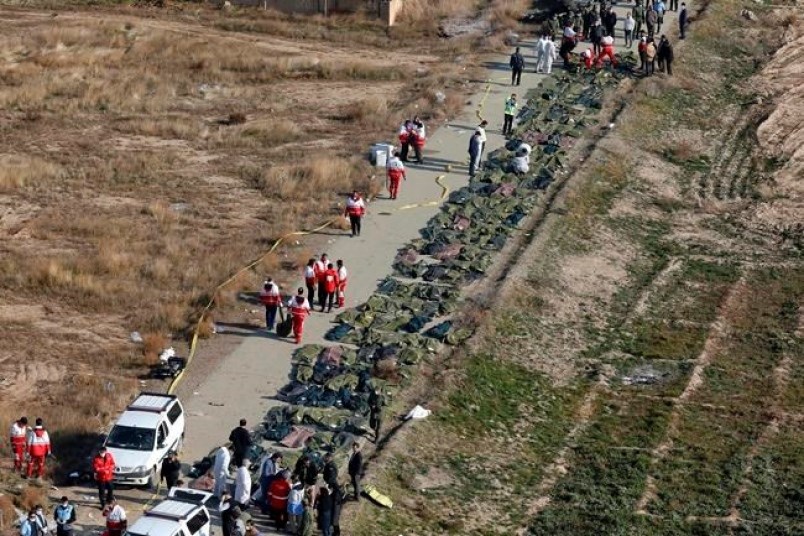 After three days denying it had a hand in downing plane, the Iranian government admitted Saturday to shooting down the Ukrainian jetliner as it braced for possible U.S. retaliation for firing ballistic missiles at two military bases in Iraq. The Iranian missile attack was in response to the killing of Gen. Qassem Soleimani in a drone strike as he left the airport in Baghdad.
Saturday's admission sparked protests in the street and has even rattled the regime's conservative base, according to a report by the New York Times. Sunday, the country's security forces cracked down on protesters, reportedly firing tear gas and live ammunition into a crowd of people, according to video shared with the Associated Press. When Iran shot Flight 752 out of the sky Tuesday, something changed on the ground in Iran. 
"It seems like [the protestors] don't care about their safety anymore. I told my friend to be careful. I told her you're like family. She said: 'My life is not worth more than the people on the plane — all these children. It should mean something.'"