Die-hard swimmers could soon be back in Port Coquitlam pools.
Two outdoor pools in Port Coquitlam are set are set to open Thursday, July 2, with strict social-distancing protocols, limited numbers and set time-slots to reduce contact between swimmers.
Despite the restrictions, the city expects a full restart of swimming lessons, length and width swimming, public swims, fitness classes, seniors-only swims and pool rentals — at least outdoors at Robert Hope and Centennial outdoor pools.
INDOOR POOL OPENING TO BE RE-EVALUATED
But what about indoor pools? The opening of these public pools are still at least weeks away.
However, with the province's Phase 3 plan set to start possibly as soon as next week, the city is giving thought to the possibility of re-opening the leisure pool at the Port Coquitlam Community Centre and Hyde Creek pool.
"BC's Phase 2 of the reopening guidelines outline caution when opening indoor facilities. Opening the Port Coquitlam Community Centre Pool will be re-evaluated once the province enters into Phase 3 of B.C.'s re-opening guidelines," a spokesperson stated in an email to The Tri-City News. A similar statement was made about the pool at Hyde Creek.
Meanwhile, Coquitlam and Port Moody are also opening their outdoor pools.
This is good news for Tri-City residents, for whom the closing of indoor pools and recreation centres in mid-March was one of the biggest disappointments of the COVID-19 pandemic.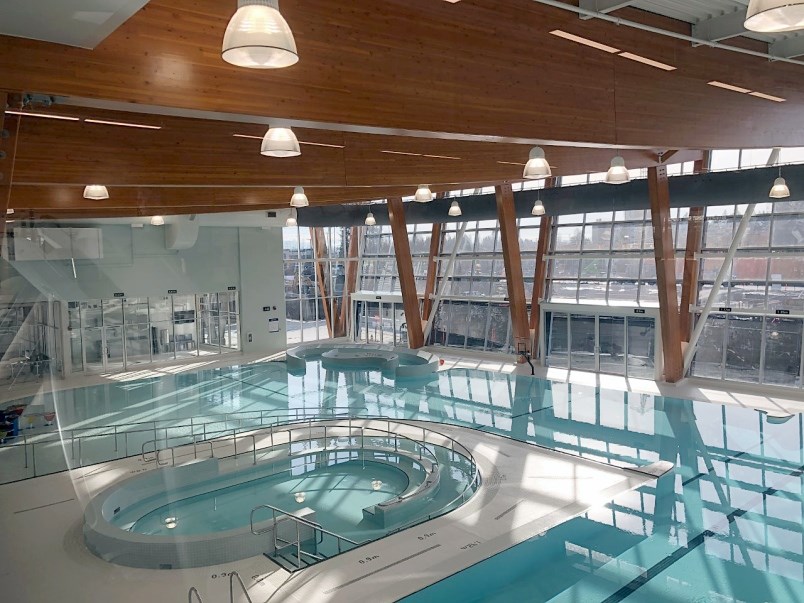 But the closure did enable PoCo to do cleaning and renovation work at Hyde Creek, including putting in a new steam room, tiled hot tub, and a new water feature, while the timing of the closure was more unfortunate at the new recreation centre pool which was only open for a week before it had to be shut down.
NEW PROTOCOLS FOR SUMMER SWIMS
Here's what you need to know about outdoor pools re-opening in PoCo:
• Registration begins June 19 for Port Coquitlam residents to get a time-slot at one of the two open outdoor pools. Registrations require an account at www.portcoquitlam.ca/register. The general public can register beginning June 22.
• Public swimming admission is $2 per person; pricing for classes and lessons are provided online.
• Change rooms will be closed; users will be expected to wear their swimsuits to and from the pool and place their belongings in a designated area. 
• Swimmers will be asked to arrive five to 10 minutes before their scheduled time, confirm their registration, rinse off in the showers and then enter the pool. 
• Masks will not be required because of the ability to physically distance.
• There will be no shared equipment for use at this time.
• Users will be asked to leave promptly after their session to allow time for cleaning before the next group.
• Dive boards and slides will be closed. 
• Pools will have designated times for rentals, lessons, aquatic fitness, lap and leisure swimming. 
NUMBERS LIMITED FOR LANE SWIMMING
• Only 35 people can be in Centennial pool and 25 at Robert Hope Pool at any one time. Public swims at both facilities are 45 minutes long after which touch points are disinfected and sanitized before the next registered group is allowed to enter.
• For length swimming, there will be one hour time slots for up to four people to share a 25 metre double lane with strict two-metre distancing rules. For width swimming, (15 m lanes, 45 minute time slots), each patron will swim in their own lane width-wise. 
"This will accommodate all patrons and their comfort with social distancing and their swimming ability," according to the city spokesperson.