BC NDP leader John Horgan promised to keep the 244-acre Riverview lands in public hands just days after a Coquitlam Riverview advocacy group expressed frustration with red tape and fees for holding public tree tours.
Flanked by local NDP candidates at a parking lot across from the former hospital, Horgan gave few hints about what he would do with the property, other than stating that it would be retained for mental health purposes and some facilities could possibly be reopened for more residential care.
"Our plan is to use the Riverview lands as they were intended, public lands to provide public wellness for the people in this province," he said.
Horgan told the small crowd of media and Riverview supporters that the NDP would follow through with the BC Liberal government's $75 million replacement for the Maples Adolescent and Youth Treatment Centre, and the $101 million-105 bed mental-health facility to replace the Burnaby Centre for Mental Health and Addictions.
Other treatment facilities could be built using contingency, and other moneys, Horgan suggested, noting that the NDP platform is "fully-costed."
The NDP's promise of protection for public lands comes as the Riverview Horticultural Centre Society worries about new requirements to fill out paperwork and pay $50 an hour fees for a "location fixer" to hold monthly public walks and Treefest at Riverview.
Some RHCS members were on hand for the announcement and Elaine Golds, of the Burke Mountain Naturalists, said Horgan's announcement gave her "hope" that the heritage trees would be saved and the property kept for mental health purposes.
"It was like music to my ears," Golds said, however, she agreed that she would like to see more details about the announcement.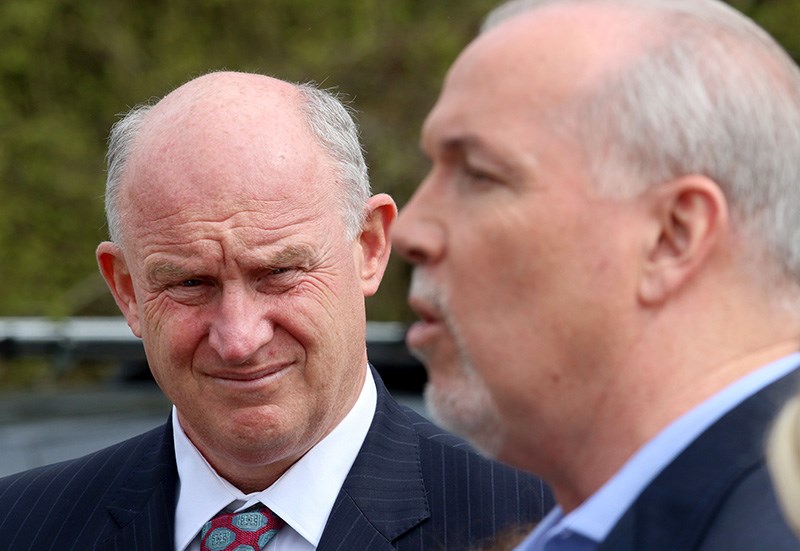 Selina Robinson, the incumbent MLA who is running against BC Liberal candidate Steve Kim and BC Green Party candidate Nicola Spurling, said fleshing out the details was "the work of government." But she said Horgan's Riverview announcement was a commitment to keep "public lands for public benefit" and that the site would be ideal for a centre of excellence for mental health because it is close to four regional hospitals.
However, her opponent, Steve Kim, who faced Robinson in a tight-race in 2013, cautioned voters about the plan he said lacked details especially given the current Renewing Riverview process which has involved a lot of stakeholders and he criticized the NDP for implementing downsizing in 1992 without a plan to transition people to community care.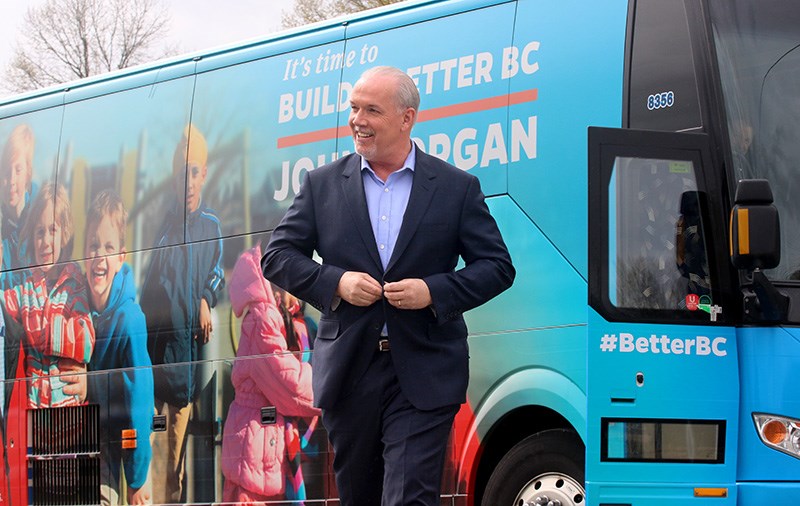 As for the NDP's promise to pursue construction of two new mental health facilities on site, Kim said he was pleased, suggesting it's the Liberal government's economic policy that provided the capital for a $1.42 billion investment in mental health across the province.
"It comes down to the ability with a strong economy, we're getting that revenue where we can invest for the future," Kim said.
In addition to the Riverview lands declaration, Horgan said the BC Liberal government didn't do enough to stop the opioid and fentanyl crisis and the NDP would create a ministry of Mental Health and Addiction to better coordinate services. As well, he said, the NDP would implement an "ask once, get help fast" approach to mental health and addictions although he provided no specific details on beds and programs.