A Port Coquitlam-based company contracting out telecommunications technicians to Telus has filed a civil claim against striking workers and their union, claiming they have harassed, vandalized and surveilled subcontractors crossing picket lines. 
Dozens of workers began erecting picket lines outside the Port Coquitlam offices of  LTS Solutions Ltd. — a Ledcor subsidiary — last September after 31 workers were fired, according to the union representing technicians.
The strike, which has continued for the past six months, came on the back of deteriorating working conditions — including an unfair work quota system — and "surface negotiations" in which Ledcor has failed to commit to the fair treatment of its workers, said Dustin Brecht, a union representative for the International Brotherhood of Electrical Workers (IBEW) Local 213, which represents utility workers, traffic controllers, arbourists and communications technicians, among others.
In court documents filed to the Supreme Court of British Columbia, LTS Solutions alleges the union and several of its members have levelled homophobic and racist slurs at workers crossing the picket lines, including calling one South Asian employee "Scab-deep" and comparing another to Adolf Hitler. 
In calling out employees who have crossed picket lines, court documents point to a website called ledcorscabs.com. Several photos appear to show workers surveilled as they head to and from work. Across the top of the page, a banner reads: "Cross a picket line, get your photo online;" followed by, "Rule #1. Do not cross a picket line. Rule #2. If you need to cross a picket line for any reason, refer to Rule #1."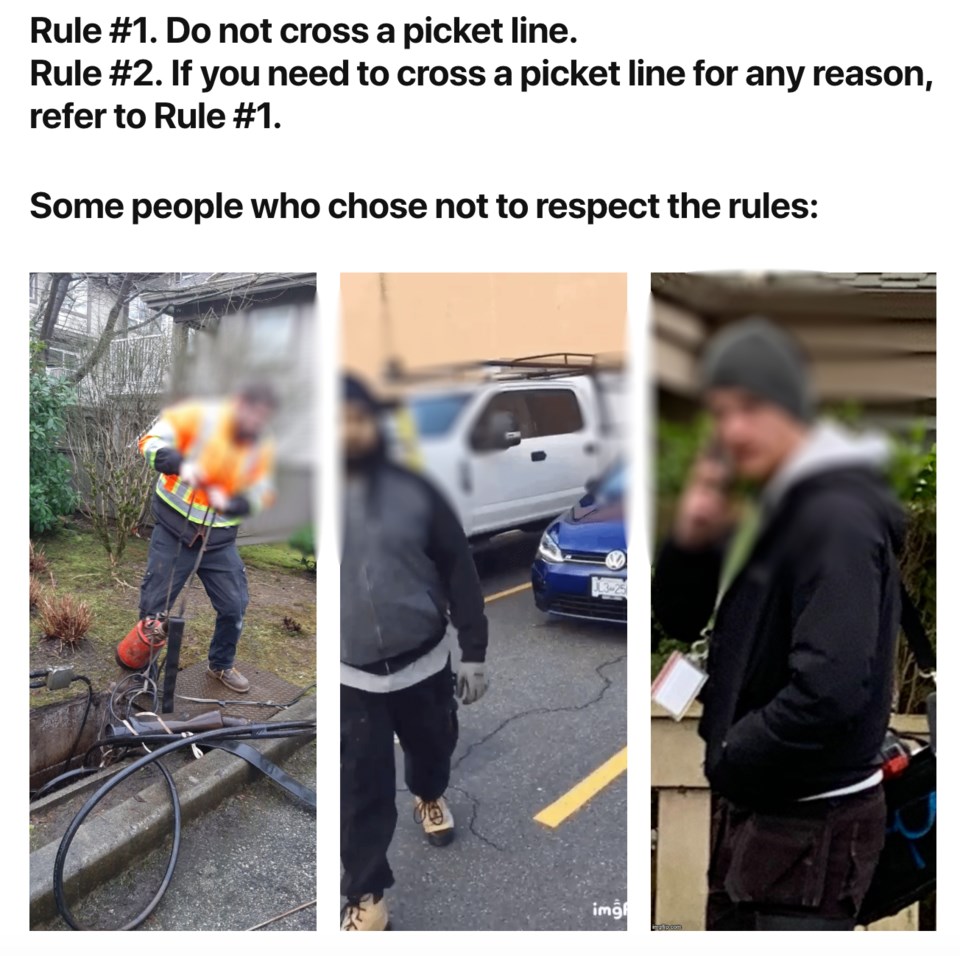 Striking workers are also alleged to have aggressively followed employees working during the strike to and from their homes, trespassing on their private property and threatening their jobs and families in person, through text messages and phone calls. The company further alleges striking workers vandalized its vehicles and, in one case, planted a GPS tracking device on an LTS vehicle — "discovered by LTS employees and believed to be a bomb" — so striking workers could follow it to and from worksites and workers' homes.
LTS Solutions is asking the court for injunctions preventing the striking workers from blockading the Port Coquitlam facility and prohibiting them from intimidating, threatening, coercing, assaulting or harassing LTS employees and subcontractors. 
None of the allegations have been proven in court.
Union representatives Dustin Brecht and Robin Nedila, both named in the civil action, said the claims presented by the company are trumped up and do not accurately reflect the workers' legal right to strike.
Jim Lofty, business manager of IBEW Local 213, defended the union, saying members picket within the guidelines of the law but the way LTS contracts workers, they have been avoiding the Port Coquitlam facility and going directly from their homes to work. The mobile pickets, he said, are the only way striking workers can actually interfere with LTS's work.
"They got a lot to prove and, you know, we've got a lot of video evidence," Lofty said. "We will certainly be in compliance with the law and whatever [the BC Labour Relations Board] dictates to us."
The dispute between LTS Solutions and the union began two years ago when workers moved to join IBEW Local 213, according to the union. Brecht said workers wanted to make sure their wages wouldn't get cut in the future and guard against an industry that was increasingly making precarious work standard practice. 
At the time, Brecht said, roughly 240 technicians were working out of the Port Coquitlam offices. After the most recent job cuts, Brecht said that number has been more than chopped in half to about 111 workers.
"The people that were getting fired en masse were being replaced with subcontractors — untrained, unqualified subcontractors, not paid benefits, some of them close to minimum wage," Brecht said last fall. "We're fighting for them, too, whether they know it or not."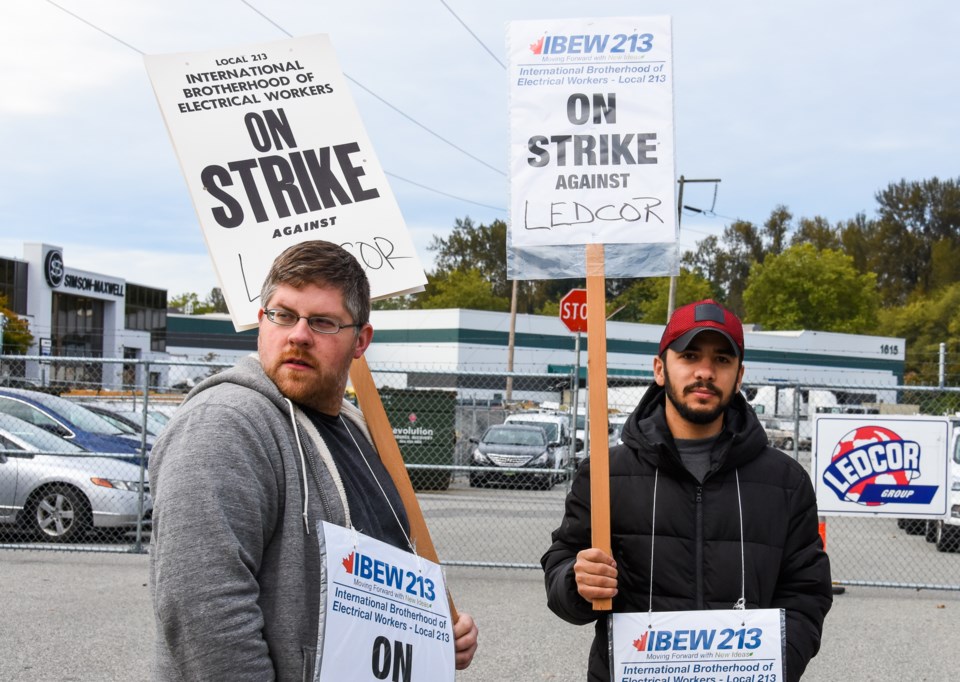 But as months on the picket lines ticked by and with no negotiation in sight, Brecht and Nedila turned to the federal minister of labour, Filomena Tassi. In a Dec. 13 letter to Tassi, the union representatives cited federal authority over telecommunications and requested she direct the labour board to settle the collective agreement.
A spokesperson for Minister Tassi told The Tri-City News in an email that she had received the letter and was still considering it while she monitors negotiations.
In January, union reps informed LTS Solutions they had called on the federal government for help, and shortly after that, said Brecht, the company launched the civil claim to slap injunctions on the striking workers.
At the same time, this week, the union began five days of hearings at the Federal Public Sector Labour Relations and Employment Board to address a consolidated set of complaints against LTS Solutions dating back to 2017 when workers first started organizing.
Beyond job security concerns, union representatives said LTS Solutions places unrealistic quotas on workers that require them to rush fibre-optic installations in order to meet the next appointment. During installation booms, technicians can make a lot of money packing several contracts into a single, long shift. But that can also lead to shoddy and sometimes dangerous working conditions as technicians scale ladders and drill through walls.
"Things are happening. People are falling off ladders," said Brecht when the strike began. "More importantly, what's happening to customers' homes? There was a hydro main [line] drilled through."
The negotiations, said Lofty, could set a precedent across B.C., and even the country, as telecommunication workers look to get accredited under provincial trade qualifications in the same way plumbers or electricians are certified. 
"For over 100 years, Telus and other companies have been able to provide high quality, good-paying jobs with benefits to install these products, repair and maintain this infrastructure," said Lofty. 
"At a time when it is becoming more critical to the public, they're watering down the training."