Hopes are pinned on a single sockeye salmon that migrated up the Coquitlam River this week that the famed lost species of the Kwikwetlem First Nation may make a come back.
A healthy wild sockeye salmon was spotted in a trap at the Coquitlam Dam on July 6 and will be carefully placed in the BC Hydro reservoir.
Spotted by local conservationists who are working with the Kwikwetlem First Nation and Watershed Watch Salmon Society, the salmon was surprisingly early but may be part of an historically early run, according to Craig Orr, an ecologist who works with a number of groups doing education and restoration projects in the region.
It is not, however, a returning salmon from one of the 5,000 hatchery-raised smolts released into the river three years ago because it still has its adipose fin.
Some good salmon news! The first sockeye of the year returned yesterday to the Coquitlam River. Zero last year. Epic struggle to repair the damage caused by BC's oldest hydroelectric dam continues. Kwikwetlem/Coquitlam literally means #redfishuptheriver. Historically early run.

— Craig Orr (@CraigOrr_) July 8, 2020
Orr said the salmon could be a stray from another salmon run or it could be one of the salmon that spilled out from the Coquitlam lake reservoir in water flows permitted by agreement with BC Hydro.
"We won't know until we do genetic testing," said Orr, but he said the appearance of the fish, even with a chunk missing from its tail, shows the power of nature's resiliency.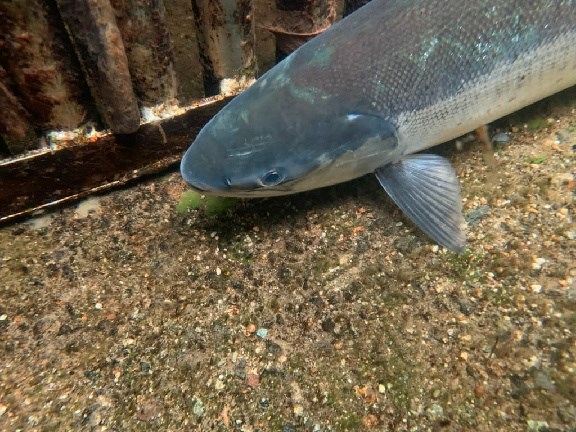 If it turns out this salmon was originally spawned in the lake, it will be prove the lake sockeye trapped by the Coquitlam dam retain their migration instincts, remarkable given that the 5,000 sockeye salmon that were released by conservationists three years ago have yet to appear.
A portion of those returning salmon could still show up this fall, but if they don't, Orr suspects they succumbed to the same problems affecting B.C. sockeye generally, such as climate change, issues with farmed salmon and competition for food.
The fragility of the ecosystem and challenges faced by salmon generally and sockeye in particular make the appearance of this lone wild sockeye salmon even more special said Orr.
"Apart from eating the fish, they are culturally important," Orr said.
Meanwhile, the Kwikwetlem Salmon Restoration Program is working with BC Hydro to release coho into the lake, which would then pass through low-level outfalls in the dam to migrate out to the ocean, possibly returning to tributaries higher on the river, such as Cedar Creek.
"We're opening up spawning habitat and seeing if we can connect the reservoir with the other species of salmon," Orr said.