It's perhaps the most iconic Canadian photograph of the Second World War — a simple human story caught, for a millisecond, by the camera. After almost 80 years, the powerful themes of separation and uncertainty as fathers, brothers and sons went off to war, render the "Wait for me Daddy" image as timeless.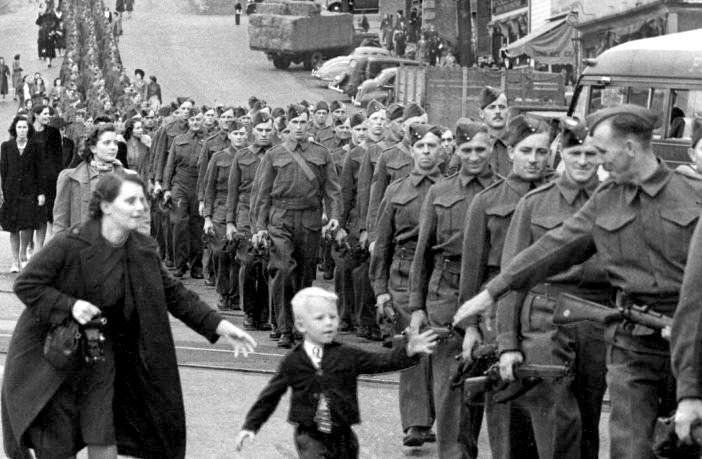 The photograph by Claude P. Dettloff shows the British Columbia Regiment marching down New Westminster's 8th Street on its way to war on Oct. 1, 1940. The often-reproduced photo was reintroduced to a younger generation of Canadians in 2014 when the image was featured on a new coin and stamp, and the subject of a bronze sculpture.
The father, mother and son trio dominate the image but take a closer look at all the other faces in the photo. They all have stories. Half a dozen other woman walk along with the column of soldiers. How did their story unfold over the next five years of war? Countless others, unseen out of the camera's lens, are also there, thinking, wondering, hoping. 
I have shared this photo with children many times over the years. They invariably ask, "Did the dad come home?" The dad did return home. Jack Bernard was one of the "lucky" ones but he was never the same.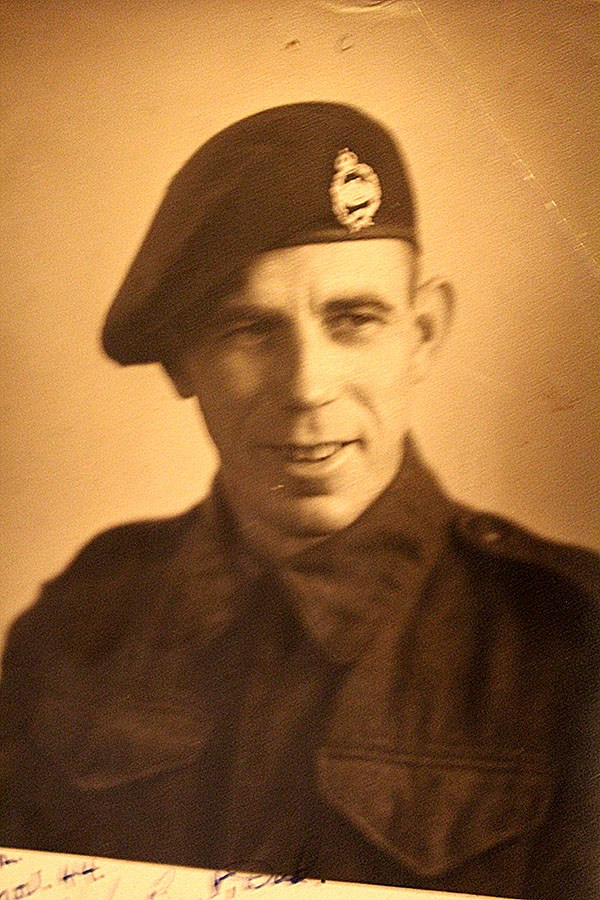 They also ask, "What happened to the little boy?" Warren 'Whitey' Bernard grew up, as boys do, built a successful career, raised a family, made his community better and answered questions about that photo in the decades since. 
Last summer, Whitey, age 82, and his brother, Ken, returned to Normandy to retrace their father's wartime experiences. As their guide and historian, I was thrilled to meet the famous "boy" but as the next two weeks unfolded, I came to appreciate Whitey and Ken's story as something far greater than the iconic photo. 
Their story is simply and profoundly a common Canadian tale. Had that famous photo not been taken, had the photographer's attention been diverted or the shutter opened a second late, we would probably never know of Whitey or Jack but their story would be no less significant. 
Boarding the plane for France, I was mindful that the brothers were searching for their own story, a family story that had nothing to do with photos. They were searching for their dad, Jack.
The first leg of the tour was in Normandy and focussed on Canadian operations in 1944. For Whitey and Ken, the key date was July 25, 1944 — the day Jack Bernard's war began.
That day, Jack was a crew commander of a Sherman tank in "C" Squadron of the 1st Hussars, which was part of a major operation known as Operation Spring. "C" Squadron was tasked to support an attack on the village of Rocquancourt on the reverse slope of Verrieres Ridge. Things started well as the tanks and infantry made their way unseen up the slope towards the ridgeline. There was no cover and to advance over the crest in daylight was to invite disaster. The Germans were dug in on the reverse slope. The Canadians cresting the ridgeline would be highly visible and vulnerable.
I took Whitey and Ken to see that ridgeline. They recalled their dad's account of events. It did not go well.
"C" Squadron was wiped out — 15 out of 18 tanks were hit that day. Jack's tank was one of them. His driver, Trooper Angus McLeod, was killed, one of almost 450 Canadians to die that day. 
Said Whitey: "Dad was a bit shook up but, five days later, had a new tank and away they went" — a telling statement as Canadian soldiers simply carried on despite losing comrades regularly. Jack remained in the thick of the fighting for the next four months. The constant strain of combat took its toll, though, and Jack began to show signs of "the Blue Funk," or battle exhaustion. In December 1944, he was sent to Canadian General Hospital 12. His war was over. 
Standing with Whitey and Ken in that wheat field and viewing the ridgeline, I could not help but think again of the famous "wait for me daddy" image. Whitey reached out to his dad that October morning in 1940 and, here, now 73 years later, Whitey and Ken reached out to their dad once again.
John Goheen is the guide and historian for the Royal Canadian Legion's Pilgrimage of Remembrance and a principal in School District 43.
•••••••••
COQUITLAM
9:45 a.m.: Indoor Remembrance Day service (Como Lake middle school, 1121 King Albert Ave.) with Coquitlam Legion Branch 263
11 a.m.: Cenotaph service (Veterans Way at Blue Mountain Park)
12:30 p.m.: All-day Legion open house including music from the Robert Malcolm Memorial Pipe Band, Bruce James Orchestra and Vancouver Naval Veterans Band
PORT COQUITLAM
9:30 a.m.: Indoor Remembrance Day service (Wilson Centre, 2150 Wilson Ave.) with PoCo Legion Branch 113
11 a.m.: Cenotaph service (Veterans Park at city hall, 2580 Shaughnessy St.)
12:30 p.m.: All-day Legion open house including performances by the Golden Spike Can Can Dancers, Eire Born Irish Dancers and RetroSonic Band
PORT MOODY
10 a.m.: Indoor Remembrance Day service (Kyle Centre, 125 Kyle St.) with PoMo Legion Branch 119
11 a.m.: Cenotaph service (Port Moody Arts Centre, 2425 St. Johns St.) with a 21-gun cannon salute by the Seymour Artillery
12:30 p.m.: All-day Kyle Centre activities — for adults only — including performances by the SFU Pipe and Drum Band, Heather Jolley Highland Dancers