As more than seven million Canadians survive off the the federal government emergency response benefit, just how that guaranteed income has changed the way people live has some thinking it should be made permanent.
A new poll has found that most Canadians now support extending a universal basic income beyond the current pandemic.
Of the over 1,500 Canadians surveyed in the Angus Reid Institute study, roughly 59% said they would support a universal basic income (UBI) at either $10,000, $20,000 or $30,000, so long as wealthier Canadians footed the bill.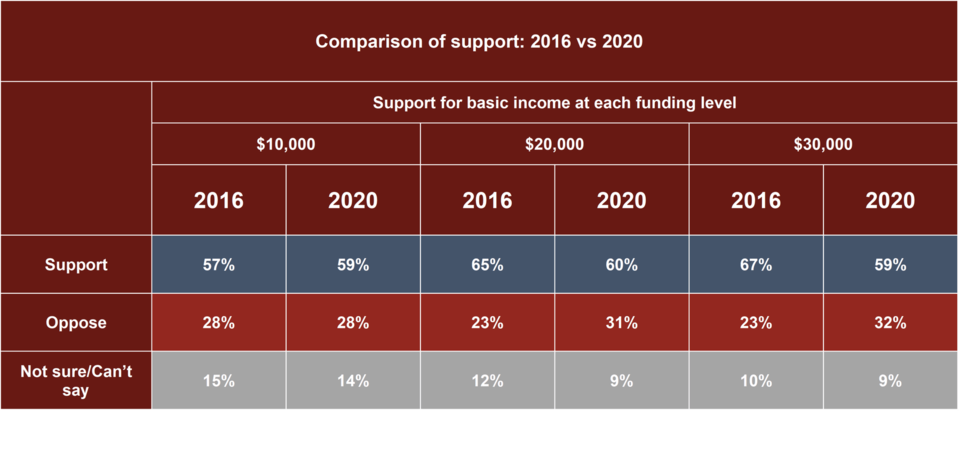 The program could cost anywhere between $15 billion and $90 billion, according to a handful of studies, and that cost has Canadians divided: 54% said that UBI is too expensive and, in a separate question, 46% said Canada can't afford it.
Just what a guaranteed income would do to Canadians work ethic also split those polled, with 55% saying Canadians would be less inclined to work, despite arguments to the contrary.
According to the poll, women, youth and those who have voted for the NDP or Liberal party were more likely to support a UBI, whereas past Conservative party voters were more likely to oppose such as measure.
And while that is perhaps not surprising considering the political parties' fiscal policies — NDP leader Jagmeet Singh has expressly used the words "universal basic income" in his call for a barrier-free Canada Emergency Response Benefit (CERB) — the federal government has so far rejected a move in that direction, even though some economists have called the move a "modern policy for a modern labor market."
Yet in other countries, the idea of a guaranteed income has gathered momentum as populations reel under the economic fallout of COVID-19. 
South Korea, Spain, India and Colombia have all accelerated debates over extending a universal basic income to their populations, and even in the U.S. — where sharp political divides have often cast such proposals as radical — a recent petition urging Democratic presidential candidate Joe Biden to publicly endorse a $2,000 a month universal basic income has gathered over 360,000 signatures in the last month.