Chef Wayne Harris has faced challenges before, including a time he and celebrity chef Rob Feenie faced off against knife-wielding opponents on Iron Chef America.
But when tasked with turning a medium-sized bag of canned goods and rice — the contents of a typical food bank hamper for the Tri-Cities' most needy families — into a fabulous meal for guests, Harris was stumped.
He'd known pressure as a Cactus Club restaurant chef and in previous posts at Lumiére and the Pan Pacific Hotels Group. But this was different. Not only did he want to make something wonderful to surprise guests at the kickoff for Share Family and Community Services' Imagine gala, but he was struck by the reality faced by needy families in the Tri-Cities.
"It created an awareness of what people have to do to survive," Harris said before embarking on the live cooking demonstration at Wednesday's kickoff for the March 5 Imagine event.
"I think a lot of people are blinded by what they have at home in their four walls. This created awareness for me."
Harris said he spent an hour looking at the food, breaking down the ingredients into something that he could whip into a culinary creation. Eventually, he came up with three dishes: a pork-and-bean-based shepherd's pie, a fried rice dish and a layered parfait.
Each of the dishes took flavour and ingredients from the base staple; for example, the shepherd's pie drew from flavourings in the pork and beans while the layered parfait was infused with fruit from a can of fruit cocktail.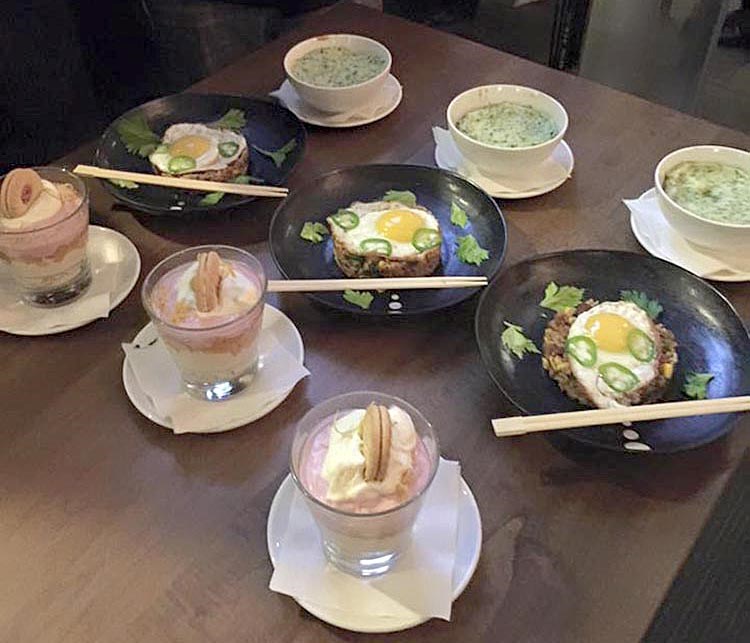 Harris said it was not impossible to make a great meal from the food bank hamper but he did have to add other ingredients, such as ginger, red onion and an egg, as well as ground beef for the savoury dishes and whip cream and yogurt for the parfait.
"You have to play with the flavours," Harris said.
He was assisted in his effort by some experienced sous chefs. Share CEO Sylvia Ceacero is a notable cook herself, the proud owner of 5,000 cookbooks, including 350 hard-covers and the remainder in eBooks. "I was taught to cook by my mother, it was an important skill for a girl to be marriageable," said Ceacero, who grew up in Spain.
"I just loved [cooking]. I feel food is a universal language. It brings people together, it nourishes us."
Also assisting was recent CABE graduate Galen Doerksen, who is working on his Red Seal certificate in the culinary arts.
Together, the trio chopped and sautéed, boiled and whipped to make the dishes, which they served to sponsors during the gala kickoff.
THE DETAILS
• To see more master chef-style cooking and support Share services, including the food bank, you can attend the Imagine 2016 gala on Saturday, March 5. The night features a signature tasting competition between restaurants competing in the categories of sweet and savoury, judged by some of the most celebrated chefs in the region. The year's culinary line-up features Brown's Socialhouse (Town Centre), Christine Catering Company, The Wild Fig at the Executive Plaza Hotel, Hard Rock Casino Vancouver, Mr. Mike's Steakhouse Casual, White Spot (Sunwood Square) and Wilbur and Sabastian's Smokehouse and Bistro. There will also be four teams competing to create a two-course meal from the contents of a Share food bank hamper, live entertainment, auctions and raffle prizes. Tickets are $85 and available at sharesociety.ca/imagine or call 604-529-5105.