The number of people visiting Metro Vancouver's regional parks has increased dramatically this year amid the COVID-19 pandemic. 
Across the region, there has been a 40% increase in visits compared to this time last year. Metro parks in the Tri-Cities have have not been spared.
According to data provided by Metro Vancouver, 534,308 people have visited Belcarra Regional Park in the first six months of 2020, a 67% jump over the 320,414 from last year.
The increase in traffic is putting pressure on the community of 643 residents, with Mayor Neil Belenkie calling the area the "Florida of Metro Vancouver" during an interview with The Tri-City News Friday. 
"It's a nightmare," he said, of the vehicles and traffic that have accompanied the revellers attending White Pine Beach and the waterfront picnic area by the pier. 
Port Moody is also grappling with the overflow parking into its municipality and together with its neighbours will be rolling out an increased presence of bylaw officers and tow trucks this weekend.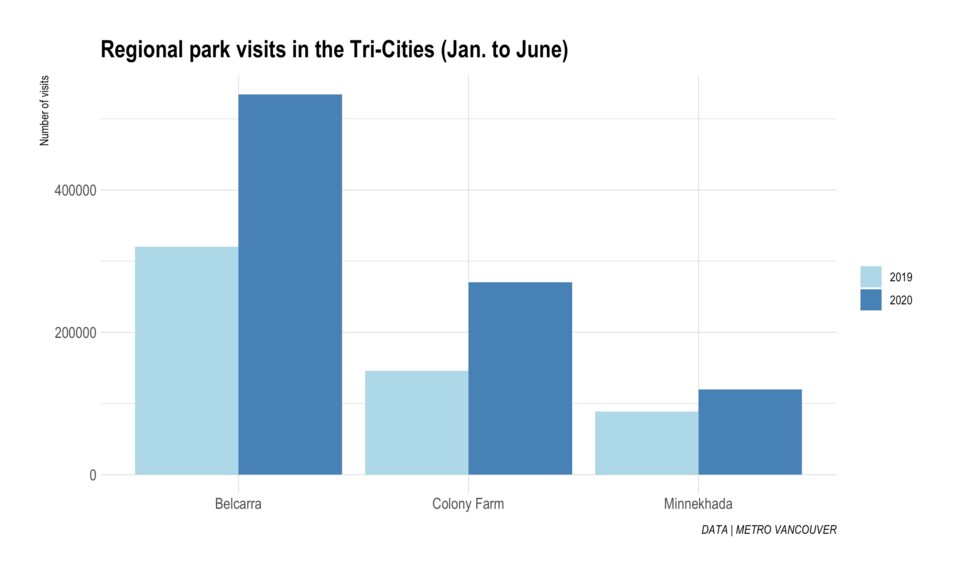 It's not just the Belcarra park that's seen an uptick in visitors.
Metro Vancouver's regional park system has remained open over the course of the pandemic, even as B.C. and federally-run parks, as well as many municipal park amenities have shut down.
One of the biggest jumps in visitor traffic has been at Colony Farm Regional Park on the border of Coquitlam and Port Coquitlam.
Visits to Colony Farm are up from 145,894 in 2019 to 270,252 (85%) this year, while Minnekhada has seen a rise from 88,873 to 119,850 (35%).
Pacific Spirit Park, which includes Wreck Beach, has been the most popular park in the regional system, with close to two million visitors this year compared to the 1.2 million last year, an increase of 61%.