More airplanes could soon cast big shadows over houses in Coquitlam, Port Coquitlam and Port Moody under route changes proposed by Canada's navigation agency.
Several neighbourhoods from Mary Hill in PoCo to Inlet Centre in Port Moody could be affected, along with several Coquitlam communities, maps of the new routes show.
NAV CANADA, a not-for-profit corporation responsible for air traffic, is proposing to alter instrument approach procedures for Vancouver International Airport (YVR) to shorten routes and reduce fuel.
The new procedures are also supposed to reduce noise from descending jet engines and create more specific flight paths across Metro Vancouver so 61,000 fewer people are affected by airplane noise.
But one local resident is concerned that while air traffic might be reduced in some areas under the proposed changes, it will be concentrated over Coquitlam.
Anna Caltagirone fears she and her neighbours in Ranch Park will hear more jet engine noise over their homes, especially in evenings or late at night.
"It's not something that's going to deafen you, but it's loud enough, particularly at night time, when you're getting this noise, and it could affect your health," said she said.
Dealing with noise is a key component of public discussions occurring right now about NAV CANADA's aircraft route change proposal.
A local open house is planned for Monday (Jan. 16) between 5 and 8 p.m. at the City Centre branch of the Coquitlam Public Library (1169 Pinetree Way).
According to community maps provided by NAV CANADA, Tri-Cities neighbourhoods to potentially be impacted by the change in aircraft flight paths include:
Coquitlam
Austin Heights
Eagle Ridge
Fraser Mills
Harbour Chines
Maillardville
Pacific Reach
River Springs
Westwood Plateau
Port Coquitlam
Port Moody
How noisy are YVR airplanes?
Modelling provided by NAV CANADA show noise levels from the new flight paths could be between 55 and 60 decibels in some areas.
Noise at 70 decibels or higher is considered damaging to hearing over a prolonged period of time. Levels around 55 decibels is the equivalent of refrigerator noise, while 60 decibels is similar to the sound of someone having a conversation.
YVR has a network of noise monitoring terminals — although none in the Tri-Cities — and you can check out a flight tracking website that shows planes flying over the Lower Mainland and noise levels in real time.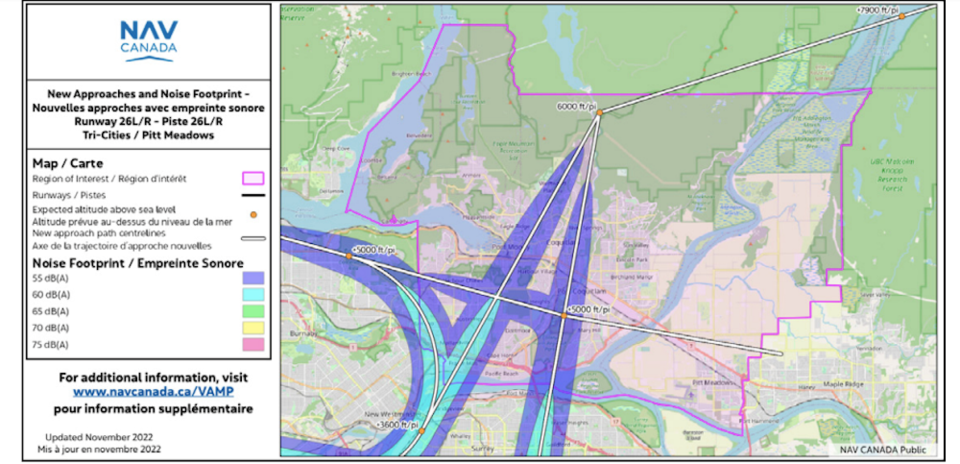 However, the website, which tracks jets flying over Port Coquitlam and through Coquitlam, reveals that ambient levels of noise can be 50 decibels or higher, even without airplanes passing by.
Still, Caltagirone, who has been dealing with noise from low-flying private aircraft for years at her Ranch Park home, says neighbourhoods unaccustomed to plane noise might notice the change, especially late at night when they are trying to sleep.
"You don't know how the noise is going to change," said Caltagirone.
"Especially if they do concentrate these flights, you can see them coming from the north down. They'll hear more noise because the original flight paths were in a different area."
Proposed changes to aircraft flight paths could be noticed more during the spring and summer, when westerly winds are usually prevalent.
West approach to YVR biggest impact
That's because, during westerly winds, planes are instructed to approach YVR's 026 runway from the west, and maps show planes will fly over several Coquitlam neighbourhoods, as well as some areas of Port Coquitlam and Port Moody to orient themselves for the runway, instead of further south.
A plane coming from the east, for example, will descend from about 6,000 feet over Westwood Plateau to about 5,000 feet over Port Coquitlam and Coquitlam as it heads to Richmond via Burnaby.
Planes arriving from the west heading for the western runway will have to make a turn towards the airport, roughly over the neighbourhood of Maillardville.
The map shows neighbourhoods of Cape Horn, and industrial areas of Fraser Mills and Pacific Reach also possibly affected.
Airplanes making an eastern approach during easterly winds won't have as much of an affect, however.
Although they will fly over Port Coquitlam and south Coquitlam, that's not much of a change from current routes, and planes will be flying at 9,000 feet, and making their turn over water to approach the runway.
The route changes provided by NAV CANADA are also supposed to be more more streamlined — although not all planes will be required to follow the specific route under the new Vancouver Airspace Modernization Project (VAMP).
Better for the environment
According to NAV CANADA, more efficient arrival procedures will reduce an aircraft's flight time, resulting in reduced greenhouse gas emissions.
However, it's likely some communities may notice aircraft that they didn't see or hear before, NAV CANADA acknowledges.
"Despite incorporating a number of noise mitigation measures into the proposal, it is important to note that entirely avoiding overflight of residentially populated areas is simply not possible and that some residents may observe aircraft operating more regularly in certain areas than they had before," the agency states.
Still, the modernization of aircraft procedures is expected to benefit travellers and Lower Mainland communities, according to the Vancouver Airport Authority.
"Proposed enhancements to the airspace around YVR will contribute to both operational efficiency and environmental sustainability at the airport, which will benefit travellers and our neighbouring communities," stated Mike McNaney, vice president and chief external affairs office for the authority.
"We look forward to the outcomes of this consultation and advancing this important work in collaboration with NAV CANADA."
Public consultation is ongoing until Feb. 3, with an implementation date no earlier than fall, 2023; find out more here.