More than two-thirds of British Columbians say they do not feel comfortable leaving the safety of their home office to return to work amid the COVID-19 pandemic.
That's according to a recent survey by Insights West, which found that by September, if given the choice, only 31% would choose to go back to work.
A further 19% told the pollster they would choose to work from home "forever," with 78% of respondents saying that catching COVID-19 from a co-worker was their biggest concern.
The poll, which was released on the cusp of the province's transition from its phase 2 to its phase 3 re-opening of economy, found that only 20% of workers were "very comfortable" with returning to work, despite relatively low caseloads of the virus. 
Some form of anxiety existed for another 43%, who said they feel "somewhat comfortable" with the prospect of returning to the workplace.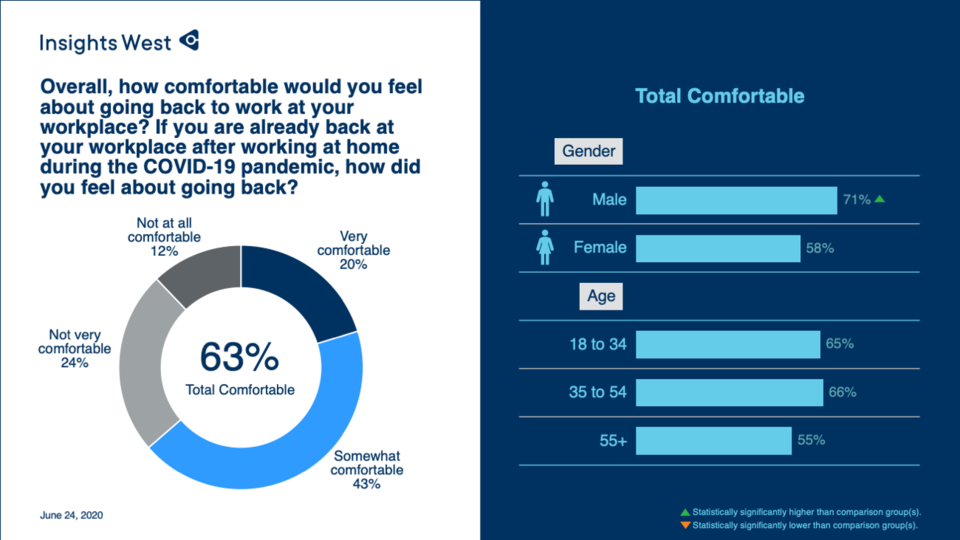 Age and gender accounted for the biggest gaps in opinion, with 71% of males reporting they feel comfortable returning to work compared to 58% of females. 
Older respondents were also less comfortable than their younger counterparts, with 55% of those older than 55 saying they were not comfortable returning. By comparison, 65% of those between 19-34 and 66% of those between 35-54 said they were comfortable returning to their workplace.
The biggest concerns about returning to the workplace centred around appropriate physical distancing, with 44% saying they were concerned their company wasn't doing enough to mitigate the risks. Given the choice, most said they would prefer to go back to work when there were either zero COVID-19 cases or a vaccine became available.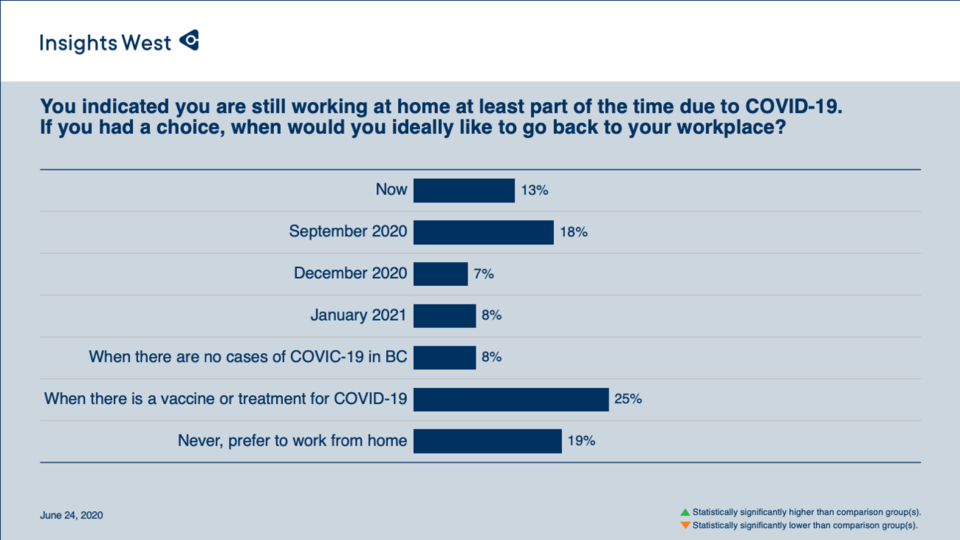 When it comes to productivity at home, British Columbians are divided, with 37% saying they're less productive and 29% sating they are more productive. 
"This pandemic could permanently alter how we live and work for years to come," said Insights West president Steve Mossop in a written statement.
"This could have drastic implications for commercial real estate in the years to come, company team-building and socialization, and the infrastructure needed to support productivity in the workplace." 
The poll was conducted between June 18 and 21 with a group of 879 B.C. residents and has a margin of error of +/- 3.3 percentage points.