As businesses navigate the new landscape of the province's phase 2 reopening, the question of whether to impose a surcharge to cover the extra costs of COVID-19  has been largely rejected by British Columbians. 
At least that's according to a recent survey by the pollster Insights West. 
Despite a sparse flow of customers and increased operating costs due to social distancing measures, 62% of British Columbians are opposed to a COVID-19 surcharge, while 37% are 'strongly opposed' and 25% are 'somewhat opposed.'
However, the younger the respondent, the more likely they were to support a surcharge. Roughly half (48%) of those between the ages of 18 and 34 said they would support a surcharge, compared to only 37% of those between 35 and 54 and 35% for those over 55.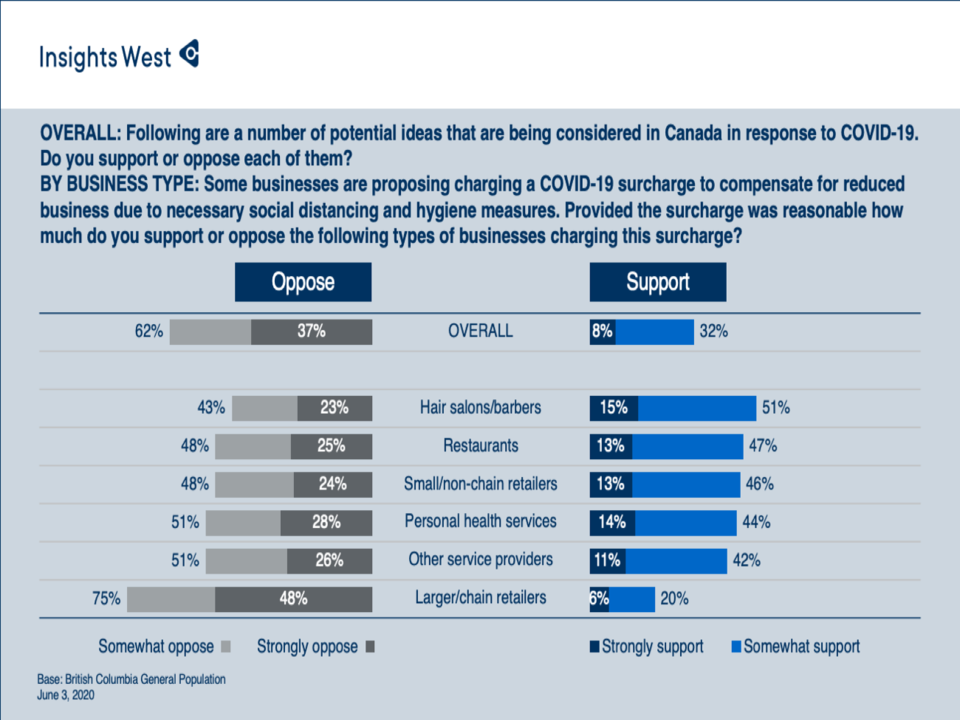 Certain sectors found wider acceptance to a surcharge than others. Topping the list, more than half (51%) of respondents said they would feel comfortable paying a surcharge at a hair salon, though restaurants (47%) and other small businesses (46%) came close behind.
Large chain retailers, on the other hand, found little support for a surcharge, with 75% of those polled opposed.
The poll found strong support for local businesses, with 79% of respondents saying they are actively trying to buy from neighbourhood businesses, 81% looking to buy from B.C.-based companies and 82% saying they want to focus their purchasing on products and services provided by Canadian businesses.
"Consumer sentiment in this province has shifted to hyper-localization and support of businesses that are part of our local economy," said president of Insights West Steve Mossop in a written statement.
Insights West also found that 63% of B.C. residents are looking to avoid businesses who have reportedly been unfair to their employees throughout the pandemic. 
EDITOR'S NOTE: An earlier version of this story showed a picture of a Port Coquitlam salon in connection with the positive views many British Columbians had towards some in this industry implementing a surcharge on their services. However, the business referenced in the photo has chosen not to implement the surcharge. Apologies for any confusion this may have caused.