BC NDP candidate Fin Donnelly is projected to unseat Coquitlam-Burke Mountain Liberal incumbent Joan Isaacs, completing the NDP sweep of the Tri-Cities. 
While the final results won't be known until mid-November when all the mail-in ballots have been tallied, Donnelly led Isaacs by more than 2,000 votes with 87 of 88 polls reporting Saturday night. It was a big enough margin for our Canadian Press poll tracker to predict a victory for Donnelly by roughly 9:30 p.m., despite a large number of vote-by-mail ballots yet to be counted. 
"It feels like a good solid victory," Donnelly told the Tri-City News in a phone interview as the sound of popping champagne bottles could be heard in the background. 
Riding an orange wave that swept across the province, Donnelly will join a BC NDP party set to form back-to-back governments — this time with a strong majority of 55 of B.C.'s 87 electoral districts as of midnight Saturday.
He said his first priority would be ensuring that the middle and secondary schools on Burke Mountain get funded and built. 
"We promised the two schools," he said. "We want to deliver on that. We want to make sure the urgent primary care centre is moving forward and on track. We want to ensure that there are childcare spaces coming into the Tri-Cities, that there is more affordable housing."
Donnelly congratulated his opponents. 
"They stood up for their respective parties and I want to say that's what democracy  is about. But at the end of the day, it's up to the people of Coquitlam-Burke Mountain," he said. 
"I feel humbled to be the one they put their faith into."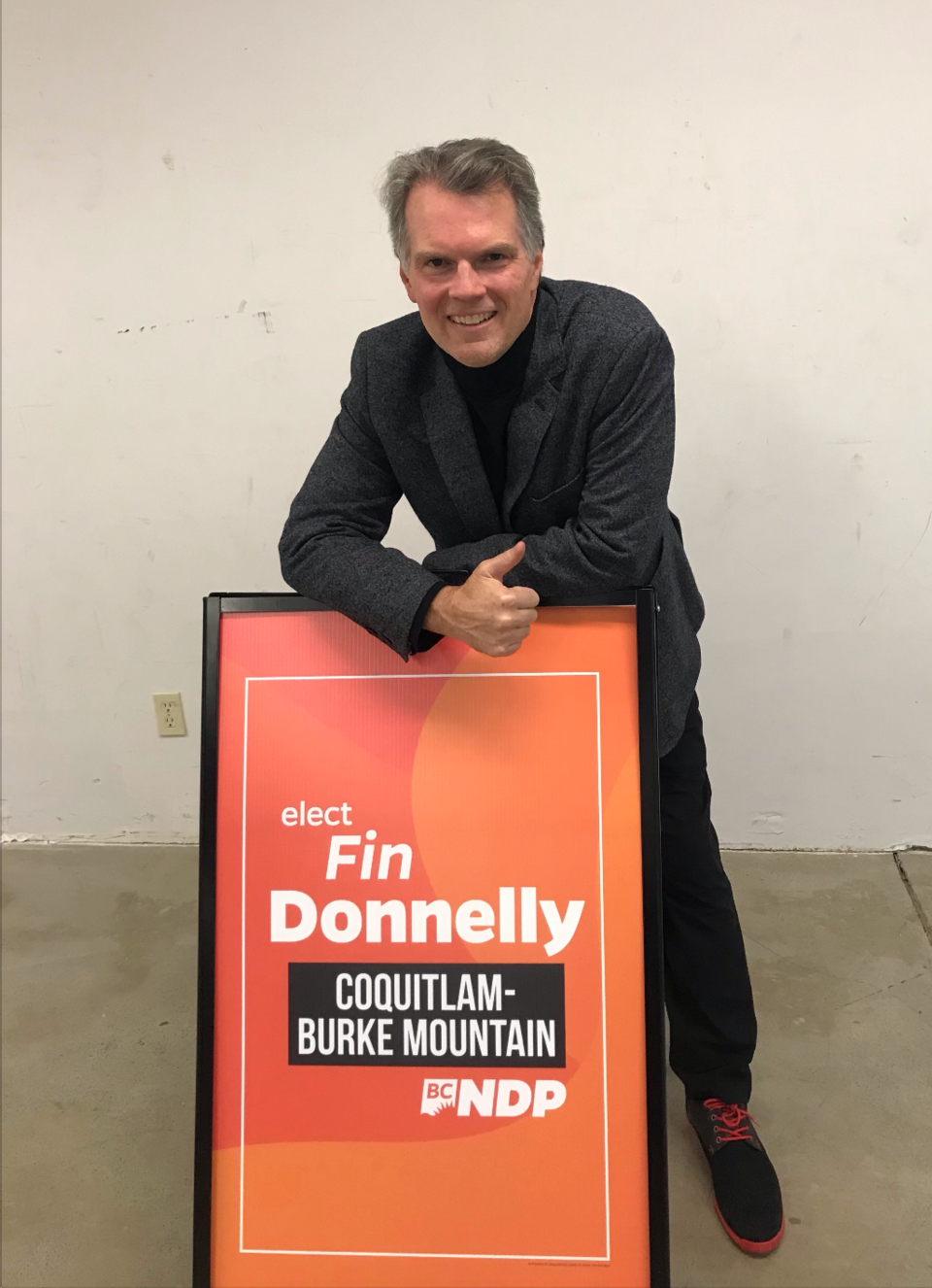 The relatively large margin of victory comes after a campaign where Isaacs, who by 87 votes in 2017, pushed hard to get out the vote one door at a time. Donnelly, in contrast, opted not to door-knock due to safety concerns around the COVID-19 pandemic. 
Instead, Donnelly relied on connecting with voters through texts, phone calls and zoom meetings, while his team has dropped off signs, leaflets and together visited people at SkyTrain stations, small businesses and parks.
His campaign also relied on big digital ad buys on social media platforms like Facebook, YouTube and Instagram. 
"The pandemic has impacted not only campaign spending, but how we campaign in general," Donnelly told the Tri-City News earlier this week.
Donnelly's paid Facebook posts largely hung on centralized party messaging around plans for affordable housing, investment in health care and choices such as "Helping the rich get richer, or helping you get through the pandemic?"
It's a message that appears to have convinced a majority of voters in Coquitlam-Burke Mountain, as the former city councillor and decade-long MP can now claim a public office trifecta as a newly elected MLA — only this time, with a party in power.
"I have experience at the local level, the federal level and now I can bring that experience to the provincial level," said Donnelly. "It feels like the right time of my life to contribute." 
IMPORTANT NOTE / NOTE TO READERS about mail-in ballots: Due to the anticipated number of mail-in ballots, the election night vote count will not be complete. The Canadian Press will continue to publish updated riding results to the map and banners as available until counting is complete
---