A name has been chosen for the 105-bed addiction and mental health treatment facility currently being built on the Riverview Hospital lands.
The Red Fish Healing Centre for Mental Health and Addiction is expected to open in 2021, replacing a 94-bed facility formerly located in Burnaby. Located on the traditional territory of Kwikwetlem First Nation, the name pays homage to the historic run of sockey salmon that used to run in the nearby Coquitlam River.
"For generations, the people of the Kwikwetlem First Nation have been stewards of the lands on which the Red Fish Healing centre is being built," said Minister of Municipal Affairs and Housing Selina Robinson, who represents Coquitlam-Maillardville in the B.C. Legislature. "This new name is an important step in honouring that connection, and we will continue to develop more opportunities like this as we work with the Nation to move forward on our shared long-term vision for Riverview."
Construction on the $101-million facility began in 2017, but was halted when Indigenous artifacts were discovered on the site. According to the province, BC Housing worked with the Kwikwetlem First Nation to ensure the findings were examined and documented.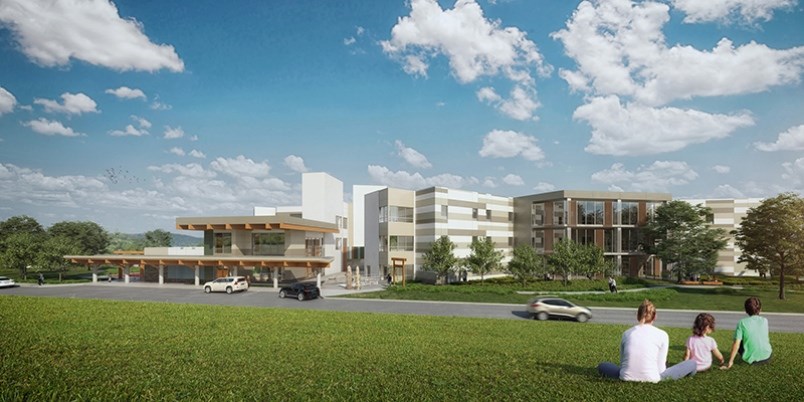 When construction is complete, the building will feature open views, therapeutic lighting, spiritual spaces and Indigenous art to help support recovery.
It will also have dedicated space for research and education and multi-purpose rooms to connect patients, caregivers and families across B.C.
"Every person in B.C. deserves high-quality public mental health care,' said Benoit Morin, the CEO of the Provincial Health Services Authority. "This new state-of-the-art facility will make a significant, positive impact on the lives of British Columbians struggling with mental health and substance use issues by offering a gold-standard model of care that prioritizes trauma-informed practice, dignity, therapeutic spaces and programs, and virtual health care."