It was an early Christmas for a handful of Pinetree secondary students when teacher Jon Hamlin dropped an Arduino electronics kit on a desk.
"Will there be any soldering involved?" one student asked.
"No, there's a breadboard supplied," replied Hamlin, referring to a small plastic construction base with holes in it for experimenting with circuit design.
With such a kit, the students will be able to build digital devices — a remote-controlled car is one such device — but there are many other things the students can do with the equipment, using technology to solve problems in the real world, Hamlin said.
"You're programming something that's tangible, not just something that's in a machine," Hamlin explained.
The students were enthusiastic, too, but also somewhat wistful.
"I wish we had this kind of thing when I was in Grade 8 or 9," said Georgiy Sekretaryuk, a Grade 12 student and a leader in the club.
"Your average job now requires coding, it's not just the future and not an option any more," said Terrence Schader, also in Grade 12.
But that gap in B.C.'s education system is about to close, with the introduction of an informational technology component into the new provincial curriculum. Starting next fall, students from kindergarten to Grade 9 will be taking Applied Design, Skills and Technologies, with curriculum for Grades 10 to 12 slated to begin in 2017.
For Pinetree's Hamlin, who is helping design the new curriculum, the earlier students start learning how to solve problems using technology, the better.
"It's like learning another type of language, it's a cognitive shift," he said. "If we can start that process early, it will lessen the learning curve once they get older."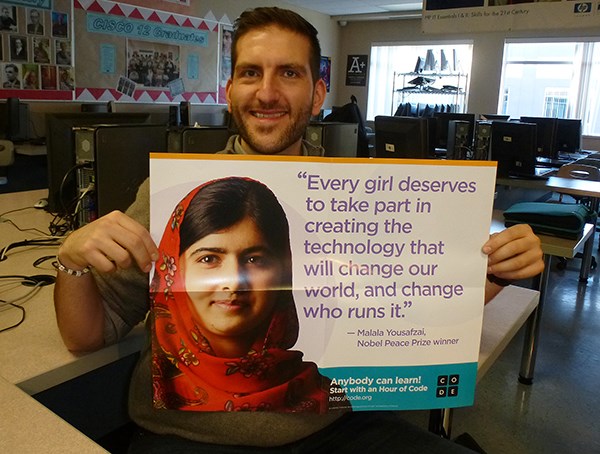 At its core, the curriculum will teach students how come up with ideas to solve a problem, doing research, designing, prototyping, testing, making and sharing, and Hamlin believes these curricular competencies can be part of any subject.
Students will also learn computational thinking — essentially automating solutions through a series of ordered steps, likely in math — and the subject could be part of a provincial exam in future.
But for teachers who started their careers in the analogue world, teaching the Applied Design, Skills and Technologies curriculum could be challenging.
"People have no ideas how to start, that's my huge concern around the curriculum," said Hamlin said, who also worries there aren't enough resources to help teachers implement the new curriculum.
To that end, he is working to bring people together to share ideas on the topic; for example, he's hosting a workshop at his school on the new curriculum in January and his group, the Computer Using Educators of BC, will support teachers, too.
In the meantime, Pinetree students are not waiting around for the future to arrive. On Dec. 5, they will participate in Codecreate, the largest province-wide coding initiative, at Lighthouse Labs in conjunction with Hour of Code week. They're also fundraising for more equipment, such as Arduino kits, so they can solve problems using technology at their school.
For these students, getting involved in the digital era isn't a choice but a necessity to be relevant in a changing world.
Said Sekretaryuk: "Programming is becoming as essential as math or English because technology is dominating our lives."