An ocean of sadness and grief surrounds Tima Kurdi but publication of a book that shares her family's story of escaping Syria — and of the deaths that shocked the world — may put the Coquitlam woman back on solid ground.
It was Kurdi's nephew Alan whose body washed ashore on Golden Beach in Akyarlar, Turkey in the early morning hours of Sept. 2, 2015. The bodies of his mother, Rehanna, and brother, Ghalib, were discovered a little later on, victims of a tragic overnight crossing between Bodrum and Kos.
But it was a photo of Alan's limp body, clad in red shirt and dark pants, that shocked the world and brought attention to the plight of millions of Syrians fleeing their war-torn homeland.
More than two years have passed since that dark day and today, Kurdi takes responsibility for the tragedy because it was she who gave her brother the money to pay the smuggler.
"I want to raise awareness by sharing the boy on the beach story and what's behind it," — Tima Kurdi
Still holding on to the grief and the guilt from that terrible night, Kurdi hopes the book Boy On the Beach: A Syrian Family's Story of Love, Loss and Hope During the Global Refugee Crisis will at least set the story straight about what happened, perhaps giving her some comfort.
"I want to tell the world and all the readers that our family's story is one of many and we are all the same," Kurdi told The Tri-City News, "We are not different from anybody else but it was also a form of grieving because every time me and my family, we talk about it, and we cry and everything. It was for me, writing that book was a healing process."
Indeed, while the image of the little boy on the beach is what sticks in the minds of many around the globe, the book published by Simon and Schuster Canada, which provided Kurdi with a writer, goes back to peace time, when Kurdi and her brothers and sisters were growing up in Damascus.
For the Kurdis, life in Sham was similar to that of many middle-class families, full of fun, music and dreams of moving away to a more glamourous life.
"To go back to our happy memories is actually a way of healing ourselves," said Kurdi, who immigrated to Canada at the age of 22 when she got married, and raised a son, also named Alan. She remarried and her husband, Rocco, is now the man who keeps her grounded and supports her in her goals.

ATTEMPTS AND ROCKY SEAS
Most people know today how the boat carrying Kurdi's brother Abdullah and his family capsized in choppy seas and how the young father tried to save his family.
What they don't know is the desperate situation the family was fleeing, along with that of Kurdi's other relatives, including her brother Mohammad, who was eventually sponsored to live in Canada with his wife and children.
Kurdi hopes to set the record straight on many counts with this book, which took over a year to come together.
"I know I was doing my best to help my family," said Kurdi. "They mean everything in the world to me."
For example, the funds for the trip by boat to Kos were first meant to fix Abdullah's teeth but he wanted the money to pay a smuggler because life as an undocumented refugee meant living in poverty, with no schooling for his children and continued health problems for his older son.
Attempts to flee to Germany had been made by other family members and it took several tries, including one aborted trip, before the seas were calm enough. The boat appeared sturdy enough for Kurdi's relatives to make the journey.
Reading the book is an eye-opening glimpse of the refugee experience but it is also a loving tribute to the power of family. While most people know of the tragic ending, they be might comforted to know of how close the Kurdi family is and where they are now.
It is also a damning portrayal of government ineptness on the refugee file as, time and time again, Kurdi sought and failed to get sponsorship paperwork approved.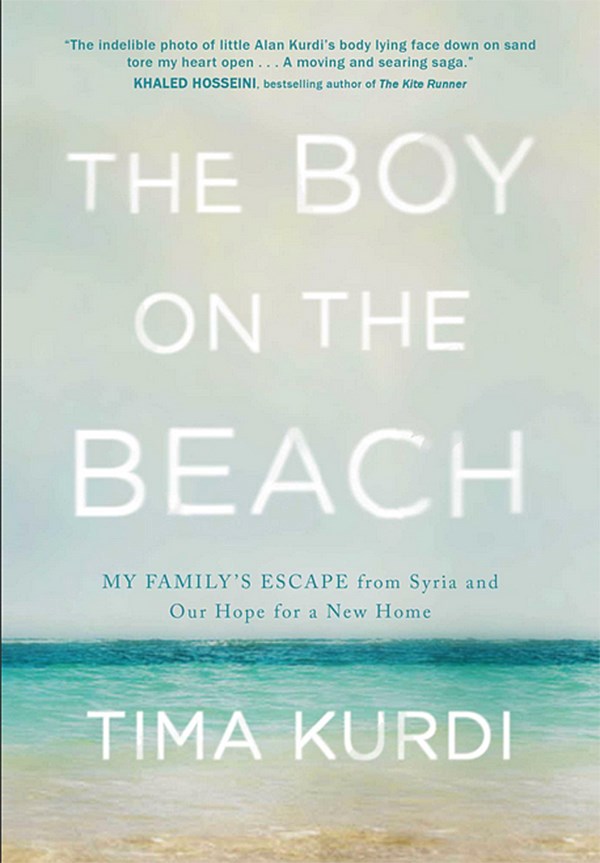 Still, Kurdi hopes her book brings people hope that with awareness something will be done. As well, her foundation, established with the support of her brother Abdullah, will aid children languishing in Kurdistan refugee camps.
"I want to raise awareness by sharing the boy on the beach story and what's behind it. When I share it, the story brings awareness to people in Canada and the western world, and even though they live 10,000 miles away, they will open their heart and they will realize that on the other side of the world, there is human suffering and they will do something about it.
"They will use their voice to speak up and they don't become silent any more."
A small drop in the ocean, perhaps, but Kurdi hopes her book will provide both herself and her readers some calm reflection in otherwise stormy times.
• Tima Kurdi is looking for volunteers and donations to support the Alan and Ghalib Kurdi Foundation for helping refugee children in Kurdistan. For more information, visit kurdifoundation.com.
• On Wednesday, April 25, at 7:30 p.m., Tima Kurdi will speak at the Vancouver Public Library, Alice MacKay Room, 350 West Georgia St. The event is part of the Vancouver Writers Festival and is free but registration is required at writersfest.bc.ca/programs/incite/incite-form.