The Tri-Cities health delivery area has reported 337 new cases of COVID-19 in the last week, nearly double last week's total at a time when Fraser Health has become the epicentre of the virus in B.C.
The 97% surge in cases in Fraser North — a subregion of Fraser Health which includes the Tri-Cities, Burnaby, New Westminster and Maple Ridge — overlaps with several publicly acknowledged exposures, including at two restaurants in Port Moody, a McDonald's in Coquitlam, as well as clusters at a yoga studio and a construction worksite in Port Coquitlam.
Twenty-two SD43 schools have also now reported exposures since they opened their doors in September, a number which has ballooned over the last two weeks. 
But it's the transmission of COVID-19 in private households that has health officials most worried in the lead up to Halloween. On Thursday, Oct. 29, provincial health officer Dr. Bonnie Henry pointed to the death of a woman in her 80s who fell ill with the virus at a birthday celebration in the Fraser Health region and died in hospital.
One of the party members had unknowingly arrived at the party infected, spreading the contagion among the less than 10 people present.
"It reminds us that the virus can't tell the difference, and even a small gathering when this virus is circulating can be dangerous," said Henry.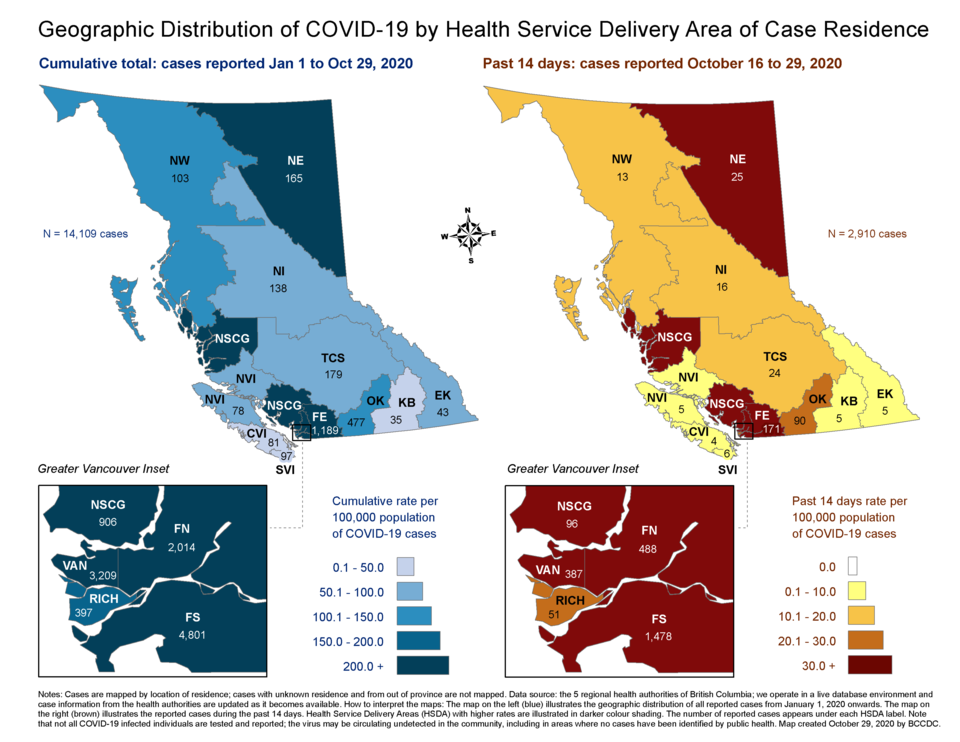 On Thursday, Henry reported 2,344 active cases across the province and 5,714 people under active health monitoring due to a potential exposure to the virus.
With 74% of new cases falling in Fraser Health, the region has become the focus of health officials, sparking calls to tamp down social gatherings in the lead up to Halloween, but also Diwali, Hanukkah and Christmas.
Henry spoke from Fraser Health headquarters in Surrey, a symbolic gesture highlighting the rising caseload under the health authority's watch, a jurisdiction that runs from Boston Bar to Burnaby and includes urban hubs like the Tri-Cities, Chilliwack and Abbotsford. 
Dr. Victoria Lee, president and CEO of Fraser Health, was also on hand to clarify earlier comments from some health officials, which suggested different rules would apply to the health authority as cases surged. 
Lee said Fraser Health is asking residents to consider that "even small gatherings can be risky, even with your 'safe six" and "to really take a pause, reconsider whether it's necessary to have people over in your home."