Calling all earthlings, there's a new cafe and bakery in town.
Tucked away in a warehouse near Fremont Village in Port Coquitlam, Earthling Café and bakery — located at 50 Seaborne Ave. in Unit 2150 — is the latest food startup business in the city.
It's a great find for those who enjoy desert, specifically cakes and pastries that meet dietary restrictions (gluten-free and/or vegan) and in a setting that is modern with a touch of old France.
Started by siblings Chae and Jimmy Kim, Coquitlam residents who hail originally from Korea but grew near Winnipeg and New Westminster, their new company Earthling Foods Inc. blends cultures and flavours in a new way.
Inspired by traditional Korean-style baking with sweet rice flour (chapssalgaru), Earthling Foods makes desserts using alternative ingredients to wheat.
Their specialty is dacquoise, which is a buttercream-filled desert sandwiched in a sweet, crunchy meringue.
"They are popular in Asia, but we noted they weren't sold here," said Chae.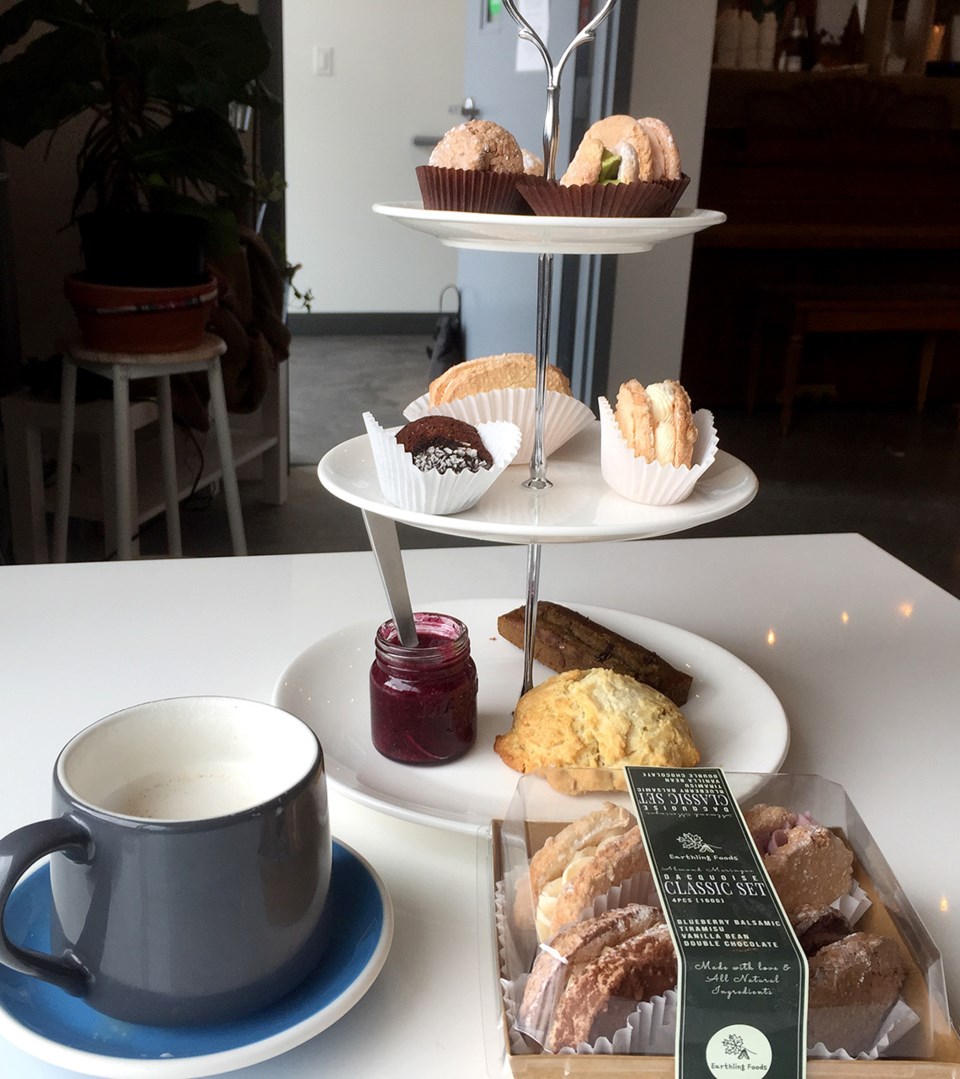 Chai experimented with ingredients and flavours during the pandemic in her home kitchen, expanded to a commissary kitchen, Port Coquitlam's Sincerely Kitchen.
In July 2021, they expanded to their own space in PoCo's growing light industrial area but only recently started the café.
Jimmy said he had to quit a corporate job in the foods industry to start the new company with his sister, but is enjoying the experience so far.
While Earthling Foods' venture is a bit of a risk, he said it fuels him because it's about finding a market niche, problem solving and growing the business.
"I stopped working nine to five and started working 24/7," he jokes.
Chae, meanwhile, says she enjoys baking and loves coming up with recipes that meet a variety of dietary needs.
"We want to be inclusive," Chae said.
In addition to selling wholesale to local cafés, Earthling Foods is also available at grocery stores, including City Avenue and Pomme Natural Market.
As well, you can pick up their dacquoise in classic or Korean-inspired flavours at local farmer's markets where they started growing the business.
As for the name, Earthling Foods, it was inspired by a book on veganism by Ed Winters, who calls himself "Earthling Ed."
"We're both advocates of more of a plant-based diet, that was partly the reason for the logo and the name just stuck," explained Chae.
As for the desserts, scones and cakes, Chae has developed a selection that is sure to please every palate and food interest.
Her dacquoise, made with sweet rice flour as well as almond butter, has an added softness that makes the pastry chewy as well as flavourful.
The flavourings are all natural and thus don't overpower the taste buds, nor are the pastries overly sweet.
The classic set includes blueberry balsamic, tiramisu, vanilla bean and double chocolate, which can be purchased singly or in boxes
They are big sellers, according to Chae, as are the Korean inspired dacquoise that include flavours such as Korean Yuzu (bitter lemon), Organic Macha, Injeolmi (roasted soybean) and Black Sesame (Heuk-im-ja).
Starting this Easter weekend, Earthling Café will be offering high tea.
As per tradition, afternoon tea comes in three tiers of savouries, scones, and sweets, and Chae makes her own blueberry jam to accompany the scones as well as Chai syrup to add flavour to tea.
​While dining, visitors to Earthling Café will also notice a number of items, from body products to chocolate, all hand-made locally and available for sale.
Chae said she has benefited from connections made through local farmers' markets and wants to continue to support her friends.
"We trying to aim to be more of a neighbourhood café," she said, "We want to be able to connect to our customers."
To find out more, visit Earthling Foods at their website, and on Instagram and Facebook.