A Port Moody mom who has been advocating for tougher vaping regulations says the province is doing the right thing by boosting taxes on vape products, curtailing marketing to youth and involving young people in anti-vaping programs.
Tracy Green says nicotine addiction among youth is a growing health concern because vape products are so appealing to young people and it's easy to get hooked.
"They've game-ified smoking and made it more appealing to youth. They came up with the magic formula — technology, something that's a little exciting, as in 'I'm not supposed to be smoking' — and made it more exciting than it was 20 and 40 years ago," Green told The Tri-City News.
She's among a growing number of parents, politicians, health care workers and school administrators who have raised concerns about vaping as youth vaping has skyrocketed by 74% in a single year, according to the Canadian Cancer Society.
In School District 43, dozens of students have been suspended for vaping and had their vape equipment confiscated, prompting the start of an anti-vaping campaign involving the Fraser Health Authority and youth leaders.
Green said having youth lead the way in efforts to convince their peers to stay away from the expensive, addicting and possibly dangerous e-cigarettes that have been blamed for lung ailments will be more successful than stark posters and scary anti-vaping messages delivered by adults.
And she said social media-savvy teens, many of whom have an aversion to being manipulated, may buy into the anti-vaping message if it can be shown they are being marketed to by big corporations.
But Green said prevention programs should start young — even as early as kindergarten — to have the greatest impact.
"Working with schools and youth is a fantastic idea but it's not just a high school issue, it's all they way down to 10 and 11 years."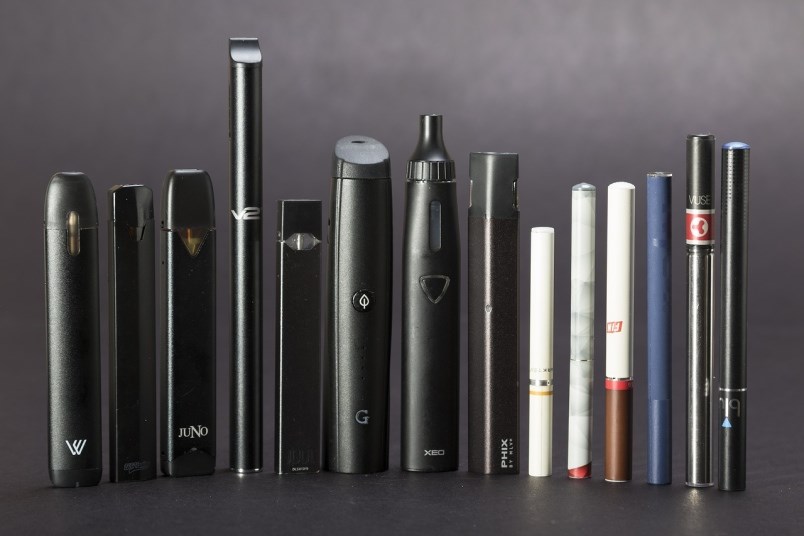 New regulations announced by the province to come into force in 2020 after public consultation include a restriction in the amount of nicotine in vapour pods and liquid to 20 milligrams per millilitre, plain packaging for vapour products and health warnings. 
Public advertising of vapour products won't be allowed in areas where youth spend time, such as bus shelters or community parks, and the provincial sales tax rate applied to vaping products will be hiked from 7% to 20%, making B.C. the first province in Canada to introduce a specific tax rate related to vaping products.
The new tax rate will go into effect Jan. 1, 2020 and will be applied to all vaping devices, the substance or juice that is used with the vaping device, and any vaping part or accessory.
But the challenges of dealing with an industry that sells much of its product online was clearly noted by Health Minister Adrian Dix, who called on the federal government to take tougher action against wholesalers.
"Until they do," Dix said at a press conference Thursday, "there will be a black market of non-compliant vapour products from other jurisdictions that can make their way into our province, our schools and the lungs of our young people."
Green said it's difficult for governments to keep vaping products out of the hands of young people because they get them from friends, adults online and even from stores that ignore the rules. She said health authorities need more staff to enforce current legislation to stop unscrupulous sellers from making vape products available to kids.
"If there's not a crackdown, there's no incentive for stores not to be selling to youth, and taking the problem seriously."
In its vaping plan, the government has sought the backing of multiple partners who will aid in the fight against youth vaping with social media campaigns, nicotine-use cessation programs and other measures.
The BC Lung Association is working with youth to build a vaping prevention toolkit that has been piloted in some schools. This initiative will begin expanding immediately to schools across the province, providing information for educators, parents and youth to use when having discussions and making choices about vaping.
The province's quit-smoking resource, QuitNow, will be updated to include new quit-vaping resources for youth and the legislation would also include increasing the tobacco tax rate by two cents. Effective Jan. 1, the tax applied will be 29.5 cents per cigarette and 39.5 cents per gram of loose tobacco.
But nicotine gum, patches and similar smoking-cessation products will continue to be exempt from the PST.
The BC School Trustees' Association is also welcoming the anti-vaping initiative. In a statement, BCSTA president Stephanie Higginson said schools are seeing problems and need help and resources.
"Vaping is a serious community health issue that has made its way into our schools," BCSTA stated. "B.C.'s boards of education are pleased with this comprehensive plan from government to address the issue. We applaud the addition of youth-led resources to help educators talk to students about the health risks these products pose. Expanding the QuitNow program to focus on young people will ensure youth across B.C. have age-appropriate programs available to them when they make the decision to quit vaping."