Coquitlam RCMP is publishing a CompStat crime map every two weeks to alert neighbourhoods to theft and other policing issues in their neighbourhood.
The latest map — for the week of Jan. 25 to Feb. 7, 2023 — shows multiple thefts from cars, car thefts and break and enters throughout Coquitlam and Port Coquitlam.
However, much of the crime seems to be taking place in five neighbourhoods, where RCMP will be making plans to address issues that are compromising community safety.
"CompStat quickly identifies crime trends so that police can put concrete plans in place to address them. A crime map is published on our website so the public is aware of the issues we are addressing in specific areas," a spokesperson stated in an email to the Tri-City News.
"We hope that the map helps create awareness in specific areas so that the public can keep an eye on each other's homes and report suspicious activity to each other and to the police to help prevent crime."
The neighbourhoods recommended for patrols are:
Coquitlam
Westwood Plateau (northeastern Coquitlam)
Maillardville (southwestern Coquitlam)
Port Coquitlam
Pitt River/Citadel school area
Hazel Trembath Elementary School, 1278 Confederation Dr.
Village Drive in Fremont Village, Port Coquitlam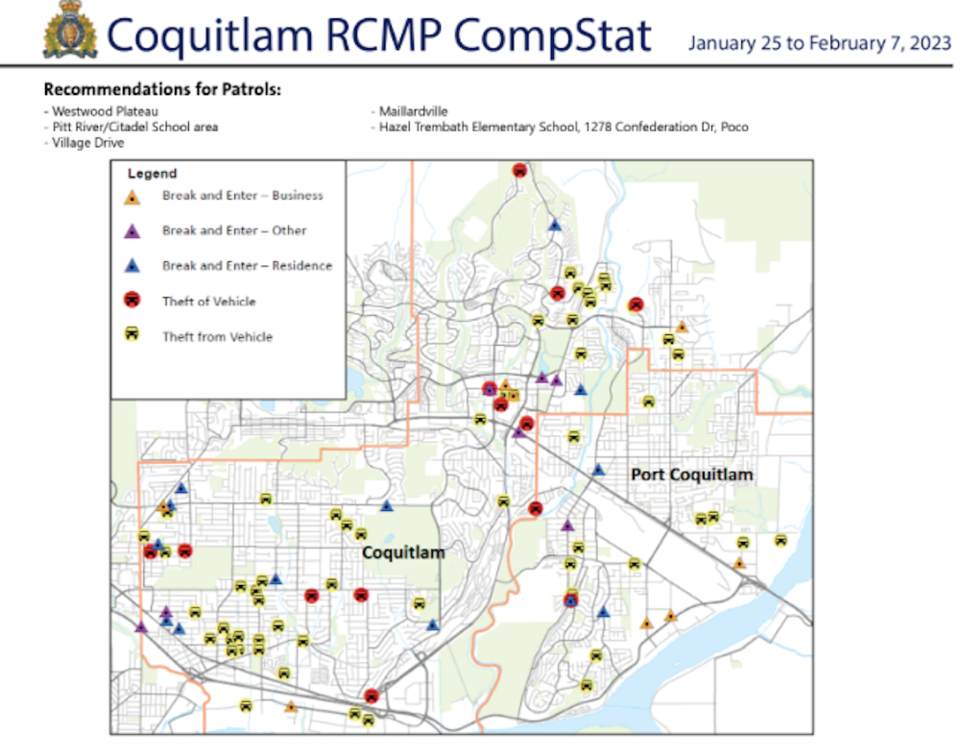 Tips to prevent car theft
Automobile security:
Lock your doors and roll up your windows.
Park in well-lit/well-populated areas where "natural surveillance" can serve as a deterrent.
Close garage doors at night.
Take your garage opener, house/business keys and vehicle registration papers out of your vehicle when it's parked. If thieves steal these items, they could use them to commit other crimes, including identity theft and break and enter.