New cases of COVID-19 more than tripled across the Tri-Cities last month, spiking to 363 cases in October from 115 in September.
Of the 783 cases reported in the Tri-Cities from the start of the pandemic until Oct. 31, nearly half were reported last month, according to data released by the BC Centre for Disease Control Thursday. 
The latest data comes as provincial health officer Dr. Bonnie Henry announced four new deaths and 1,130 new cases over the last two days, including a record 594 cases over the last 24 hours. There are now 5,793 active cases across the province and 11,091 people under active public health monitoring due to potential exposure. 
The number of cases that come back positive has risen over the last week to 5.4%, meaning a higher portion of B.C.'s population is getting hit by the virus now. 
The Tri-Cities' health delivery area — which includes Burnaby, New Westminster and Maple Ridge — has seen a major uptick, having reported 587 cases of COVID-19 in the past week, a 48.7% increase over the previous week.
Where in the summer and early fall spillover from younger demographics was largely contained, Dr. Henry said today the province is once again seeing an increase in the number of seniors testing positive with the virus. That's a worrying trend considering roughly half of the deaths in B.C. due to COVID-19 have occurred in seniors homes.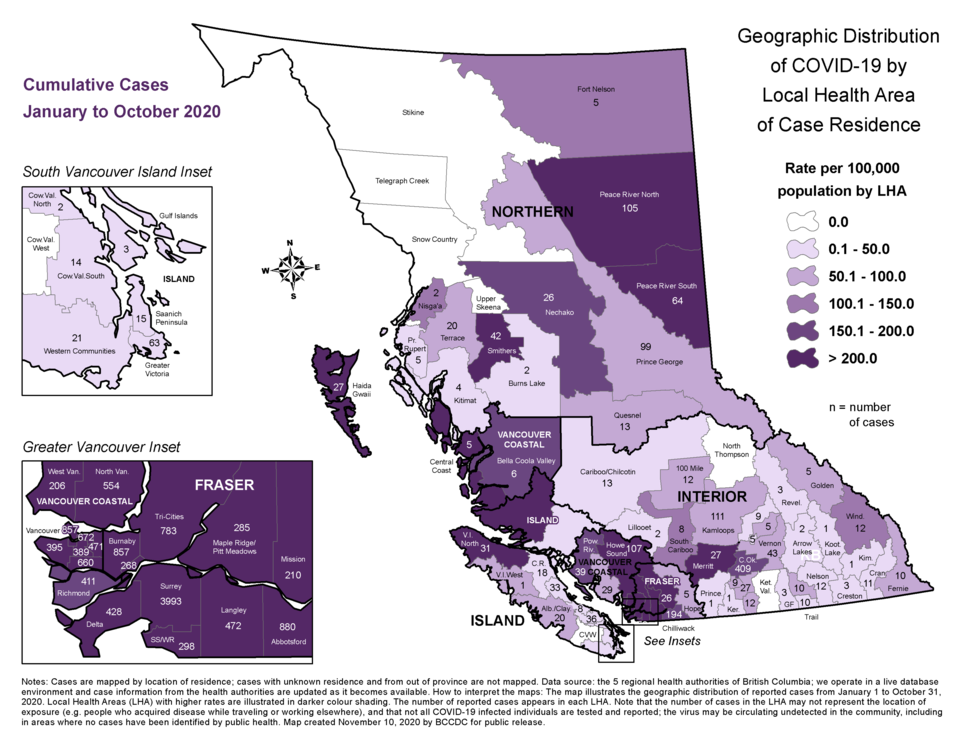 "As we move into our respiratory season, our cough and flu seasons, we're finding that this virus as well finds it easier to transmit, partly because we're indoors more but also because the weather conditions, the climate conditions make it easy to spread," she said.
New modelling from the BCCDC indicates cases of COVID-19 are doubling across the province every 13 days. 
That's put pressure on contact tracers, whose work is critical to understanding and isolating the virus before it's transmitted further.
"Our ability in public health to find everybody in a timely way, particularly in the Fraser Health and Vancouver Coastal Health has been stretched to the max and we're falling a little bit behind, which is why we put in the measures we put in," said Dr. Henry, referring to sweeping measures announced for Metro Vancouver over the weekend.
"We're reaching our limits."