A Port Coquitlam city councillor says he's willing to put his reputation on the line to voice his concerns about the amount of foreign wealth coming into the community.
Coun. Brad West raised the topic of housing affordability at his last meeting of PoCo's smart growth committee, which has asked city staff to delve further into the matter.
A report on the prevalence of non-resident home ownership and what measures are available to the municipality to curb it is expected to be brought forward later this month.
West told The Tri-City News he attended an open house in PoCo last week where a 2,400 sq. ft. home was listed for $1.1 million. He said the realtor told him "in no uncertain terms" that it would sell within the week and at a much higher price due to demand from overseas buyers.
West also said he's concerned with some realtors openly promoting themselves to draw Asian interest to PoCo.
He cited an example of a realtor couple, working under the banner of "Port Coquitlam Real Estate," whose website stated that they "understand the challenges and opportunities working on behalf of overseas buyers or Port Coquitlam locals who are looking to sell their properties at the best possible price."
(A call to Port Coquitlam Real Estate was not immediately returned.)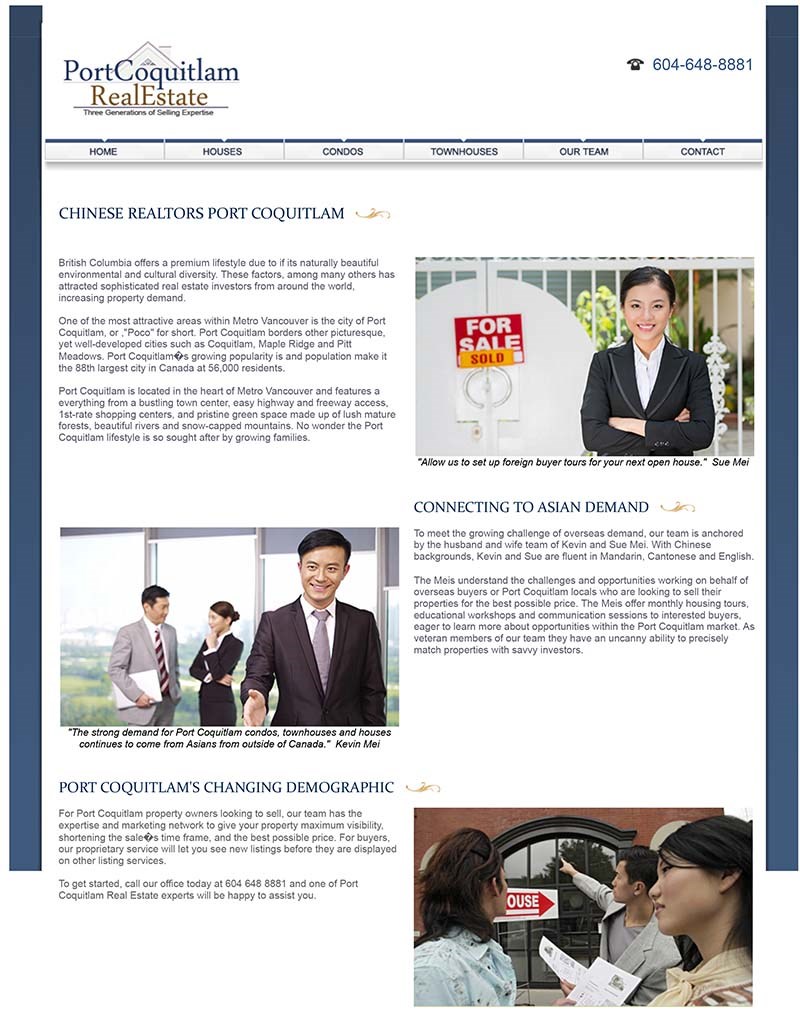 West said he has received numerous calls from constituents who complain about the rising cost of PoCo homes.
"Like many people, I'm concerned that the influx of foreign money dumped into local real estate is putting home ownership out of reach for more and more people," West said. "It's not just in Vancouver — it's in PoCo, too.
"How does that build community? A community where only the ultra-rich from overseas can afford to own homes?"
West said, unlike other elected officials in Metro Vancouver who are shying away from the topic for fear of being seen as politically incorrect, he's eager to sound off.
"I'm sorry, but putting your head in the sand isn't going to cut it," he said. "I think it's pissing people off. I'm hearing it loud and clear from people and I know it's a complex issue, but they at least expect us to recognize it and do something about it."
The controversial topic has fuelled plenty of discussion in B.C. over the past year, especially as China's stock market is in turmoil and its economy slows. Investors there are seeking better returns and seeing Lower Mainland real estate as a sure bet, experts say.
Last November, Bing Thom Architects released its report on ownership patterns of single-family home sales on west-side neighbourhoods in Vancouver. It found 66% of homes sold in West Point Grey, the University Endowment Lands and Dunbar between August 2014 and February 2015 were purchased by offshore buyers.
On Wednesday, the Real Estate Board of Greater Vancouver (REBGV), which includes the Tri-Cities, said last month was the highest selling February on record for the Metro Vancouver housing market. Residential property sales in the region were up 65.6% from the previous month and 36.3% from February 2015.
For all of 2015, the number of homes listed for sale was below historical averages while actual home sales in the region set a record.
REBGV did not return a request for comment but, in a press release, president Darcy McLeod is quoted as saying, "We're in a competitive, fast-moving market cycle that favours home sellers. Sustained home buyer competition is keeping upward pressure on home prices across the region."
Still, Tri-City realtors Rod and Rhea Hayes of Park Georgia Realty said they don't know what country the buyers are from.
"We've seen an increase in buyers who don't speak English and are represented by a translator," they told The Tri-City News. "We don't know where they are coming from. They could be Canadian citizens who don't have all the language skills."
jwarren@tricitynews.com
@jwarrenTC