A two-time Canadian Olympian from Coquitlam took to social media to decry his hometown's decision to level a BMX bike park to make room for a festival lawn in Town Centre Park.
Tory Nyhaug was one of many who disagreed with the Nov. 19 decision by council to approve the $1.4-million first phase of the festival lawn project. It calls for the BMX facility to be flattened to make way for infrastructure pipes and sod so bigger events at the TD Community Plaza can be held. A staff report to council said staff has monitored the BMX site and determined it was sparsely used. The report said off-road cycling will be considered in future master recreation plans.
But Nyhaug, who finished fifth at the 2016 Summer Olympics in Brazil, where he was the only BMX rider competing for Canada, and also participated in the 2012 Games in London, was upset by the decision.
"As a Coquitlam boy through and through, I find it really disappointing that our city is tearing down the BMX bike park at town centre and replacing it with a festival lawn. This was a fantastic place for kids to learn to ride a bike and be physically literate in our city," the 26-year-old Nyhaug, who won a silver at the 2014 world championships and gold at the 2015 Pan American Games in Toronto, tweeted out. "This was a highly used track for people of all ages on bikes and a great place to be active."
At its council-in-committee meeting Monday, many councillors said they were contacted by many upset people. Since many of those who contacted them were young — a demographic municipalities struggle to get involved — the councillors emphasized they wanted the youth kept engaged in the discussion to replace the park as well as get their input on other projects.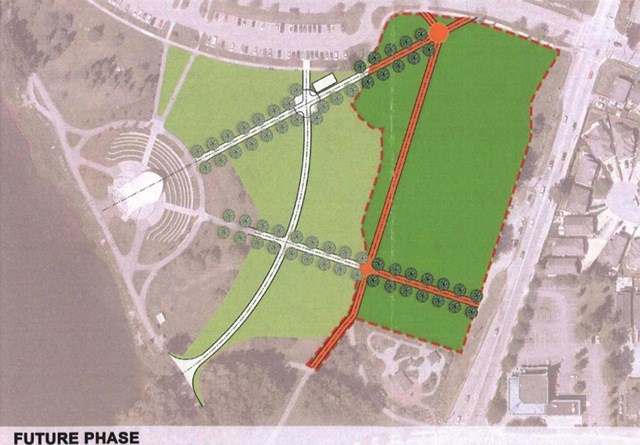 Raul Allueva, general manager of parks, recreation and culture, said the festival lawn concept was developed after "substantial" public consultation showed it ranked high as a desirable use of the space. He also pointed out city staff went out there three times a day to see how much the track was used and determined it was just under eight riders a day.
"The whole idea is we would be looking at opportunities somewhere else," said Allueva.
He suggested Mundy Park, Leigh Park, Coquitlam River Park and the lower part of the Coquitlam Crunch as places where another bike facility could be located. But, he said, developing an off-road biking strategy "looks to be a 2020 process."
"We just don't know what the demand is. We don't want to do a hybrid that doesn't do one thing well," said Allueva.
Mayor Richard Stewart said it might be worth considering doing a higher level facility but had safety and liability concerns.
"I get that we need to evolve this, and I get that it's not a very good use of the space at Town Centre Park," said Stewart. "Let's engage these people … and see what kind of facility we can produce. I don't think Town Centre Park is the place for it."
The city hopes to have the first phase of the festival lawn project completed by June in time for several summer events. The timeline calls for work on the $1.3 million second phase — a washroom facility and small concession area — to begin in the fall and completed in time for the 2019 Lights at Lafarge display.
newsroom@tricitynews.com