DORA VANOUREK
Mountain climber, volunteer
Dora Vanourek's climbing days aren't over, even though she has already climbed four of the world's tallest peaks.
The Coquitlam mom raised more than $7,000 for BC Children's Hospital in 2015 in her Climb Denali for Kids in June and has her sights set on climbing Mount Garibaldi in B.C. or Mont Blanc in the French Alps in 2016.
Keeping her motivated is the memory of that 13-day Denali climb, which was extremely challenging, although could have been a lot longer if she was less prepared and the weather was bad.
"It's quite daunting as a big mountain," she told The Tri-City News. "I learned not to think about the summit and how to get there, but just how to get through that one day and just making it through that one day, and resting through the night and doing it again."
This winter and spring, Vanourek will be walking the Coquitlam Crunch with her young daughter, Tereza, and husband, Jiri, and she hopes to hike to Munro Lake, a 10 km round-trip up Burke Mountain.
But what has her really excited is giving back to local children in the community. After years of training and climbing the world's tallest peaks, Vanourek wants to share some of her experience and knowledge with local Scouts, with whom she hopes to volunteer her services as a winter survival teacher.
Vanourek said she was inspired to give back after volunteering at a school for disabled children in India, saying, "I realized just little things like that are fulfilling for me personally."
In addition to Denali, Vanourek has climbed three of the world's tallest mountains: Kilimanjaro in Africa in 2011; Aconcagua in Argentina in 2013; and Mt. Elbrus in Russia in 2014.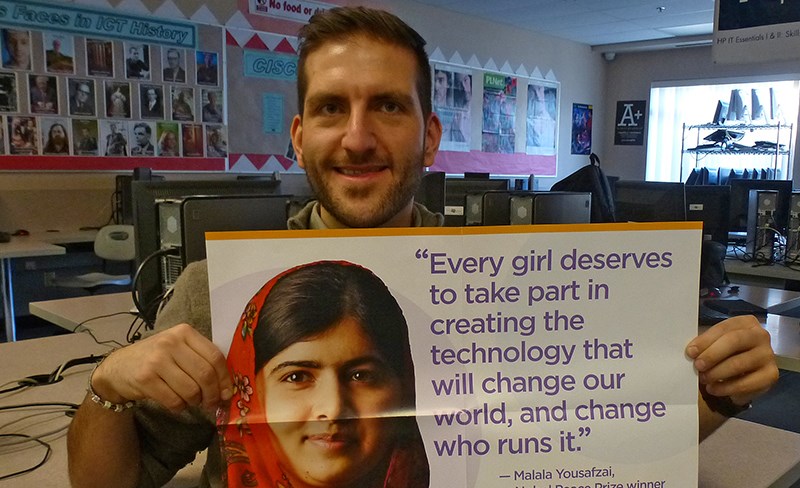 JON HAMLIN
Pinetree secondary teacher
Students entering kindergarten in September 2016 will be learning things their parents can only dream about and Jon Hamlin, a Pinetree secondary school technology education teacher, is one of the reasons why.
In addition to his teaching job at the Coquitlam high school, Hamlin spent time in 2015 hunkering down in Victoria writing the information technology component of B.C.'s revised curriculum. Thanks to his efforts, students from kindergarten to Grade 9 will be taking Applied Design, Skills and Technologies this fall, with Grade 10 to 12 students learning these skills beginning in 2017. Hamlin co-wrote this curriculum with education partners over this past year.
"It's like learning another type of language, it's a cognitive shift," Hamlin told The Tri-City News. "If we can start that process early, it will lessen the learning curve once they get older."
Hamlin is also passionate about ensuring that girls get involved in technology and, in April, he organized an International Girls in ICT Day that brought female business leaders to the school to talk about jobs and careers in technology for women.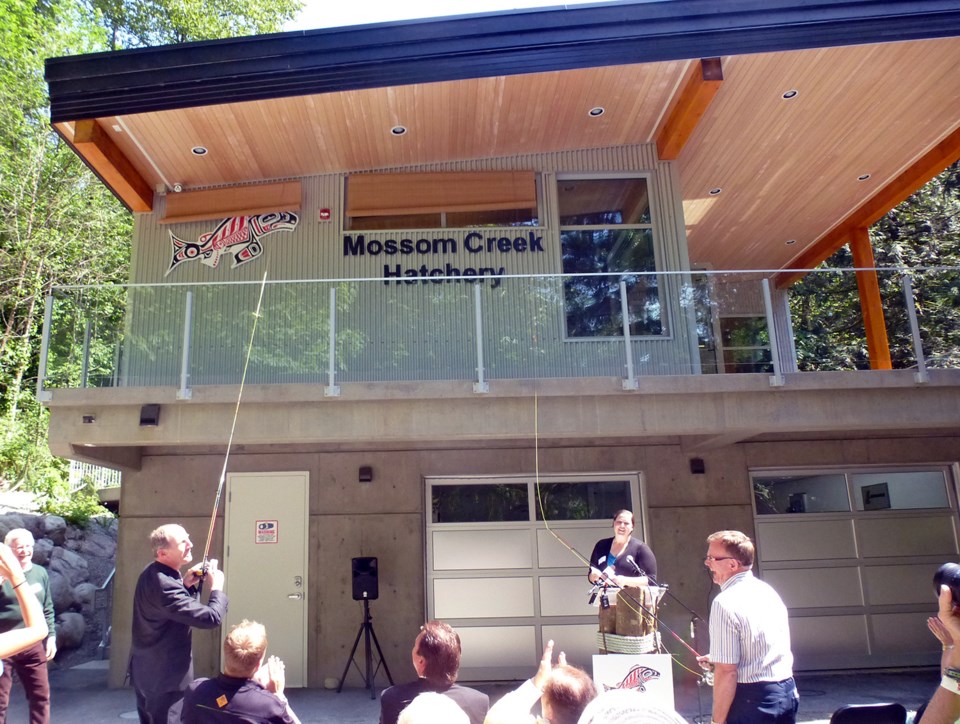 MOSSOM CREEK HATCHERY
The volunteers with Burrard Inlet Marine Enhancement Society (BIMES) deserve recognition as local notables for 2015 after successfully re-opening the Mossom Creek hatchery in May — a project covered in a more than year-long series of stories in The Tri-City News.
After 17 months of design and construction, Mossom is now a hatchery with a public education centre on the second floor, a green roof, state-of-the-art technology and a wetland, paid for with insurance funds, donations and help from the city of Port Moody, local groups and businesses, including Lafarge Canada, which supplied the concrete, forms and workers. For a full list of building heroes, visit www.mossocreek.org.
Now the group is raising chum, pink and coho, and making sure future generations of Tri-City children learn about salmon.
"I want to see generation after generation coming here," said Pat Dennett, the volunteer construction manager for the project and BIMES' vice-president.
The group recently won a $10,000 BC Hydro Community Champions grant and a workshop is planned for School District 43 teachers in January.
dstrandberg@tricitynews.com
@dstrandbergTC
•••••••••••
DIANA WATSON
Owner of Room to Move in Port Coquitlam
Last spring, Diana Watson and her cousin Kathy-Ann Nobbs-Thiessen led the Scotiabank MS Walk warm-up in Port Moody — a venture that would be easy for most fitness instructors but, for Diana, was something of a miracle.
Eight years ago, Diana was diagnosed with MS and three years ago, just as she opened her Port Coquitlam studio, she sustained her second attack as a result of the disease. Her staff and students rallied and, for the walk, put together a team in her honour. They surpassed their fundraising goal as did the charity, which brought in more than $62,000 on the day.
Today, Diana is doing well and is looking forward to her MRI next month. She continues to do volunteer work (in June, she led the warm-up for the Canadian Cancer Society's Relay for Life in Coquitlam) and is a member of the Tri-Cities Chamber of Commerce.
Diana said being featured on the front page of The Tri-City News, just before the MS Walk in May, was a highlight in her year.
For weeks, she took calls of support and, earlier this month, even received a letter in the mail from a reader who had held on to the story. "It's just been incredible that people remembered it."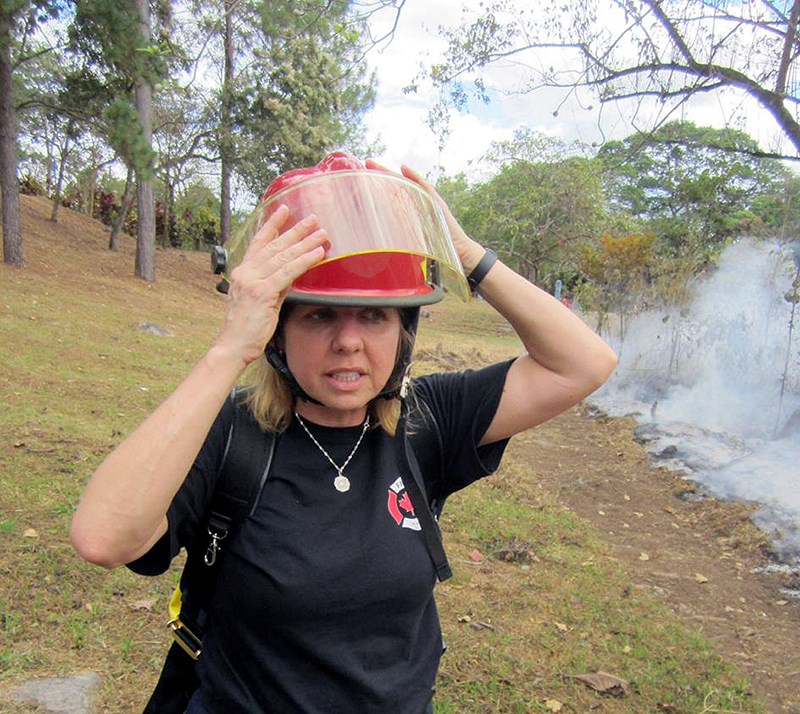 KIM SAULNIER
Coquitlam Fire/Rescue
There are many heroes in the Coquitlam fire service but one staffer especially stands out for her dedication to the profession — one in which there aren't too many females.
Fire inspector Kim Saulnier, an 18-year veteran, is an active member on many fronts in the city. She's involved in Camp Ignite, a four-day camp that introduces teenage girls to firefighting. She also helps organize the department's annual Pink Pancake Breakfast to raise money for the Canadian Breast Cancer Foundation (this year's meal attracted 350 people and collected $2,300, which was matched by Scotiabank at Coquitlam Centre).
Kim is a friendly face at community outreach programs such as the annual Fire Prevention Week Open House and Fire Chief for a Day. And she's the co-founder of FRITA, the Fire Rescue International Training Association. In that program, Kim organizes scholarships to get Justice Institute firefighting students in a work-study in Latin and South America.
"Kim Saulnier embodies the spirit of giving back that the fire service profession is known for," Fire Chief Wade Pierlot said.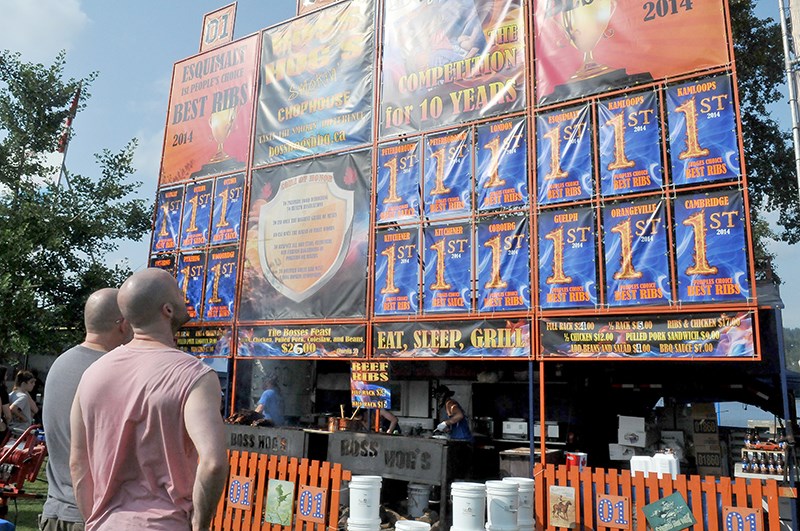 IAN MACPHAIL
Rotary Club of Port Moody
Ian MacPhail's dream of bringing rib cookers from around North America to the shore of Port Moody was realized this summer when some 40,000 visitors came with their empty bellies to get a taste of the smoked meat (and a side of beans and coleslaw, washed down with a local brew).
The three-day PoMo RibFest was the most remarkable food gathering in the city's history — and, lucky for us, Ian and the Rotary of Club of Port Moody, plus its legion of volunteers, will repeat the event in 2016, from July 22 to 24.
"We anticipate that we will see between 40,000 and 50,000 patrons over the three days," said MacPhail, who is co-organizer for the 2016 event with Alan Schmelzel.
Mayor Mike Clay, who worked full shifts all weekend, described the first RibFest as an "awesome event bringing our community together around ribs and BBQ sauce. Doesn't get much better than that."
The attendance exceeded everyone's expectations, the band (especially the closing act, Brickhouse) rocked out and the grub was just plain mouth-watering.
Prairie Smoke and Spice BBQ, Boss Hog's, Misty Mountain, Gator BBQ and Smoke and Bones cooked up a storm but, in the end, Boss Hog's was crowned the people's favourite while Misty Mountain got the coveted Best Ribs prize. Best sauce? Gator got 'er done.
jwarren@tricitynews.com
@jwarrenTC
••••••••••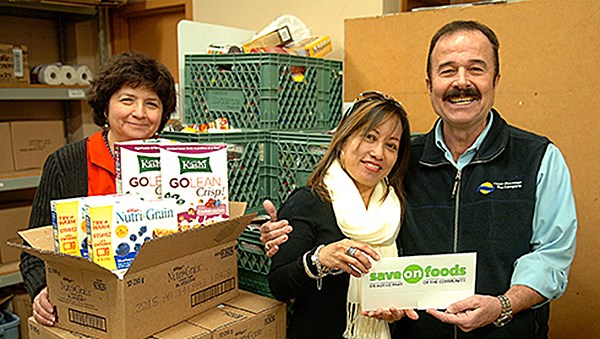 JOHN ABOU-SAMRA
John Abou-Samra is a giver, in ways big and small, to fulfill a few guiding philosophies in his life: Love, give and forgive. Give, and ye shall be given. God loves a cheerful giver.
And so it was on a chilly February morning when a beaming Abou-Samra stood by the towers of cereal and granola bars he had just donated to the Share food bank in Port Moody — all $2,500 worth. But it's just part of what he donates annually; a devout Christian, Abou-Samra donates at least 10% of his income annually and draws on his first career as an accountant to make that piece of the pie stretch even further.
He buys in bulk at PoCo's Save-On Foods, which chips in an extra 10% and transports everything in their truck. He calculates the value of the points he receives, donating a portion of those as well. The charitable tax refund he gets every year? That gets added to the mix as well, and a portion goes back to charity.
But it's not just large-scale donations for which Abou-Samra is known.
When he left Lebanon 25 years ago, Abou-Samra shifted gears at work as well, becoming a bus driver known for doling out chocolate bars to passengers who correctly answer his trivia questions — spreading smiles along with sweets.
"As long as I am healthy and working I will never stop giving," Abou-Samra said back in February.
True to his word, reports Share, Abou-Samra made another six donations throughout 2015; some have been smaller than the cereal donation but others have been twice the size.
"John has been incredibly generous to us this year," said Jake Moir, Share's fund development officer.
Make that generous, and very cheerful.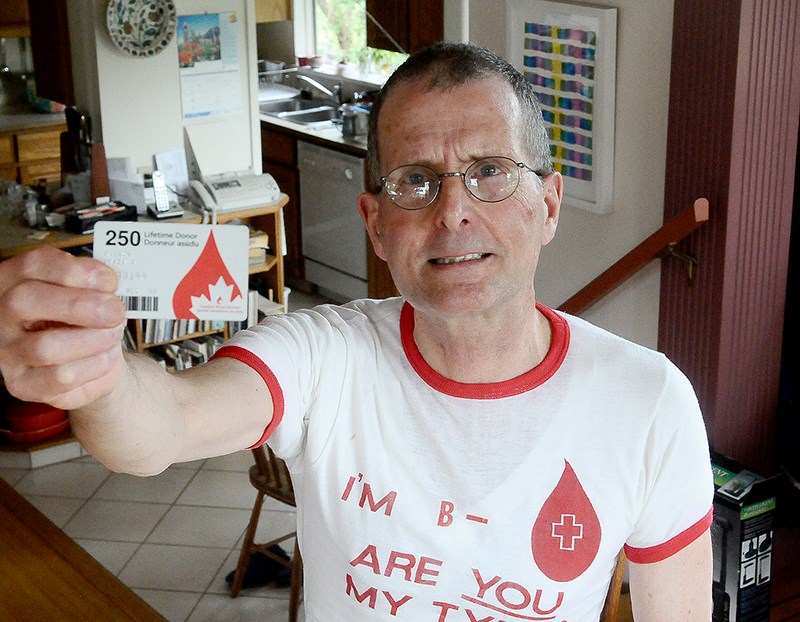 DEREK WILSON
Port Moody's Derek Wilson has been giving a piece of himself, quite literally, for 45 years and in April 2015 he hit a milestone: 300 blood donations.
It started in 1970, when Wilson was a university student, as a way for him to repay his father's first gift to him. Wilson required surgery as a baby and in the late 1940s it was up to a family member to donate blood or a patient had to buy it.
Since that first donation, Wilson has rolled up his shirtsleeve and opened his arm to donate blood as he moved across Canada for work. In the early '80s, Wilson was living in Winnipeg and donating every two months, but occasionally low hemoglobin levels meant he was rejected a few times after the initial screening.
That's when he joined the plasmapharesis program, in which blood is removed and separated; the hemoglobin is returned to the donor while the plasma, which is replaced quickly in the body, is donated.
The faster replacement rate means a donor can donate plasma every two weeks, which Wilson did for several years before moving to the Lower Mainland and getting to a plasma clinic became more challenging.
Trudi Goels of Canadian Blood Services said Wilson's 40-year donation record is a "lifetime commitment to helping patients." Of Canadian Blood Services' 400,000 active donors, only six reached the 300 mark last year, putting Wilson in "a very elite group."
But he hasn't stopped there.
Earlier this month, Wilson was at the Canadian Blood Services' mobile clinic in Coquitlam for his 303rd donation.
"I am looking forward to many more donations," he wrote in an email to The Tri-City News. He urged others to donate as well, noting "it is speedier and (almost) painless today, and needed urgently by accident and burn victims and surgery patients of all types."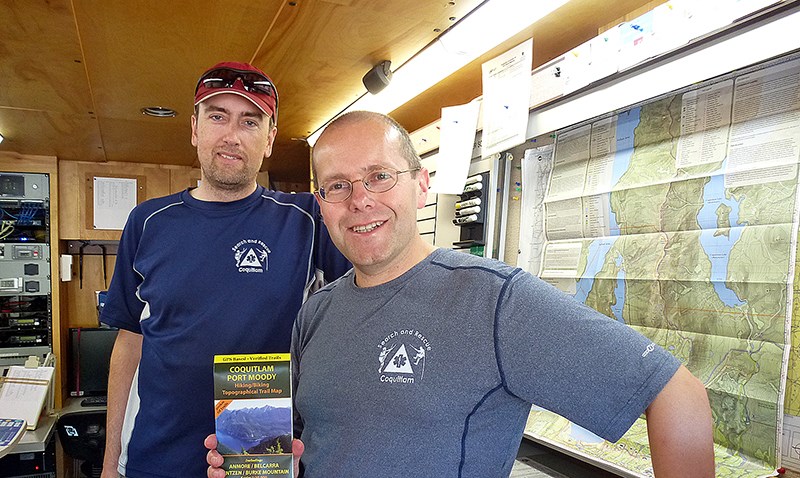 STEVE CHAPMAN
Fringed by mountains, the Tri-Cities are blessed with an abundance of hiking trails that can take families for a quick meander through the woods or challenge even the fittest of trekkers.
In June, Coquitlam resident and cartographer Steve Chapman — one of Coquitlam Search and Rescue's newest volunteers — released a map to help hikers of all levels find their way when they're on the trails. The Coquitlam Port Moody Hiking/Biking Topographical Trail Map (available at www.tricitiesmap.com or at Canadian Tire) was a year in the making as Chapman diligently hiked or ran more than 500 km of trails, plotting GPS points along the way.
Proceeds from map sales benefit Coquitlam SAR, which has been busy fundraising for their new mobile command centre, while encouraging more people to hit the trails and enjoy the great outdoors — safely.
Coquitlam SAR spokesperson Michael Coyle said volunteers will also be using the map, which has more detailed and up-to-date information than previous maps and will help in future rescue situations.
Always keen to share his love of the outdoors, Chapman has also been boosting trail traffic through a weekly column in The Tri-City News, which ran through the fall and highlighted various hikes throughout the region. Watch for Chapman's column to continue early in the new year, when he'll be serving up a series of snowshoe treks on local mountains.
spayne@tricitynews.com
@spayneTC