Is it too early to start shopping for holiday gifts?
Absolutely not.
In fact, twice this month, hundreds of local artisans and businesses are set to help Port Coquitlam residents get into the spirit of the season and check off their loved ones' wish lists early.
Terry Fox Secondary is set to host its annual Christmas Craft Fair this weekend, showcasing a sold-out event that includes 120 vendors.
Meanwhile, Riverside Secondary will welcome the community — and more than 100 suppliers — to its 2022 Winter Market two weeks later.
Both events are also acting as fundraisers for each school's respective parent advisory committee (PAC) to benefit students and after-grad activities for the 2023 graduating classes.
Terry Fox Christmas Craft Fair
Organizers with the craft fair tell the Tri-City News that this will be the Terry Fox PAC's first full in-person event since the COVID-19 pandemic began, adding vendors are "eager to participate after this little break."
Terry Fox Secondary's event will include a concession stand, bake sale and Little Devils Pizza Food Truck — a Vancouver business that specializes in Neapolitan-style wood fire oven pizza.
As well, organizers say there will be a 50/50 cash raffle draw during the fair, which is scheduled for Saturday (Nov. 5) from 10 a.m. to 4 p.m.
It'll be inside the Terry Fox Secondary gymnasium (1260 Riverwood Dr.) and it's $2 to get inside.
For more information, you can send an email to terryfoxcraftfair@gmail.com.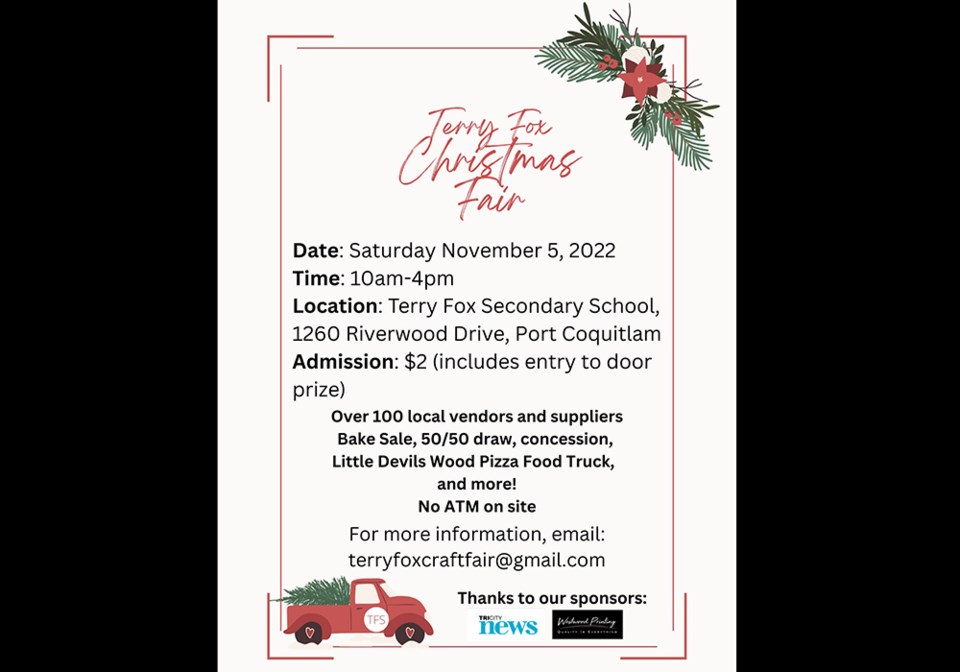 Riverside Secondary Winter Market
At Riverside, dozens of artisans will set up booths in the Port Coquitlam school with crafts and items for the holidays.
Winter Market 2022 will feature locally baked goods and its own prize raffle draw as part of the fundraising portion of the event, slated for Nov. 19 from 10 a.m. to 4 p.m.
Admission is $3 at Riverside Secondary's gym (2215 Reeve St.), and kids 12 years and younger get in for free.
For more information, you can send a message on the Winter Market's Facebook page or email leann.oil4ever@gmail.com.