Two pimps convicted of sex trafficking, obstruction of justice and abusing two women and one minor over several years have been denied bail in a case complicated by police sexual misconduct and fears COVID-19 could continue to burn through the prison population. 
Tamim Albashir and Kasra Mohsenipour had been previously sentenced to 10 and nine years in prison, respectively, after being previously found guilty of 17 of 19 charges in connection with offences committed against the female victims, including a 15-year-old girl. The crimes, committed in Coquitlam, Vancouver and Edmonton from May 2013 to April 2016, include recruitment, prostitution and trafficking in persons.
Recruitment and abuse
The youngest of the three females was in grade 10 when she first met the two in Coquitlam. They asked her if she wanted to work for them in the sex trade and she agreed, read court documents. They got her to do a photoshoot to advertise her, set the fees for her services and arranged for all of her "dates". She was set up in an apartment and made her work six days a week — only permitted to quickly get food in the morning before returning. 
Police tried to intervene on several occasions but the two men moved her first to a downtown Vancouver hotel and then to several apartments. By then, the girl was addicted to heroin.
In 2015, the teen tried to escape. But soon, Albashir texted the girl's boyfriend to leave her along, offering him $8,000, and when he refused, threatened him.
Along with the other two women in the case, the girl would endure years of physical and emotional abuse. On different occasions, one of the women testified Albashir punched her in the face, grabbed her hair and cut her with his fingernails. Another time, he grabbed her by the throat, threw her to the ground and put his knee on her face because she refused to go out on a call.
The third victim was described as a 27-year-old First Nations woman who initially turned down Albashir's overtures, was described in an earlier ruling as being subjected to "oppressive and inhumane conditions."
Arrest and sentencing
On April 23, 2016, Albashir was the first of the two arrested. On his second day Port Coquitlam's North Fraser Pretrial Centre, he called up Mohsenipour and told him to bribe one of the women $5,000 dollars to recant her allegations against them. In the recorded calls, court records state Albashir told Mohsenipour, "Hopefully if I get out, we'll go back to work again."
While Mohsenipour was not arrested until that September, the two would both be convicted of obstruction of justice. 
Albashir was initially given 10 years for his crimes, while Mohsenipour was sentenced to nine. However, because of time served, both only had another five years left in prison when they were sentenced.  
Bail weighs history of crime, police misconduct and COVID-19 outbreak
The judgement, which was heard March 30 but released this week, painted a picture of two men with long criminal histories dating back to their youth. At 19, Albashir stole clothes from a store, emptied a can of bear spray into a mall and sped away from the scene only to crash into another vehicle. 
While on bail for that crime, he was charged again for being in possession of counterfeit money. That pattern of breaking bail conditions was repeated over the next several years. 
In 2017, a judge found that if Albashir were released, "there is a substantial likelihood that he will commit a criminal offence or interfere with the administration of justice that would imperil the protection or safety of the public."
Both men offered to put up $250,000 bails should they be granted parole pending appeal and backed up their case with overtures to the judge that the current COVID-19 crisis made it in the interest of the public for them to be released.  
The defendants also made reference to James Fisher, a disgraced officer of the Vancouver Police Department, who as a detective with the Counter Exploitation Unit from 2011 to 2016, came under investigation for his sexual misconduct with young women who had already been victimized by sex traffickers.
One of the two complainants in Fisher's case introduced the 15-year-old to Albashir and Mohsenipour. Another one of the women the two men pimped out, was alleged to have been financially benefitting from the VPD while meeting officers. Both argued that should be grounds for appeal. 
A precedent
The trial has been closely followed by Tri-City advocates working to keep at-risk youth out of the sex trade, who say the case is a cautionary tale of how vulnerable youth can be coaxed into the underbelly of the sex trade. 
For them, the most striking part of the decision to deny the two men bail was the emphasis the judge put on their conduct with the teenage girl.
"She wasn't a woman. She was a child. She was totally dependent on these fellows for her shelter. She was a heroin addict. It's so important that we see who this individual was," said Diane Sowden, who attended the trial before retiring after years working to keep youth out of prostitution with the Children of the Street Society.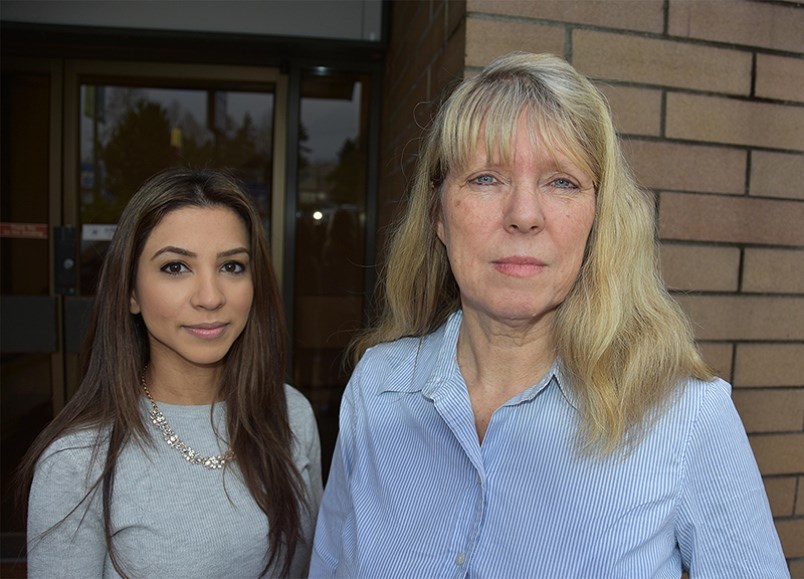 In his decision, the judge wrote that the offences stemming from bringing a minor into prostitution and human trafficking "are particularly egregious and they violate, in a fundamental way, shared community values."
By highlighting how the two men repeatedly broke child protection and prevention orders against them, in Sowden's eyes, the judge set a precedent for future cases.
While those orders may not immediately keep the young person safe at the time, the case shows it can be used in the future to reveal a pimp's disrespect for the law and so keep them in prison.
"Sometimes social workers have been reluctant to use this," she said. "This could give the Child Protection Act some real power in the future." 
But to keep children off the street will require much more said Sowden, and that begins by recognizing that this isn't someone else's problem.
"This isn't something that happens on the Downtown Eastside. There are children from the suburbs. We need to know that," she said. "People are just removed from the idea that this could happen in our community."