A Port Coquitlam clinic has expanded its practice, taking on extra shifts in an effort to become a stop-gap for mothers and their newborns turned away by clinics shuttered due to COVID-19.
As family doctors started seeing more and more patients with COVID-19-like symptoms, many have shut their doors because of a lack of personal protective equipment. Without a place to see patients, several doctors have pooled resources at two hubs: one at a COVID-19 testing clinic opposite Royal Columbian Hospital (RCH) and another at the Burke Mountain Medical Centre where a parallel practice sees new patients falling through the cracks of a strained medical system.
But while injuries like falls and chronic diseases often can't wait, neither can babies.
"What do you do with a brand new baby and mom discharged from the hospital?" questioned Port Coquitlam Dr. Grover Wong several weeks ago as the COVID crisis increasingly limited access to health care. "Lots of vaccinations are getting missed now because of COVID."
Wong is a family doctor who works out of the Elgin Medical Clinic in downtown Port Coquitlam. As a specialist in pregnancy, childbirth and postpartum medicine, he also attends new mothers and their babies at an obstetrics clinic opposite Royal Columbian Hospital.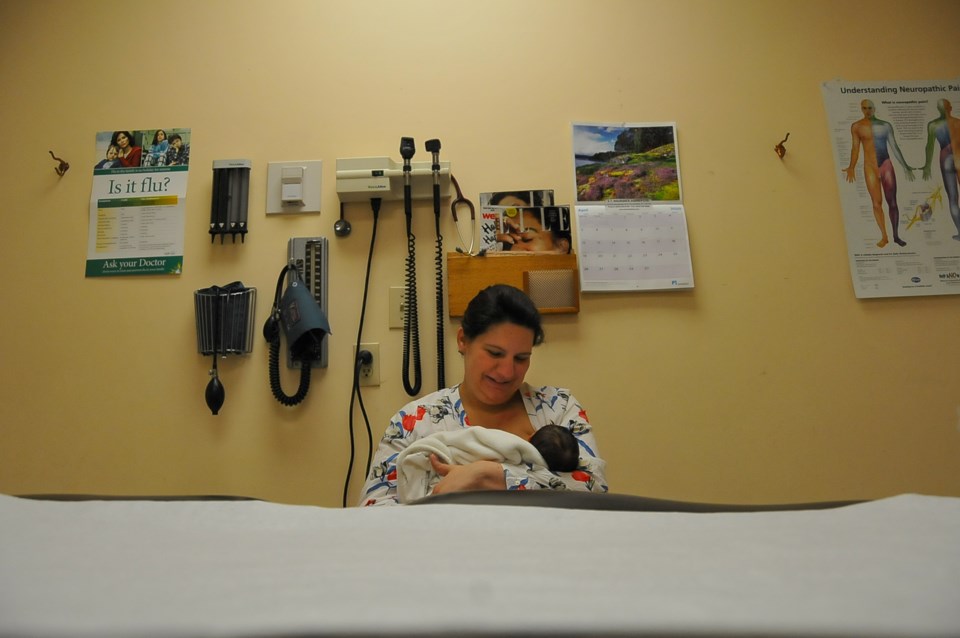 Early on in the coronavirus pandemic, shifting protocols made it hard to see babies and their mothers at a critical point in their development. 
"I felt so awful. I said, 'We need to start a clinic for somewhere where mom's and babies can go until at least 18 months,'" said Wong, pointing to the normal vaccination window for infants. 
So he wrote a referral letter to every paediatrics doctor in the maternity ward at RCH, offering to take on new mothers with nowhere to take their babies for a follow-up — mothers like Mariana Ten, who recently gave birth to her first child, Elizabeth, at RCH a couple of weeks ago. 
Ten, who immigrated to Canada from Brazil about three years ago, said giving birth during a pandemic was a bizarre experience.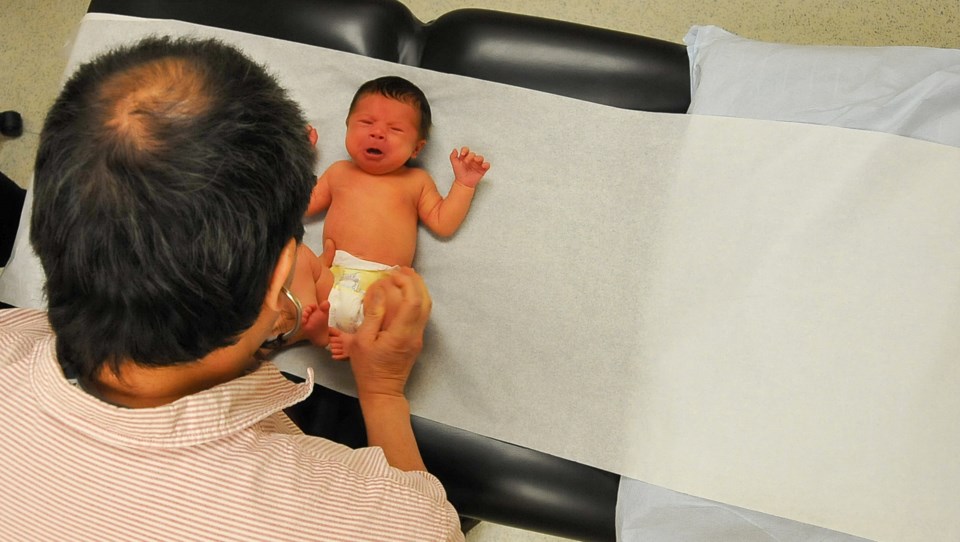 She arrived at the hospital at 1:30 a.m. in mid-April, thinking staff would take special precautions because of COVID-19, but still give her the care she expected.
"The nurse said, 'We don't have space for your here.' And I was just like, 'I'm not leaving this place. I'm having this baby!'" recounted the new mother.
Ten had gone from two to 10 centimetres dilated — the point where a mother is ready to start pushing — in two hours, and after a quick check the nurse realized she was so far along it would be a bad idea to divert her to another hospital.
"There's only so many rooms, there's only so many staff," said Wong, explaining the difficult decisions nurses have had to make at emergency rooms. "It's just so much tougher when it's COVID. Hospital staff has to save a negative pressure room for COVID patients."
Inside, Ten was admitted with her husband, who was issued a bracelet to allow him to remain (only one person is now allowed to accompany a pregnant mother). 
"They put a mask on me. Security was so tight. I was trying to focus. My water broke and I was really scared," remembered Ten.
In the end, the birth went smoothly, and Elizabeth Ten came into the world at seven pounds, zero ounces after an eight-hour delivery.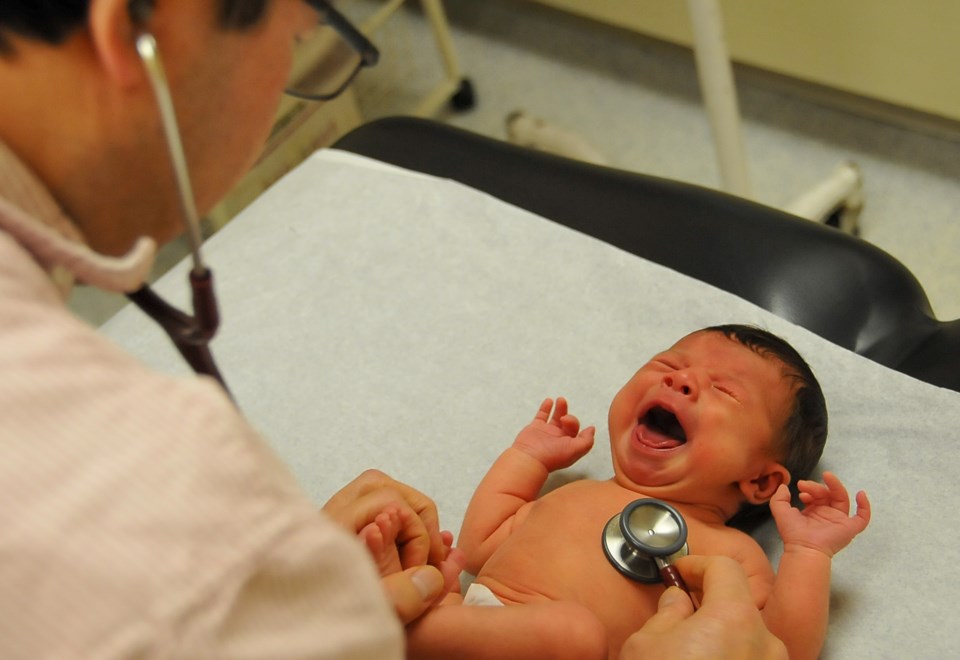 The mother and daughter were kept an extra day to keep an eye on what doctors worried was an infection in the newborn. 
As the new family popped in and out of their room, they found corridors and cafeterias eerily quiet after the hospital had been made ready for a potential surge of COVID patients
One side-effect of staff and patients constantly donning masks is a permanent sense of anonymity and personal separation among the staff, Wong said.
"We don't know who our co-workers are," said Wong, who also works in the hospital.
The sense of separation also bled into Ten's time at the hospital, especially as she struggled to get her baby to breastfeed. Usually, nurses are very hands-on to help the mother position the baby and listen closely to "the suck," as Wong puts it. But the new mother said nurses stayed away, passing advice off at a distance from behind a mask. 
"It felt overwhelming: no family, all the halls are empty, it's quiet, everyone is wearing masks. There's no connection," said Ten. 
For many mothers during the COVID crisis, building that sense of connection with a family doctor has been nearly impossible, something Wong and his colleagues hope to correct.
"We all know there's a big issue with discharging moms and babies during normal times. But at least they had walk-in clinics," said Wong, adding many of them have now closed, leaving unattached patients with few options.
Fraser Health has added an extra nurse to the clinic to help coach new mothers in breastfeeding techniques and Wong hopes all the extra hours he and his colleagues are putting in will offer patients an entry point into an often backlogged wait for family doctors.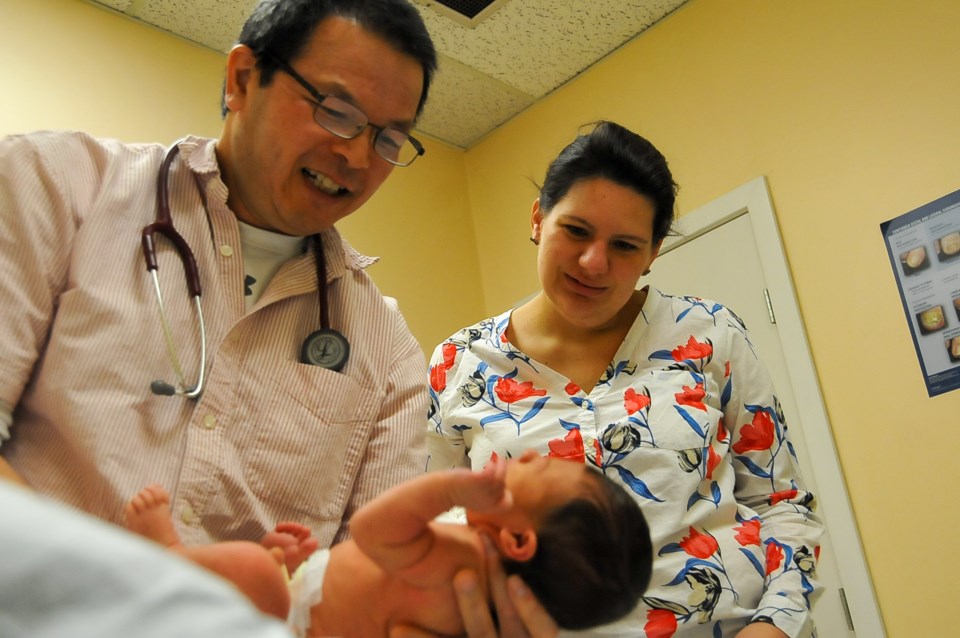 "I don't want to be their family doctors. I have enough patients," said Wong with a nervous chuckle. 
"We're trying to see these people until they can find their own family doctor."
Wong said that if the clinic hits capacity, they are willing to bring in more doctors from across the Fraser Northwest Division of Family Health, which stretches across the Tri-Cities and New Westminster. 
"We could run this thing five days a week," said Wong. "Then you're going to attach these babies."
"It's like an orphanage."